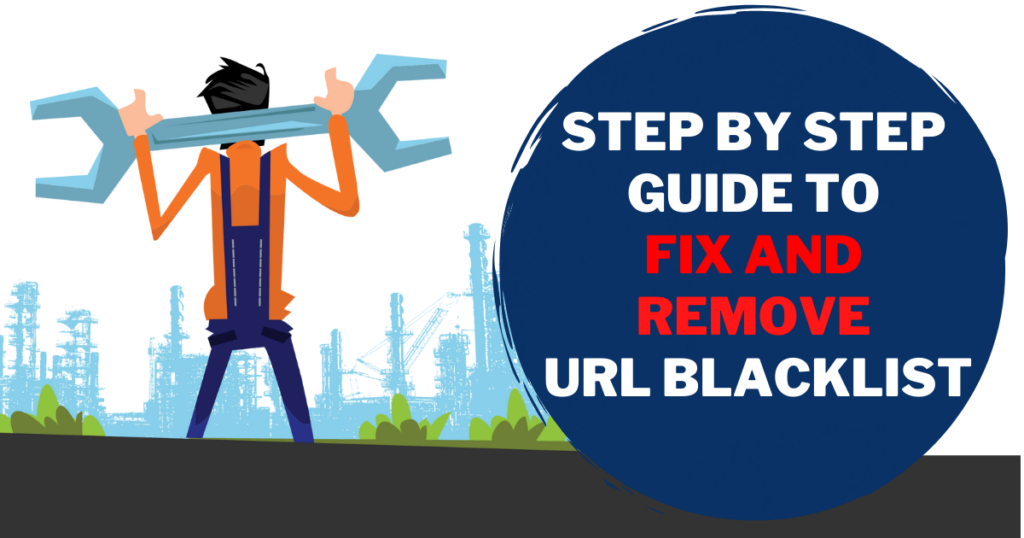 URL blacklisting, also sometimes referred to as Google blacklist, is the absolute last thing any website needs. With Google's algorithms becoming ever more sophisticated, website owners have to be extra cautious to avoid getting blacklisted.
But what if your URL has already been blacklisted by a search engine? This post will present step-by-step instructions to remove it from the URL blacklist.
It's not an impossible task but does require some time and effort on your part. However, since being blacklisted can significantly impact your business, getting it off the list should be a top priority.
URL blacklisting means that your website is added to a list of bad or infected URLs by search engines or security tools. Either the user sees a warning message that recommends them leaving the page, or they are prevented completely from accessing the website.
Search engines, including Google, which is the most popular search engine, maintain a list of bad websites that may present harmful or malicious content to the users or may even attack their devices.
Certain site behavior or design can lead to blacklisting by Google or any other search engine for that matter. If someone is using a security tool in conjunction with their browser or standard anti-virus, those may also blacklist web addresses.
This can also happen if the website gets hacked, so it's not always the fault of the website owner.
As websites make the blacklist, they get blocked from using it. It goes without saying that this can have very bad consequences for the business. Any website needs visitors to generate revenue, but if they cannot access the website, the revenues take a nosedive.
How Does Your Website Get Infected with URL Blacklisting?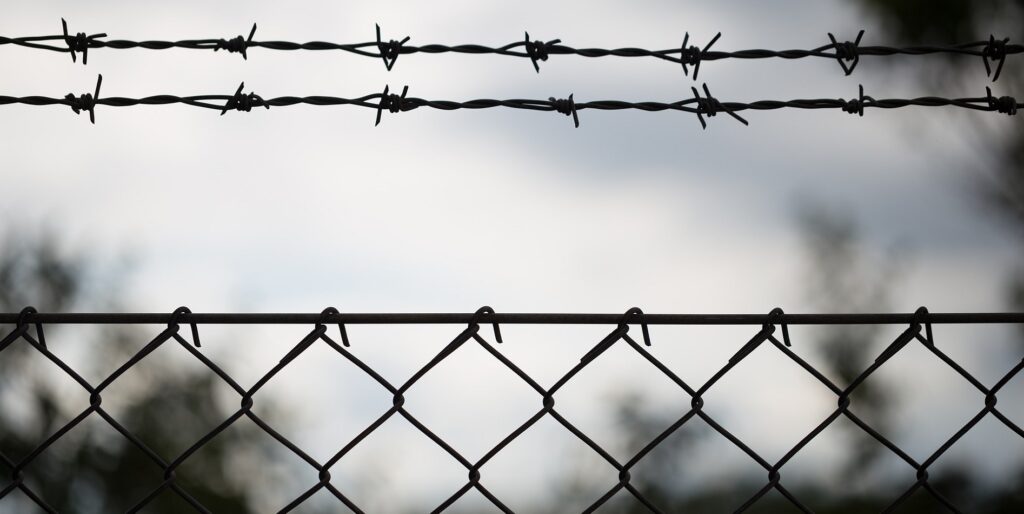 If you're unsure as to why your website has been blacklisted, it could be because of one or several of the following reasons:
Unsafe or Outdoor Plugins with Backdoor
Backdoor refers to the insecure entry that cybercriminals may use to gain access to your website. It's typically because of unsafe or un-updated plugins or libraries.
Google maintains a phishing list as well, which is basically responsible for detecting fake websites that basically steal sensitive information.
Your website may fall victim to phishing threats and get blacklisted for that. Hackers may use pages on your website to collect information and use it for malicious purposes.
Virus and Malware Threats
Virus and malware suspicion can also lead to your website ending up on the Google blacklist. Again, this could result from hacking – if the search engine or security tool detects that the website may download a virus or malware on the user's device.
Users may get a warning message that the website contains malware and may result in damage.
This involves rogue code insertion on a website. These codes are linked to the cracker's site. This results in cracker websites showing up on the search engine result page alongside your website on targeted keyword research.
Spamdexing defines keyword stuffing as where certain keywords are inserted too many times in website content in order to rank high on the SERPs. While it's technically a part of search engine optimization(SEO), it's not the best practice, as it sometimes leads to blacklisting.
If your website is scrapping information from users, it can get blacklisted. Your website may get infected by data scraping software installed by hackers.
Malicious or Harmful Content
Sometimes the kind of content present on the website can make it blacklist website. Google, in particular, takes a keen interest in the quality and safety of content present on websites. If the content is malicious or harmful, it can quickly get flagged by Google.
Black Hat SEO techniques like cloaking, buying links, or scraping information, can also lead to blacklisting. This is why it's really important for websites to utilize safe and positive SEO practices that actually increase ranking without the risk of blacklisting.
Such techniques qualify as bad and criteria for blocking simply because these are unethical and give websites an unfair advantage.
What Impact Does URL Blacklist Has on a Website or Business?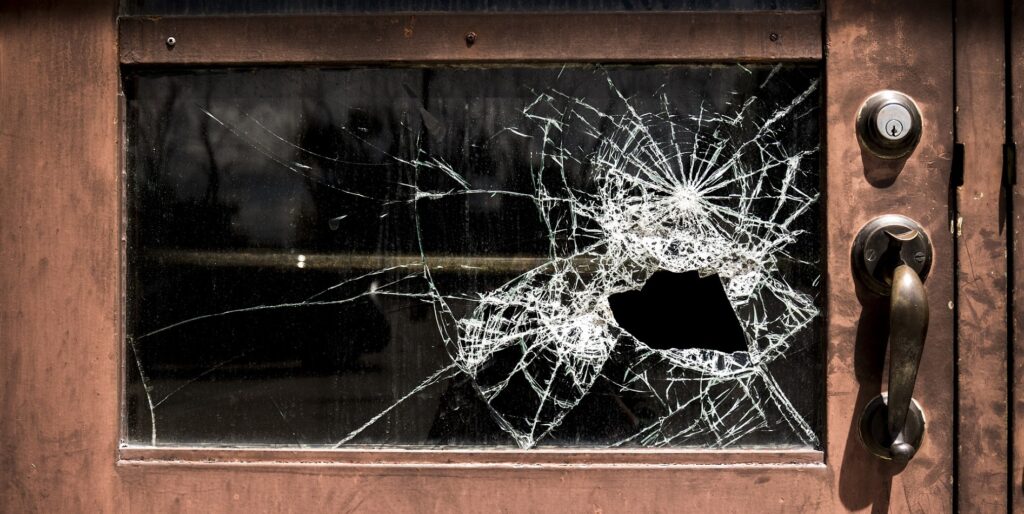 URL backlist can be a nightmare situation for any website or business. The implications can be far-reaching and long-lasting, which is why website owners have to be cautious and try to get it removed as soon as possible.
First of all, it deprives your website of organic traffic, as users may not be able to access your website, even through links on third-party websites. When the traffic goes down, so does your sales and revenue.
Even if you're not directly selling something on your website, you lose the revenue you would make through advertisements and affiliation.
Blacklisting can negatively impact even a simple branding website for any business. Users see warning messages and walk away from the website. This can tarnish the website's reputation and decrease its credibility.
Possible Google Blacklist Warning Messages
Websites on the Google blacklist display messages when users try to access them. These warning messages can indicate the severity of the issue and also indicate what may be the underlying issue with the website.
It's important, at least for the website owners and managers, to pay attention to the warning message for their particular website.
The website ahead contains malware
Danger: Malware Ahead
The site ahead contains harmful programs
The site ahead contains malware
Reported attack page
Suspected malware site
This website has been reported as unsafe
Deceptive site ahead
Suspected phishing site
Website request forgery
This site may be hacked
This site may harm your computer
Unwanted software
This page is trying to load scripts from an unauthenticated source
8 Easy Steps to Remove Your Site From Google Blacklist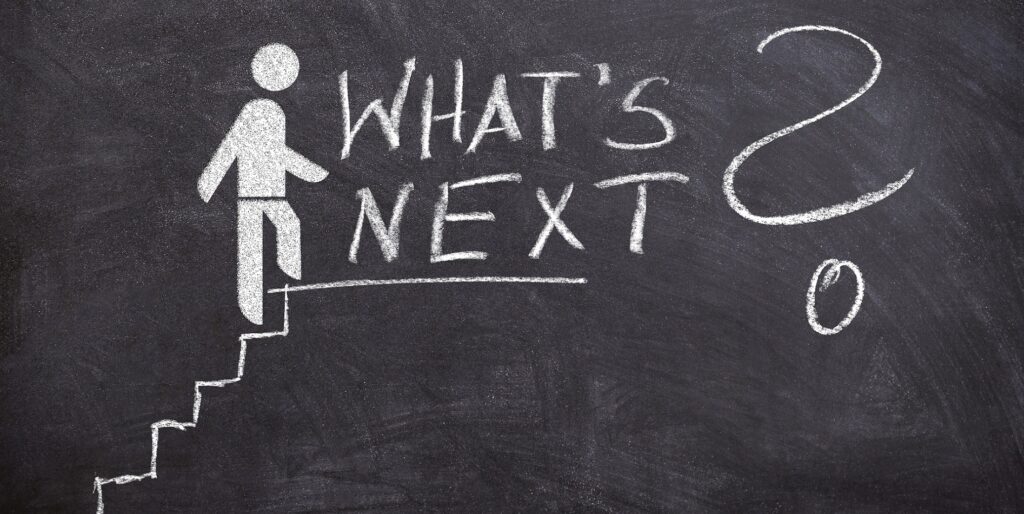 If your website has ended up on Google's blacklisted websites list, you can follow these steps to remove it and get it back on track. This step-by-step guide is essentially for Google blacklist removal but can be replicated for other search engines.
Step 1: Check If Your Website or URL Has Been Blacklisted by Google
The first step is to confirm whether your website or a particular URL has been blacklisted or not. There are several ways you can confirm that.
The easiest way to check whether your website or URL is in the Google blacklist is to search it through Google Safe Browsing.
Your website might be displaying any of the 14 warning messages that Google usually displays.
Another surefire way to detect this problem is to analyze your website's traffic. If it sees a sharp decline in traffic, chances are it's made it to the URL blacklist.
A difficulty in this situation is that Google doesn't inform immediately, so you might not know until you come across an email from Google Search Console (GSC). Chances are that you might not even realize when it actually happens.
Lastly, there are certain online tools that you can use to confirm whether your website or URL is, in fact, blacklisted. These include MXToolbox, Sitechecker, and Blacklist Checker.
Step 2: Assess the Level of Damage Done to Your Website
Once the Google blacklist check confirms that your website is on the Google blacklist, the next step is to evaluate the damage.
You may not be able to tell what exactly has caused the URL to be blacklisted, so your best bet is to use Google Search Console for answers.
If you haven't verified the ownership, do that first. You can do that by using the Verify Property tool of GSC.
In GSC, go to the Security tab and then Infected Pages. It will list the issues detected along with important information. Click on 'Learn More' to find those details. You'll be better able to understand where the problem really is.
The 'Test Live URL' tool can be used to find contaminated and deindexed pages, so you know which pages are currently having issues and why.
Step 3: Backup Your Website
Before you proceed to actually resolve the issue with your website's content or pages, you should back it up.
That depends on your website and what CMS it's using. It also depends on your hosting plan, whether that includes auto-backups.
Make sure your website's code and data are backed up before proceeding any further.
Step 4: Use a Malware Scanner to Scan Website
The next step is to scan your website for possible malware. Regardless of whether the warning message or GSC implied malware existence, it's good to complete a scan to rule it out or resolve it.
There are a variety of malware scanners available that you can use: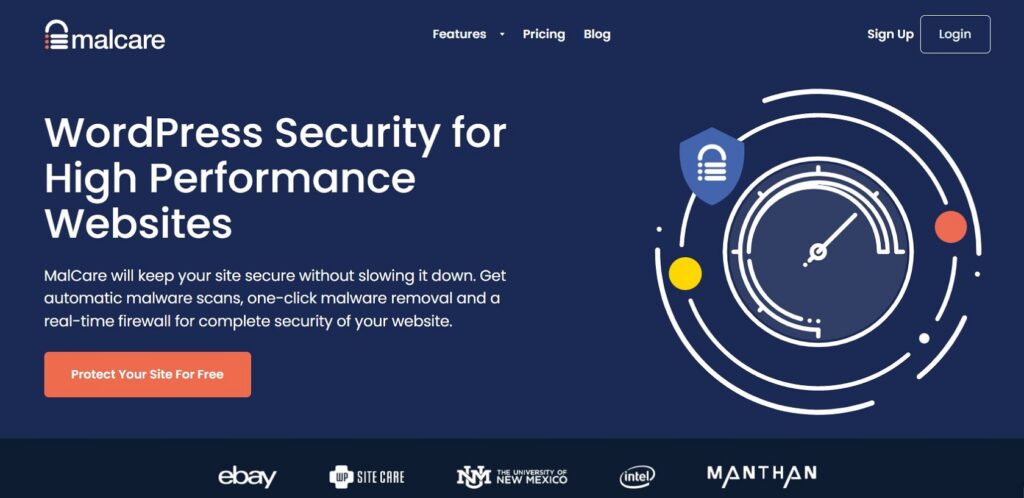 Malcare is a trusted malware scanner for websites that is also used by Cloudways and Astra. It offers instant malware detection and removal, helping your website get back online in minutes. It also provides preventive security features to protect your website from threats that result in blacklisting.
Key Features:
Malware scan and removal
Change tracking
WordPress Firewall
Login Protection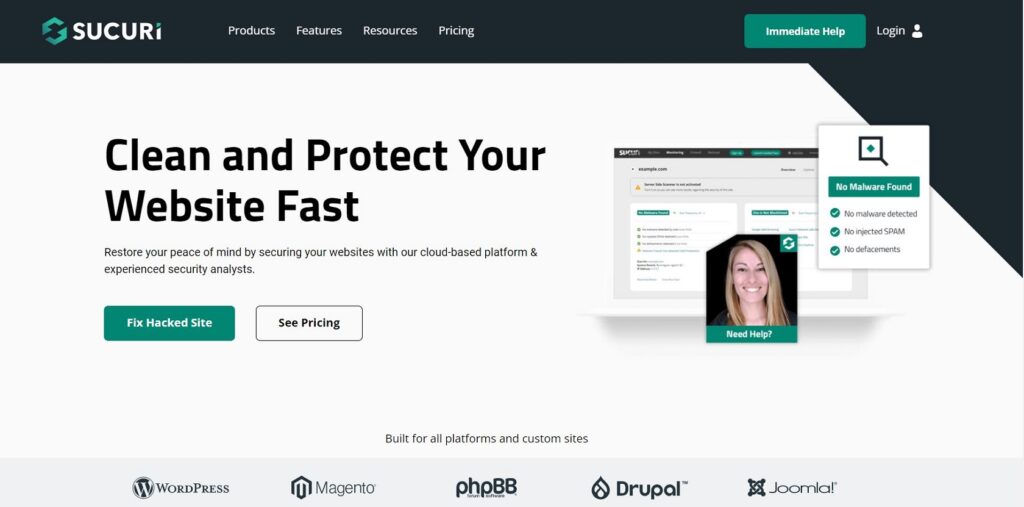 Sucuri is especially great for WordPress websites, especially with the Sucuri plugin for WP. The company provides a wide range of web security tools, including malware detection.
Key Features:
Malware removal
Blacklist removal
Security audit
Post-hack recommendations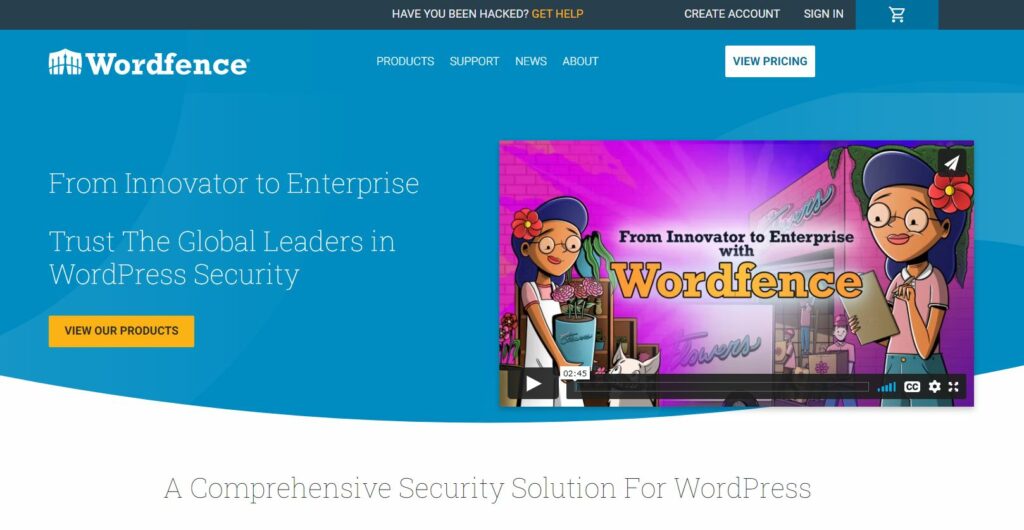 WordFence is a WP plugin for website security and malware detection. It's an end-point firewall to prevent and detect viruses on WP websites. It's mostly free, with a few features only available in the Premium version.
Key Features:
Comprehensive malware scanning
Malicious traffic block
WordFence Central to manage security
Live traffic security monitoring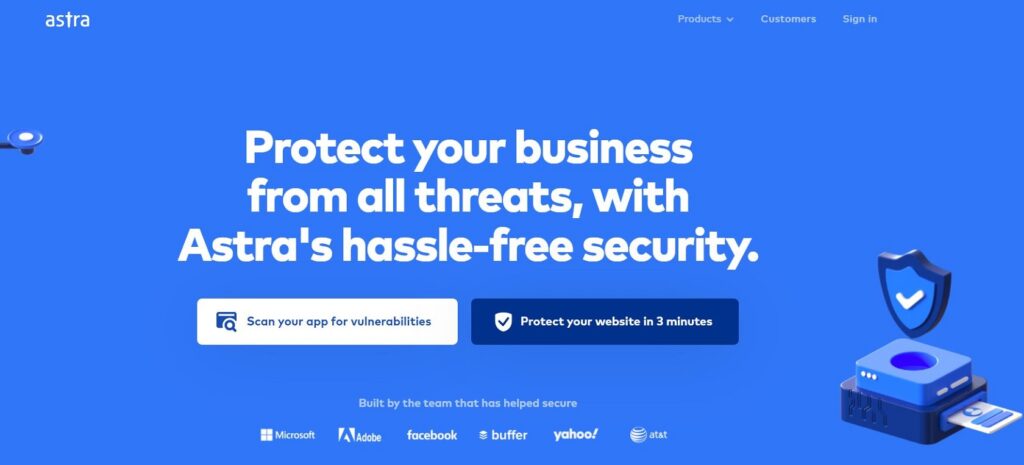 Astra provides a wide range of website security tools, including restoring hacked websites. They claim they can recover hacked websites in under four hours. They send especially tailored solutions and suggestions for blacklist removal.
Not only that, but it can also prevent future attacks and solidify the security of your website.
Key Features:
2-minute sign up
Tailored recommendations
Security audit tool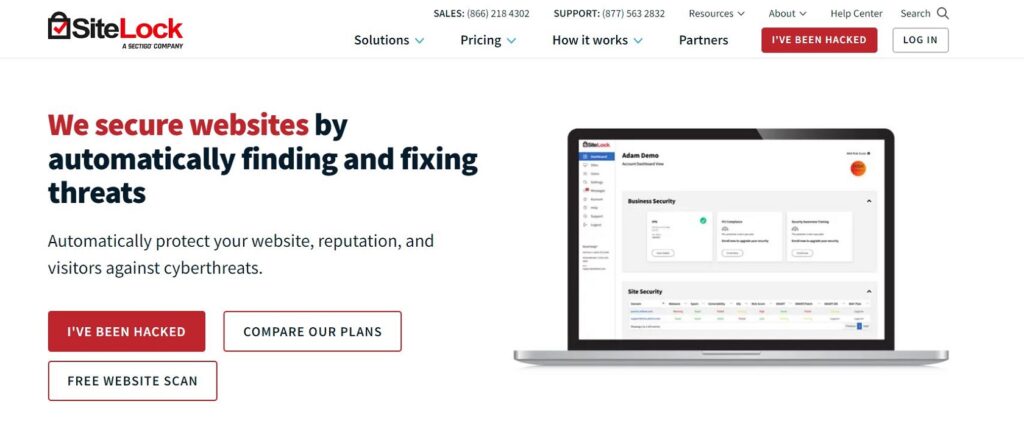 SiteLock offers a wide range of security tools, including Website Scanning. This is a paid tool that can take care of your website's overall security. It can help detect and remove malware instantly.
Key Features:
Daily scans
Spam detection
Security analysis
Step 5: Clean and Remove the Infections
Now that you've scanned for malware, it's time to remove those infections from your web pages. You can use the same tools like Malcare to remove the malware without compromising the integrity of your website.
If you're not using any tool, there are also ways to remove malware and infections from your websites manually. However, doing it manually is not the most efficient way, as you might not be able to fully disinfect the webpage. Also, it might take a lot of time, which is not ideal as you want your website removed from the blacklist at the earliest.
Here are some of the ways you can try finding and removing malware:
Look for malicious codes in WordPress files one by one.
Look for malicious entries in databases such as phpMyAdmin and remove them permanently.
Check if any plugins are outdated and serving as a backdoor for negative access.
Analyze the website access and accounts to ensure no one unauthorized has access.
Change passwords for all the dashboard (cPanel), web hosting, and admin.
Step 6: Remove the Website's IP from Spam List
You should also remove your IP from Spam List if it has also been blacklisted. You can use one of the tools above, like MXToolBox.com to check if it has been blacklisted.
There can be several spam lists that your IP may have been listed in. Some lists allow manual removal while others don't. In the latter case, you have to wait for some time until your website meets certain security criteria.
For self-removal, follow the instructions given on the list's website. Make sure to follow them diligently and act professionally.
Alternatively, you can use an expert to do this for you.
Step 7: Request a Review of Your Website from Google
Finally, it's time to send a review request to Google using GSC.
Go to the Security tab, then see if the issues have been resolved.
Check 'I have fixed these issues' and click on Request a Review.
When the Request Review step opens, you can input in detail the steps taken to remove the issues. Here you can write about the tools you used and provide screenshots of the clean website.
If there are several issues with the websites and URLs, you have to repeat the steps for every issue.
That's about it, and Google takes one to three days to review the website and remove it from the blacklist.
Note that you can only request once review every 30 days, so make sure that your website is in the clear before sending a review request.
Moreover, you should also get Google to recrawl your website. Here how you do it:
Go to Google Search Console > Click the Fetch as Google > Enter URL and click Fetch > Submit to Index > Choose the option Crawl this URL and its direct links and click go.
Step 8: Submit to Antivirus Programs for Review
You should also send a request for review to antivirus programs like Norton or McAfee. Your website may have been blacklisted by these antiviruses as well, which means they might block access for users who use these antiviruses.
How to Prevent Future Blacklisting by Google
Once your website has been recovered and removed from the Google quarantine list, you should guard yourself against future attacks and malware. Following best security practices for your website can ensure your website doesn't have to see the blacklist ever again:
Regular Updates: Update software/versions of the plugins or website regularly, so that there are no backdoor opportunities for hackers to access your website.
Trusted Software and Tools: Only use trusted software that has legit reviews and users.
Reliable Security Tools: Use a good security plugin or other security tools for your website to nip security issues in the bud.
Quality Hosting: Use good and trusted hosting service providers that take security very seriously and protect their servers from attacks.
Security Auditing: From time to time, audit and scan site with malware scanner for security breaches. You can use free or paid tools for this.
Google Analytics: Use Google Analytics to identify unusual or suspicious traffic activity.
Now that you understand what is URL blacklist infection, you can take preventive measures to reduce the risk. For those who have been afflicted with such a situation, the above guideline will help restore their website and remove it from the blacklist.
It's highly important to take prompt action if your website ends up in the blacklist, as a blacklist website can lose visitors, revenue, and even reputation. Bouncing back from that can be a real struggle.