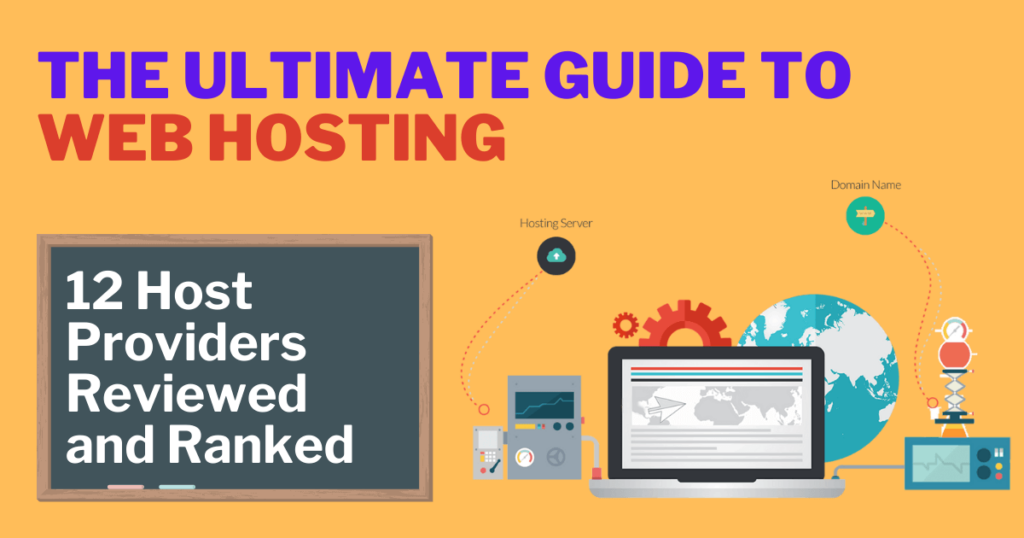 How do you run a website? To start with, you need to deploy or host your website on a server. However, it's costly, especially for beginners, to buy and maintain a server independently.
We need web hosting companies to host our website while we concentrate on developing it, and most importantly, our business.
Whether you are a business owner, blogger, or E-store owner, hosting your website is the first step towards your online presence.
We will discuss 12 top hosting providers in this review and evaluate their performance. But before we do that, here's a question.
What do you expect from a good hosting service? A web hosting service offers file storage, security, and bandwidth to improve your website response time and page loading time.
What Are The Various Web Hosting Options?
You might often find yourself at crossroads while correlating your business requirements with multiple types of web hosting services.
Don't worry because we have segregated web hosting options into eight main categories. Note that all these web hosting plans cater to different business requirements due to the various offered features such as:
Storage capacity
Server speed
Reliability
Other technical requirements
If you are a beginner hosting a website for the first time, you can opt for shared hosting. It's essentially a unified server that hosts and stores multiple websites.
As the name suggests, you share server resources, including Random Access Memory (RAM) and Central Processing Unit (CPU). Sharing resources is directly related to a lower cost, making it a perfect choice for website owners at a beginner level.
Not only that, but the shared plans include other beneficial tools such as WordPress hosting, website builder, and email server.
Since all the resources are shared, it surely affects the web processing or page loading time, making a bad impact on the user experience.
Virtual Private Server (VPS) Hosting
It's a one-step forward to the shared hosting service by providing a middle-ground between the shared and a dedicated server.
The website is hosted in a separate, dedicated space while sharing the same physical server with other hosted websites. This way, you have your own storage space with freedom of customization.
However, don't expect VPS to cater to high traffic since the other hosted websites can affect your site performance.
As the name suggests, it provides you full control over the server hosting your website. This way, you have exclusive rights, including full root, admin access, so that you can control the operating system and security.
All this independence surely comes at a higher cost. That's why dedicated server hosting is suitable for websites with higher traffic and permanent subscribers.
It's the latest technology that has taken over the Internet. It provides an infrastructure of servers to employ many resources simultaneously. This way, you don't have to build and maintain your infrastructure; instead, you host everything on the cloud.
Consequently, it minimizes downtime and ensures scalability by allowing you to use resources according to your web hosting requirement.
It's a complete website hosting plan in which the provider is responsible for daily hardware management, operating system, storage capacity, and other applications. This way, you don't have to be technically versed with website hosting.
It's a similar concept to co-working space where you collate your server by renting space in a central colocation. The space owner is responsible for providing the cooling system, IP address, bandwidth, and of course, the power to your server.
Self Serving Hosting is a plan just for you. In this setup, you need to buy a server, install and configure the software yourself.
The reseller web hosting includes extra features such as Web Host Manager (WHM), billing software, and control panel, allowing you to resell hosting space.
How We Choose Good and Reliable Web Hosting Providers?
Selection of Web Hosting Option
First, evaluate your website and business scale and then select any of the eight web hosting options to create an online platform for your business. You may not want to choose a web hosting option with higher storage space if you don't need one.
But if you have a bigger business and you see massive site traffic everyday, you can opt for dedicated hosting for a better visitor experience.
Another important factor to consider is the type of business website you require. For instance, if you are a beginner stepping into the blogging world, you should go for WordPress right away. If you're selling a product or service, choose from a range of E-commerce platforms.
E-commerce websites have different features and requirements with secure payment mechanisms, inventory, customer information, etc., so you need to select a scalable and secure website.
For bloggers, unlimited storage is a waste of money. But it's important for solution providers.
Assess your business requirement and make a one or two-year projection to go for the suitable storage plan.
Also, compare HDD and SSD storage types if you are inclined towards the hi-tech hardware. HDD is a cost-effective solution to store data in a rather traditional way, while SSD is equipped with the latest technology to load sites quickly. However, it's an expensive solution.
What Are The Top Hosting Providers in 2022?
This section will discuss the top hosting providers in 2021. Our selection criteria is simple – checking each option for speed, performance and reliability.
We used speed tests to check if they're offering the website speed they promise. Furthermore, we used professional tools to gauge their performance and reliability.
Without further ado, let's deep dive into the features offered by the following best web hosting services.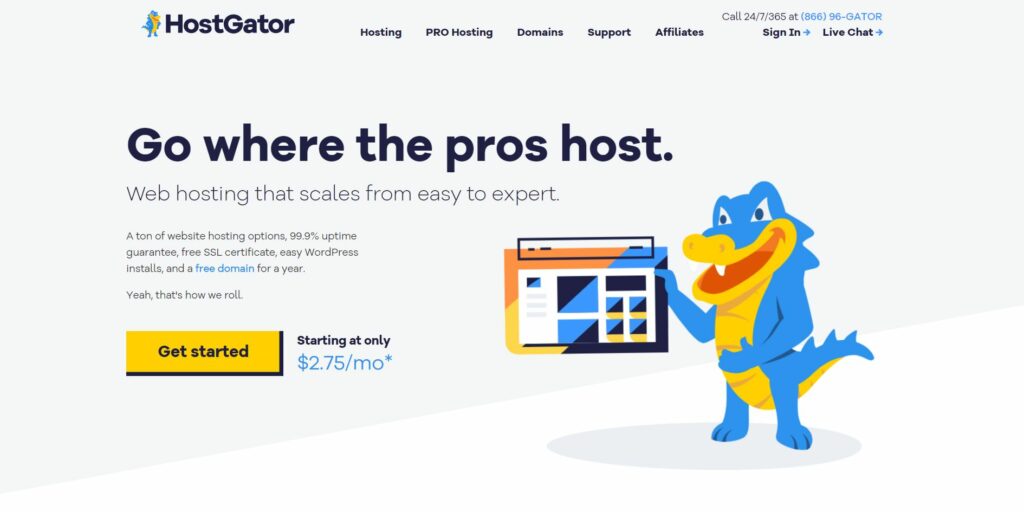 Hostgator is one of the best web hosting providers because of its affordability and unlimited storage. Founded in 2002, Hostgator has gained popularity within a short period because of its three affordable plans: hatchling, baby, and business plan ranging from $2.75 to $5.95 per month.
Features
Every Linux- or Windows-based shared hosting plan comes as a complete package with a built-in Gator website builder that enables you to drag and drop site-building functionalities. It lets you select from 100 mobile-friendly templates.
Not only that, but it also includes a QuickInstall tool so that you can install blog forum, gallery, WordPress, and E-commerce store scripts. Hostgator also supports different content management systems such as Joomla, Wiki, phpBB, and Drupal.
Hostgator offers a private SSL certificate and a toll-free VoIP number. Additionally, the 99.9 percent server-uptime is one of its most lucrative offers to meet the web hosting standards.
Lucky for you, the web hosting platform offers a 45-day money-back guarantee to evaluate if it matches your website requirements or not.
This advanced shared hosting service uses the latest cPanel software to ensure seamless operation of the administration console. This means you can quickly organize data and launch the E-commerce shopping cart. Additionally, it allows you to collect stats and logs using Erro Longs, Raw Log Manager, Webalizer, and AWStats.
Even better; this hosting company allows the Windows hosting customers to manage the website, create Email accounts, and install other software using Plesk.
Hostgator ensures 24/7 customer support via different media such as phone, online chat, ticket, and online knowledgebase.
Pros
Exceptional shared hosting features
Website-building software
Excellent customer service
Incredible server-uptime
45-day money-back guarantee
Unlimited bandwidth and storage
Con
Doesn't support Windows-based VPS hosting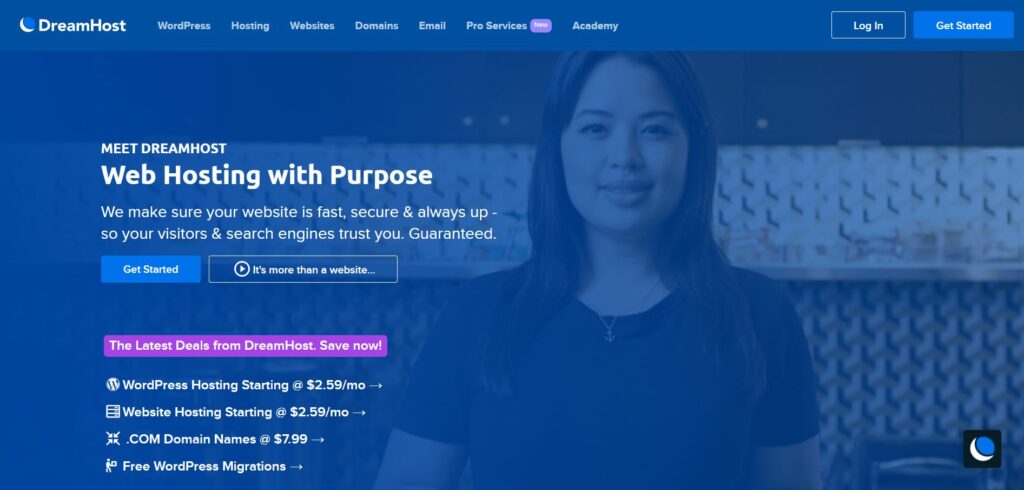 DreamHost offers you to build a Linux-powered website using website-building software. It offers WordPress, VPS, Cloud, and dedicated web hosting services with user-friendly features.
Founded in 1996, DreamHost has been providing web hosting services to more than 1.5 million websites.
Features
The DreamHost web hosting provider features a shared hosting plan with reliable apps and platforms like WordPress Wix and Weebly. It has its own website builder known as Remixer.
The best thing about these plans is unlimited bandwidth and storage space. Additionally, you can get a website with a free domain name and an included SSL certificate.
Even the starter plan offers 50 GB storage with unlimited bandwidth, daily backups, free SSL, and free domain. Along with that, it guarantees automated WordPress installation. It's extremely easy to set up on a server with a single-click install option.
Using DreamHost web hosting plans also eliminates delayed verification as it allows you to start right after signing up.
The DreamHost data centers host highly efficient cooling and processors. Moreover, it incorporates a 'clean wind' program to harness power from renewable resources.
DreamHost is our editor's choice because of its efforts to offset the carbon footprints of its servers.
On the downside, the data centers are available in the US only. The live chat is available for a limited time, and that too, without telephony chat option. Moreover, 24/7 customer support only entertains tickets.
Loading time of 1180 ms might raise your concerns, but the server-uptime of 99.62 percent is a sigh of relief. DreamHost guarantees credit for the cost if your monthly average goes beyond threshold.
Pros
Advanced security features
Exception cloud hosting offerings
Monthly unlimited data transfer
WordPress staging feature
Domain-management tools
97-day money-back guarantee
Cons
Doesn't provide customer support on the telephone
Email not included in the shared starter plan
Absence of Windows-based servers
Kinsta – Top Managed WordPress Host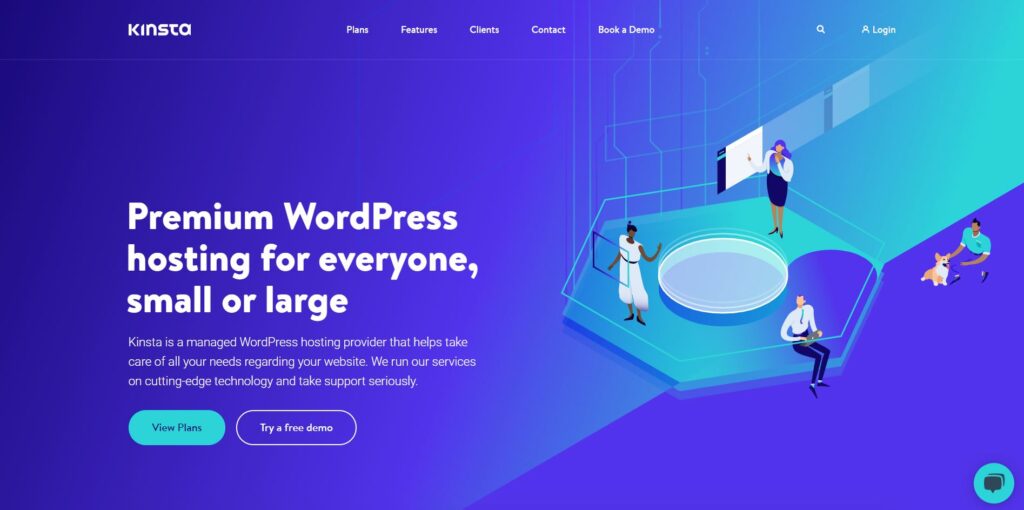 Headquartered in Los Angeles, Kinsta is the best hosting company providing a completely managed WordPress hosting solution for all businesses.
Founded in 2013 by a WordPress experts team, Kinsta serves in 128 countries worldwide. Moreover, it doesn't own data centers; instead uses Google cloud data center to host its WordPress platform.
Features
The main website of Kinsta features a user-friendly interface supporting ten different languages to guide the visitors through the plan selection steps. You can also read the Kinsta blog containing guides and articles related to WordPress.
The Kinsta web hosting provider provides exceptional customer service to cover all time zones in seven major languages.
Kinsta offers WordPress hosting plans only with free website migration and, of course, a hack fix guarantee. It offers ten hosting plans with prices ranging from $35 for Starter to $1,650 for Enterprise per month.
The cheapest plan comes with a managed WordPress, 10 GB storage, 50 GB of free CDN, free SSL certificates, automatic backups, 25,000 monthly visits, etc.
On the downside, Kinsta accepts payment by credit card only. So, you may be a bit disappointed if your preferred payment method is PayPal.
All you need to do is to select a plan, create an account, make the payments, and you are good to go. Keep in mind that Kinsta doesn't provide domain registration services, so you have to do it on your own beforehand. Nonetheless, you can benefit yourself with its free-of-cost migration by filing your online request.
Another great thing about this recommended web hosting service is its customized dashboard that allows you to manage multiple websites simultaneously. Additionally, you can monitor the analytics and other website stats. Need more information and other details of the provider? You can read the full review of Kinsta.
Pros
Self-help options
Global presence of data centers
Automatic daily backups
Exceptional speed performance
30-day money-back guarantee
Cons
Pricey
Doesn't include registration services
No telephone support
Hosts only WordPress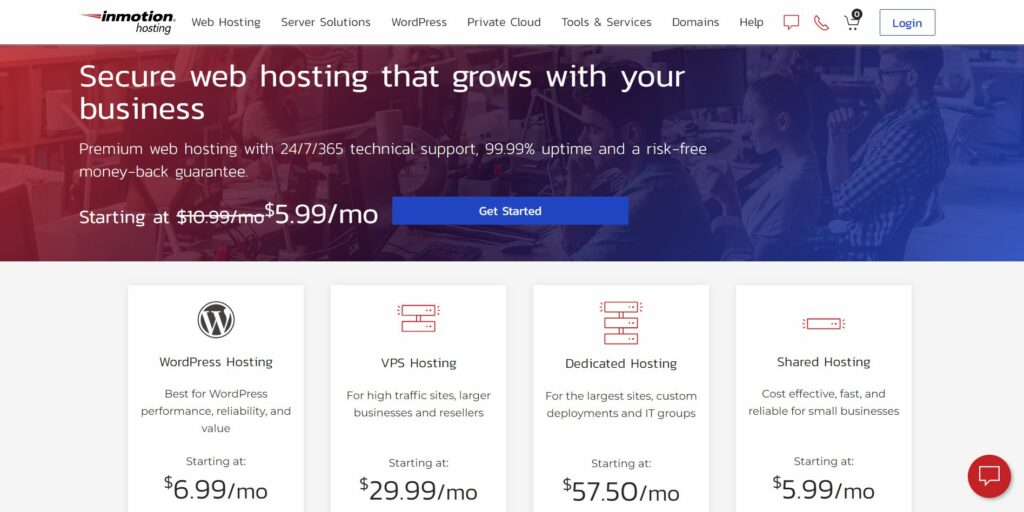 The Inmotion web hosting solution is a perfect combination of scalability, customer support, and state-of-the-art hardware. Moreover, it offers advanced SSD drives to boost your website's speed.
The Zero-downtime site transfer coupled with automated backups makes InMotion a reliable web hosting service.
Founded in 2001, InMotion has successfully provided hosting services to more than 300,000 customers on Linux and Unix servers.
Features
InMotion offers state-of-the-art Dell servers, located in their innovative green technology center in Los Angeles, California. The company invests millions of dollars to deploy premium-quality routers from Cisco Systems and Brocade.
This all-rounder VPS hosting service provides free SSDs and numerous data centers to ensure maximum speed and exceptional performance.
With InMotion, you're getting 24/7/365 customer support via phone, live chat, and email. Additionally, you can find guides and tutorials on Inmotion's customer community team.
This featureful web hosting provider allows you to access different open-source applications such as PrestaShop, OpenCart, blogging tools, scripts, and other CMSs. Additionally, it supports the latest languages including, PERL, Python, PHP, Ruby, PostgreSQL, and MySQL. InMotion Hosting guarantees your website protection by providing SSH access to all the accounts.
It provides a 99.99 percent server-uptime guarantee for all its accounts. Moreover, it offers a 90-day standard money-back guarantee, thus giving you enough time to evaluate the Inmotion's functionalities.
Migrating your website to Inmotion is a breeze, courtesy of its automatic data backup.
InMotion hosting provides an unmanaged cloud VPS web hosting starting from 5$ per month. Additionally, you get 8 GB of RAM, 260 GB storage, 6 TB monthly data transfer, and five dedicated IPs. Furthermore, it includes unlimited emails, websites, domains, and MySQL database.
Pros
Excellent customer service
Unlimited email
Money-back guarantee
User-friendly website-building software
Automated backups
Zero-downtime site transfers
Flexible coding options
Cons
Absence of Windows servers
Complicated plans
Bluehost – Best Web Hosting for Beginners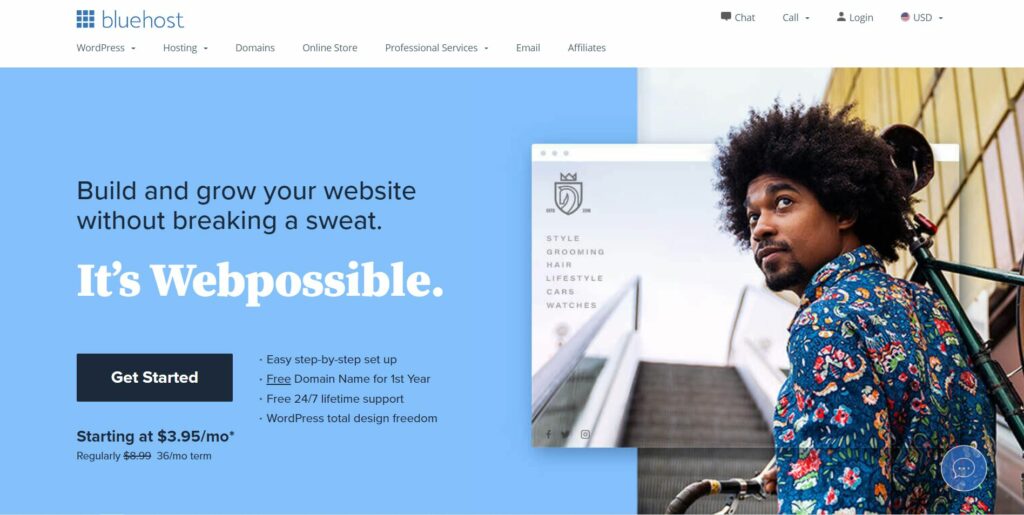 Bluehost is undoubtedly the best web hosting solution for beginners because of its straightforward plans and easy-to-use interface. It guarantees an uptime of 99.9 percent, translating to 43 minutes of downtime a month.
Founded in 2003, Bluehost has hosted more than two million websites with 750+ team members.
Features
The Bluehost comes with a one-for-all and all-for-one Wix website builder to help beginners set up their websites more conveniently.
It works extremely well with WordPress and provides you access to multiple free WordPress themes.
The entry-level hosting plan of Bluehost comes with impressive features such as 50 GB SSD storage, one domain, unlimited bandwidth, five parked, and 25 subdomains.
It provides all the security options, such as a free SSL certificate and free Cloudflare (CDN). Additionally, it offers single-click WordPress installation, numerous CMS integrations, and bonus Ecommerce plugins.
As we move towards the higher-tier plans, Bluehost keeps adding more features such as Spam Expert, server backup, and domain privacy protection. Higher plans offer SiteLock to prevent malware attacks and Codeguard to perform daily backups.
The Bluehost web hosting service is known for its exceptional 24/7 customer service  via live chat, and phone support. Moreover, it provides you a standard 30-day money-back guarantee to ensure a safe investment.
Another benefit of using Bluehost is its intuitive and user-friendly customer portal. Moreover, you can create your website using a website builder tool and customize the template by using the drag-and-drop feature.
Pros
Excellent server-uptime
User-friendly interface
Weebly suite-building software
Free-of-cost site migration
Responsive customer service
Cons
Absence of Windows-based servers
Customers don't really rate their service as great quality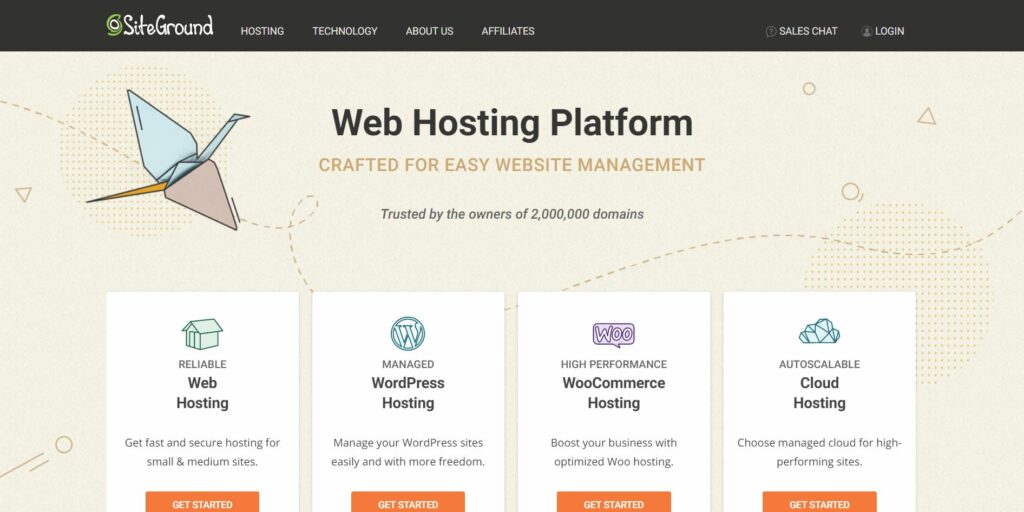 SiteGround provides a one-stop web hosting solution with its six data servers to 2.6 million domains. If you are looking for WordPress hosting or premium-grade share hosting, SiteGround is the best web hosting solution for you.
Founded in 2004, SiteGround is a Bulgaria-based company with offices in Madrid, Spain.
Features
Though SiteGround charges more with a startup account of $6.99 and a renewal of $14.99, it provides additional features such as unlimited sub and parked domains and unmetered traffic. It also offers unlimited email accounts and databases.
The SiteGround plans include Cloudflare CDN, automated daily backups, and SPAM Expert spam filtering to streamline your hosting process.
You can go big with a GrowBig account initially starting at $9.99 and a $24.99 monthly renewal fee. Moreover, it provides you a storage space of 20 GB to support unlimited domains. By the way, you can also transfer one existing website for free.
The signup process is quite straightforward. All you need to do is choose a plan, enter your details and credit card details to finalize the payment.
This web hosting service comes with an interactive dashboard featuring multiple tabs and functionalities. You can manage different account details, such as changing billing methods and adding or deleting different plans. Additionally, the referral panel allows you to refer SiteGround to your friends or colleagues to enjoy free hosting.
The setup wizard offers you three different methods to create the first website – Migrate Website, Start New Website, and Create Empty Site.
Furthermore, SiteGround offers a custom Site Tools panel to manage the site status and other quick launch icons.
SiteGround plans don't include any free domain, which is a big turn off for certain people.
Pros
Fast servers
24/7 customer support
Six data centers
Top-class server performance
Free site migration on GrowBig
Cons
Absence of free domain name
No dedicated server
Absence of free domain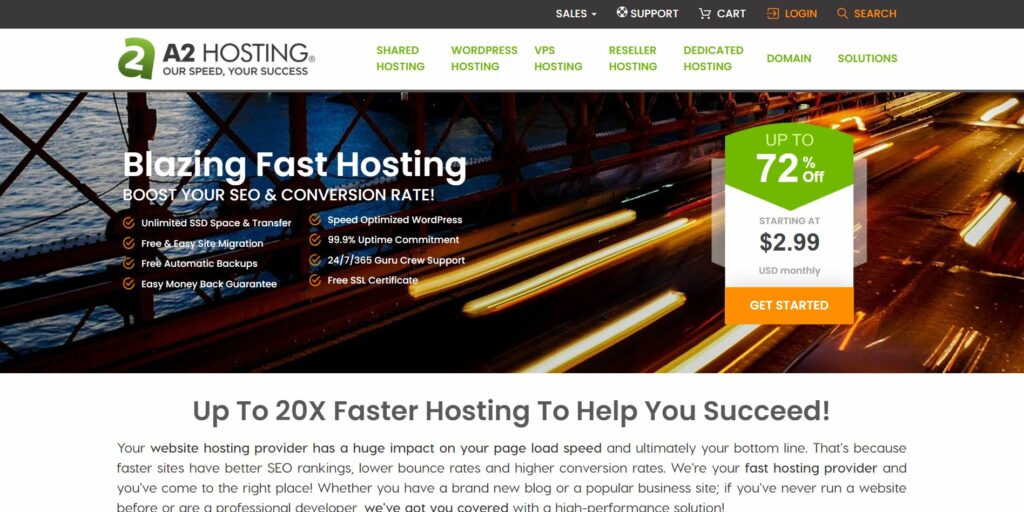 The Michigan-based company started in 2001. Before changing its name to A2 Hosting in 2003, the company was known as Iniquinet.
Nevertheless, it has been providing top-class web hosting solutions to a global audience. The factors like unlimited storage and bandwidth at medium-level price make it a good web hosting service.
The A2 Hosting is recommended for small or medium-sized businesses that want storage for their websites and clients.
Features
A2 Hosting offers additional features such as speed optimization plugins for CMSs such as PrestaShop, Magneto, or WordPress. It also incorporates server-side caching and staging areas.
This high-rated hosting provider offers multiple tiers of cloud hosting on Linux operating systems. You can opt for a Runway 1 plan at a subscription fee of $4.99 to enjoy 1GB RAM, 2TB monthly data transfer, and 150GB SSD storage. Moving on, you can either opt for the Runway 4 plan for $9.99 or the Supersonic 32 plan for $69.99 per month.
The A2 Hosting incorporated multiple E-commerce tools such as PrestaShop, OpenCart, and WooCommerce to help you set up an online store with their one-click setup. However, you need to buy an A2 SSL certificate to secure your online store and encrypt its data.
All the A2 Hosting servers come with HackScan protection, a 24/7 monitoring server to scan attacks and malware. In addition to that, the data centers are scalable to protect you from denial of service attacks (DDoS) break out.
You can migrate one of your existing websites to the A2 Hosting server without paying additional charges. However, you need to pay $10 per site to migrate to other websites.
The A2 Hosting provides unbreakable 24/7 technical assistance known as Guru Crew, available via phone or live chat. Furthermore, it offers a standard 30-day money-back guarantee offering you a full refund anytime during this window.
Pros
Affordable plans
Server-side caching system
Staging areas
Improved uptime
Server location selection
Availability of Windows-based servers
Cons
Limited concurrent HTTP connection
Vague checkout system
Hostwinds – Great for Support and Performance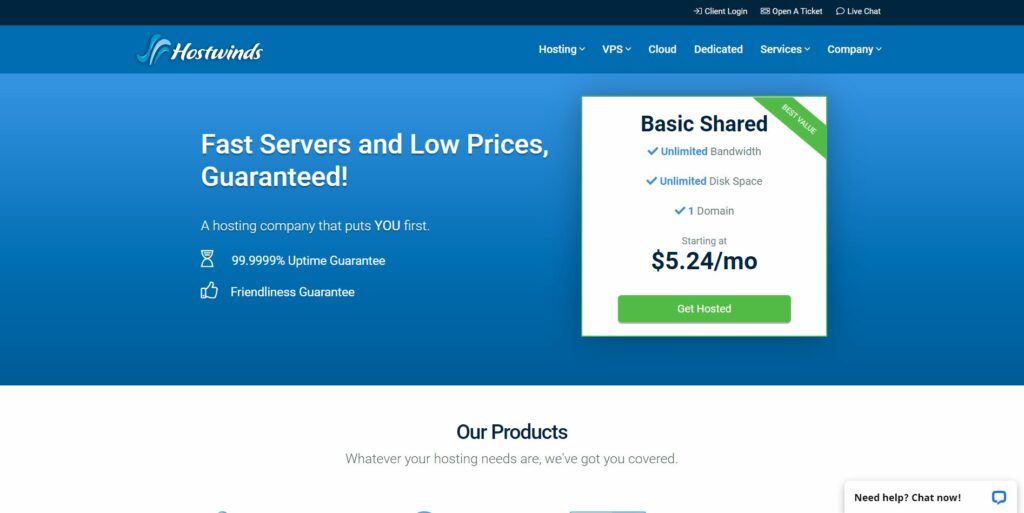 Hostwinds is a top-rated web hosting provider offering helpful tools to build functional and interactive websites. It offers different hosting services such as shared, VPS, cloud, dedicated, reseller, and WordPress.
Features
All the hosting plans include some mandatory features such as Softaculous Auto install, instant setup, SSD, latest Cpanel, free dedicated IPs, and many more.
You can opt for any of its affordable Linux-based shared hosting plans if you are on a tight budget. That said, it doesn't offer Windows-based web hosting plans.
The Basic plan starts at $8.99 per month, while Advanced starts at $10.99 and Ultimate starters at $12.99 per month.
Hostwinds offers Weebly as its website builder. It means you can quickly create your E-commerce platform with the help of Square. You can also select from hundreds of styles and themes to create your planned site.
Weebly provides straightforward drag and drops website elements such as text, dividers, maps, videos, and images. Additionally, it optimizes your website for mobile and website configuration allowing it to adjust according to the screen's resolution.
The Softaculous library includes the Magento Ecommerce app to facilitate you in creating an elegant online store using the drag-and-drop store builder.
Hostwind is a multifunctional web hosting provider offering Website monitoring for shared and reseller plans. It means it automatically generates a help ticket on your behalf if the website experiences any downtime.
24/7 customer support is available via phone, webchat, and ticket-based. In addition to that, Hostwinds offers a 60-day money-back guarantee and processes a refund requested within 72 hours of purchase.
Pros
Accepts Bitcoin
Steady performance
Helpful articles on the support website
Excellent customer service
Minecraft server hosting
Cons
Doesn't provide managed WordPress hosting
Short refund period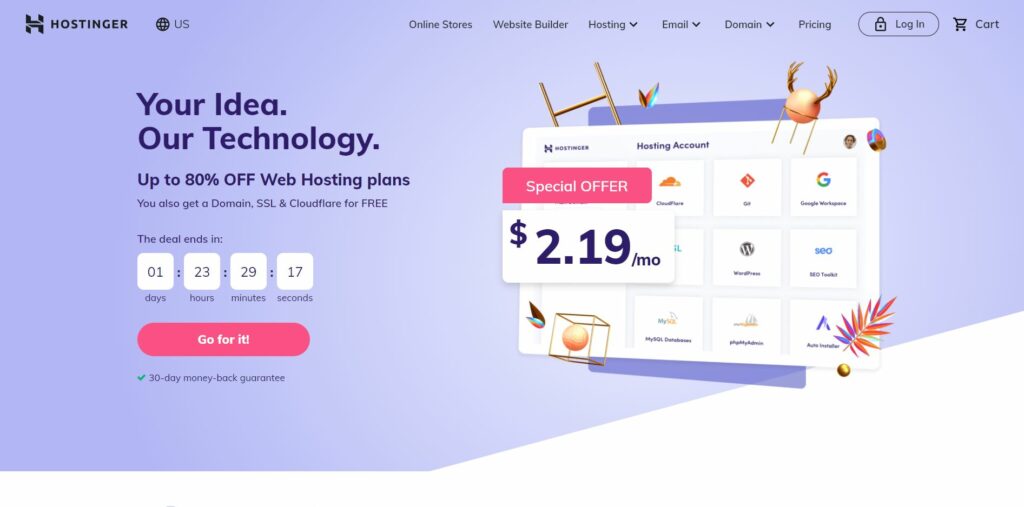 Hostinger is one of the top hosting providers because of its exceptional features, security, and of course, ultra-fast speed. Not only that, but it provides one of the cheapest hosting plans starting from $0.99 per month.
This web hosting provider offers cloud, shared, and WordPress hosting at unmatched lower prices without compromising your website's performance and page loading speed.
Features
All the Hostinger plans offer a free domain name except the Single Shared plan. Moreover, a team of experts will assist you in migrating your website for free.
You can enjoy a free SSD drive in all of its shared hosting plans. Additionally, all the servers feature LiteSpeed, HTTP2, PHP7, and a built-in caching system.
The Hostinger has servers hosted in the USA, Asia, and Europe, offering a 1000 Mbps connection.
You can activate the Automatic Cache option available in the Cache Manager setting to reduce load time by 0.2 seconds.
The control panel offers a user-friendly interface that offers accessible category tiles with pictures to recognize these options. That's a high level of transparency and accessibility for you.
As far as your website's security is concerned, Hostinger offers Bitninja in all of its plans to guarantee real-time protection against DDOS malware, XSS, brute force, script injection, and automated attacks. In addition to that, Hostiinger also provides SpamAssassin to filter, scan, and remove email spam.
Pros
High-performing cPanel-like site manager
Affordable
Zero restrictions on the website builder
30-day money-back guarantee
Unmetered SSD space and bandwidth
Free daily and weekly data backups
Free SSL certificate
One-click WordPress auto-installer
Cons
No dedicated plans
Slower average response time
Confused support site
As the name suggests, the GreenGeek is the best eco-friendly web hosting service featuring sustainable web hosting to ensure security, performance, and speed.
Headquartered in Agoura Hills, California, GreenGeeks has been offering a wide range of hosting, including shared, WordPress, reseller, and VPS hosting since 2008.
Features
GreenGeeks focuses on reducing the carbon footprint by purchasing wind credits to compensate for its servers' power grid energy. Moreover, it uses energy-efficient hardware to host your website data. This way, they can replace over 615,000 KWH/year, which is a huge milestone.
A free domain name for a year may be the best thing for you if you're a beginner. Then, you'll get the free-of-cost website migration support, a win-win situation for anyone.
The provided SSD drivers offer you unlimited space in all the shared hosting plans.
GreenGeeks offer state-of-the-art features like SSD hard drives, built-in caching systems, and CDN services to guarantee ultra-fast loading speed. Moreover, it offers HTTP/2 to improve communication between client and server, while PHP7 support offers the latest technology for your website.
The customized built-in caching assist in optimizing the website by compressing different MIME file types. What more, you can check your website's performance in the Optimize Website setting by modifying how Apache handles the requests.
GreenGeeks offer five data centers based in Chicago, Phoenix, Toronto, Amsterdam, and Montreal.
Pros
A free domain name for a year
Unlimited storage space and data transfer
Free site migration
Automatic data backups
30-day money-back guarantee
Free SSL certificate
Cons
Refund doesn't include setup and domain fee
Confusing price points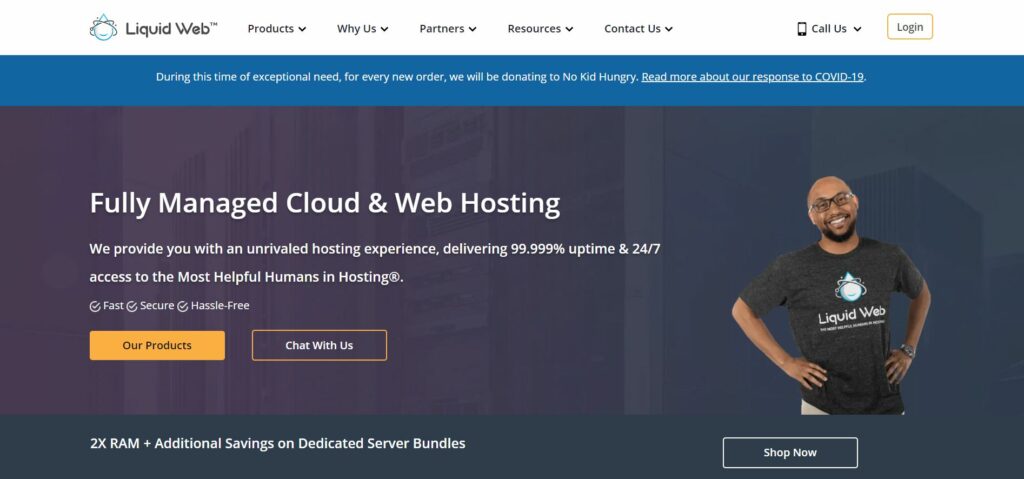 The USA-based Liquid Web has managed 1.5 million sites for more than 45,000 global customers with its ten data centers for the past 20 years. It's been managing websites for businesses and corporate companies.
However, it's a bit pricey with a basic Personal Managed WordPress plan costing $15.83 per month. This plan included 15GB SSD storage and 2TB bandwidth for an individual website.
Features
Liquid Web provides you automatic daily backups and other high-end technologies, including PHP7, Varnish, and Nginx. Not only that, but it also offers smart image optimization and plugin updates.
The good news is that you can migrate your website without paying any extra cost.
You can contact its 24/7 customer support via phone, email, or live chat.
According to Liquid Web's service level agreement (SLA) for VPS and dedicated clients, it ensures 100 percent power uptime. Moreover, it guarantees 59 seconds phone or live chat response time and 59 minutes for the help desk after identifying the problem.
The Liquid Web provides you with three different choices of control panels – cPanel, Plesk Web Pro, and InterWorx. This means you can conveniently manage the account settings, domains, billing information, and backups on your favorite control panel.
Furthermore, provided management features depend upon the type of plan you select. Some of the notable features include Caching, CDN, SSH, FTP, SSL, MySQL, email, backups, staging, etc.
Pros
Reliable web hosting services
High-end server specifications
Exceptional customer service
Incredible server-uptime
Accepts credit card or PayPal
Cons
Doesn't include a shared hosting plan
Expensive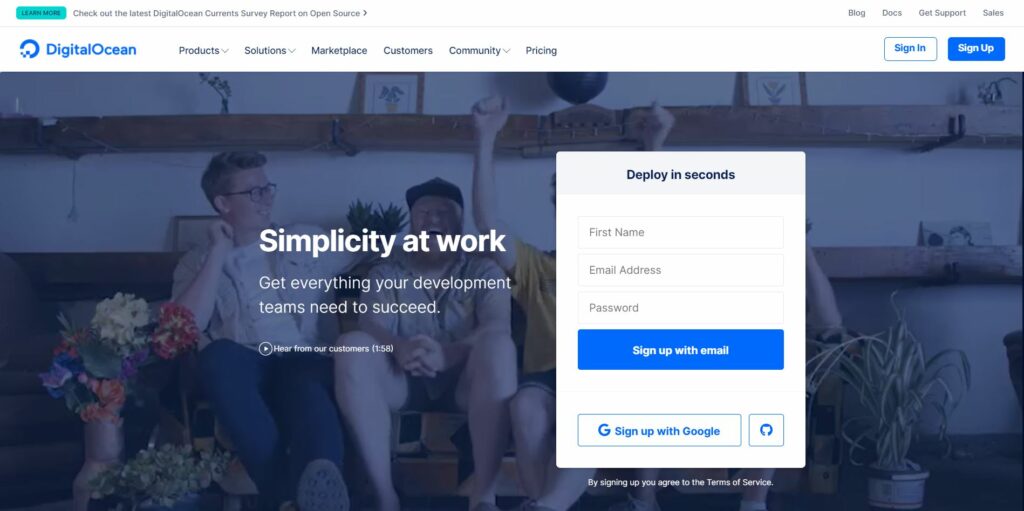 With the first server launched in 2011, Digital Ocean is now serving more than half a million customers. It focuses on providing affordable cloud hosting services to developers.
Features
Digital Ocean offers numerous Unix and Linux servers present in 12 data centers. It offers different features such as SSD-based storage and one to 32 virtual CPUs based on the selected hosting plan.
The Digital Ocean Droplets don't offer a graphical user interface to its customers, yet you can still install it. Essential, it offers a command line that you can access using a Secure Shell terminal session.
In addition to that, Digital Ocean gives you the flexibility to select the number of virtual CPUs and memory size. It means you can select 1GB memory, one vCPU with 25GB SSD storage, and 1TB of data transfer at a mere cost of $5 a month.
However, you need to pay 20 percent of the CPU price to create a backup and $20 per month for load balancers.
All you need to do is select the data center region, services such as IPv6, and add an SSH key. Later, select the total number of Droplets you want to configure, name the server and create. Pretty simple, right!
Note: a droplet is an expandable computing platform that you can customize to match your business requirements. It comes with monitoring, add-on storage, and advanced security protocols.
Moreover, Digital Ocean provides an SLA of 99.99 percent server-uptime and gives a credit if your website faces downtime. You may find the full Digital Ocean review here.
Pros
Affordable
One-click installer for different apps
Cons
Doesn't offer free website transfer
No Windows server
Our Top Picks For Web Hosting Companies
Now, we'll reveal our top picks for the best hosting company based on their user-friendliness, overall performance, and reliability.
Our Editor's choice award goes to Bluehost because of its simplified plans and straightforward cPanel. Moreover, it offers a transparent yet minimalist interface to provide easy access to different settings.
The Bluehost comes with a WordPress platform and tools, including one-click installation, FTP, and free domain name, email.
Our Editor's recommendation for the best overall web hosting service goes to DreamHost, courtesy of its unlimited bandwidth and storage, free SSL, automated backups, and a free domain for the first year.
The DreamHost offers all kinds of affordable web hosting services, including shared, WordPress, VPS, dedicated, and cloud.
The best thing about this reliable web hosting provider is its 97-day refund policy to give you enough time to evaluate its performance and functionality. Moreover, it offers its website builder known as Remixer in addition to Weebly, Wix, and Squarespace.
Lastly, our award for the most reliable web service provider goes to SiteGround because of its five data center locations and added functionalities on cPanel. It offers a reliable 99.99 percent uptime with 24/7 live chat support.
SiteGround facilitates you to migrate your one website without any additional cost. It also provides a free SSL certificate to keep your website secure from hackers and other attacks.
Now that you've gone through an unbiased review of the top web hosting providers, evaluate your website requirements and select an apt web hosting solution.
Which is The Best Web Hosting Service Provider in 2021?
We have tried our best by listing down the 12 best web hosting service providers in 2021 in this article. It's up to you to select any of the above based on your website requirement. All you need to do is evaluate your website requirement and select a secure and fast web hosting service today.
Our Editor has picked DreamHost as an all-rounder web service provider because of its affordability and convenience. WordPress itself endorses the DreamHost on its official website.
You can enjoy unmetered bandwidth, backups, a free SSL certificate, and 24/7 customer support.
Is it Better to Host Your Own Website?
It's a conditional question that primarily depends on your technical expertise and knowledge regarding the web hosting subject. The built-in hosting services ensure your website's seamless and fast performance by charging you a minimum monthly subscription fee.
Considering web hosting vs regular hosting, you can find multiple advantages of hosting a website yourself. It not only gives you absolute control but also ensures transparency with no restrictions on bandwidth or storage.
You can tweak the settings to make site loading faster without involving a tech support team. Moreover, you can monitor your website traffic and create your own rules regarding the file size and types.
The annual charges range from $300 to $15,000.
What Do I Need to Know About Web Hosting Companies?
You need to read our above review to learn about the web hosting companies' history, customers' information, and the total number of data centers. Not only that, but you also need to check the total of features available for different plans and perform the comparison.
It's important to evaluate the payment plans provided by web hosting companies and their services and correlate them with the total number of available functionalities.
What is The Best Type of Web Hosting For Me?
It depends on your business requirement and level. For example, an established business or organization with numerous clients can opt for a dedicated or cloud web hosting service.
All you need to do is first evaluate your business requirement, make a projection for a year or so, and then select the corresponding web hosting services.
We'll recommend you SiteGround because of its reliability and featureful control panel. You can select the location of data centers in Asia, Europe, or North America.
Managing your website has never been such an easy task with the SiteGround site tools panel. This initiative panel allows you to see the details related to your websites, such as unique visitors, page views, and nameservers.
Which Web Hosting is Recommended For Beginners?
If you are a blogger, beginner, or small-business owner, you can opt for a shared or virtual private hosting service.
However, we are inclined towards Bluehost because of its straightforward plans and easy setup. All the plans include mandatory Positive Wildcard SSL, 24/7 customer service, and a money-back guarantee.
Bluehost has a special feature known as Blue Flash Launch Support to provide a guided tour to the beginners to acquaint themselves with the web hosting service.
How to Choose Web Hosting Services?
You can select web hosting services based on speed, performance, storage, security, and other features.
Which Web Hosting Companies to Avoid?
First thing first, avoid all the web hosting companies that offer a free hosting package. In this case, you won't have enough resources or bandwidth, resulting in slow page loading.
Moreover, you also need to closely check the agreement if a web hosting service provider offers free, limited-time hosting.
Lastly, never agree to provide your credit details to verify your account while opting for free web hosting services.