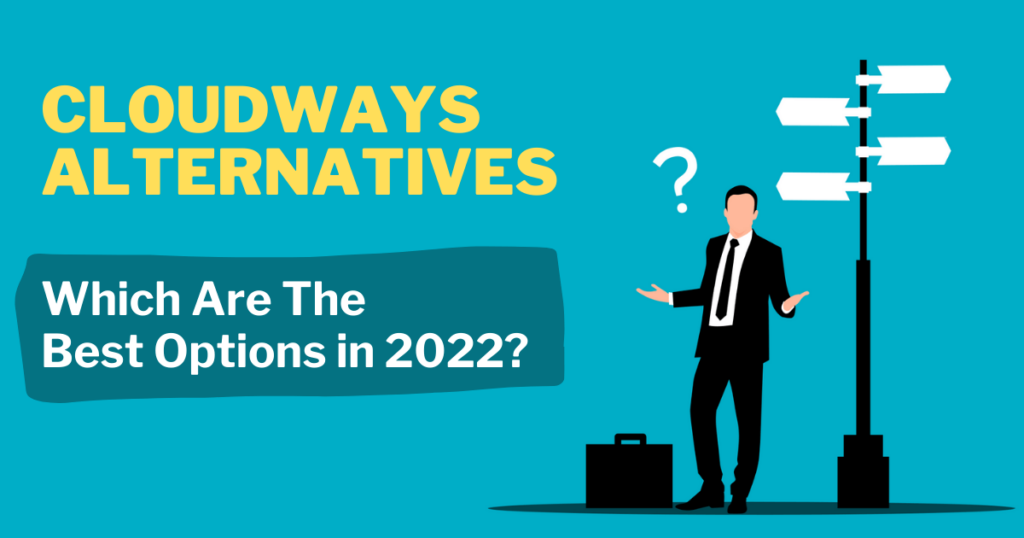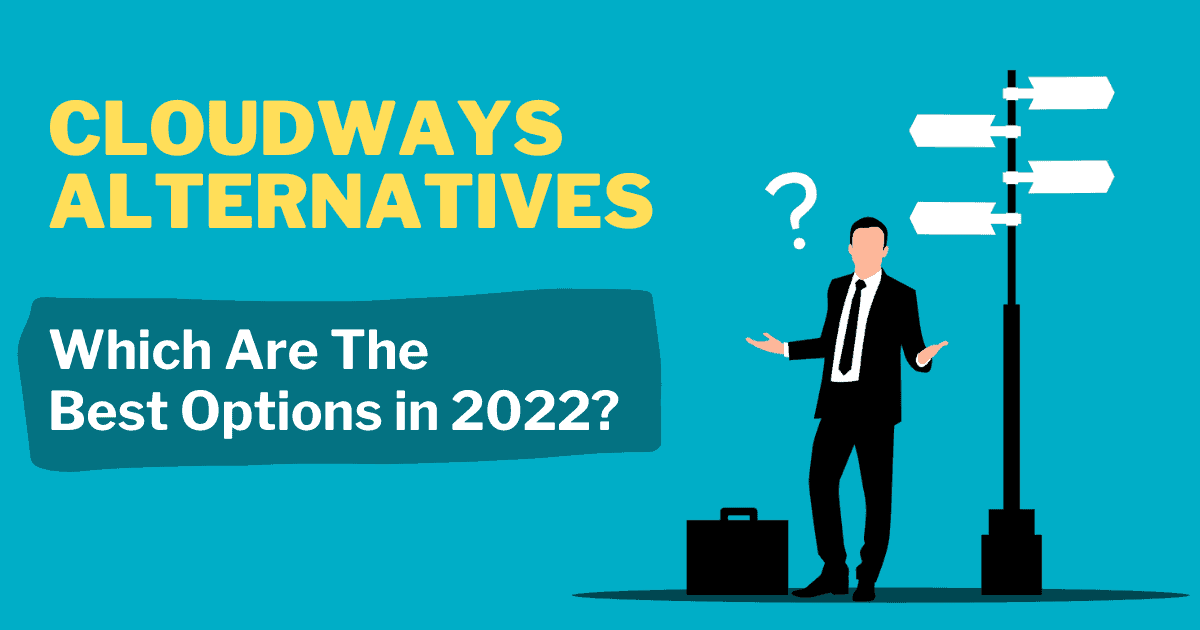 Cloudways hosting guarantees unmatched performance, reliability, and 24/7 support for businesses of all sizes. It's a great place for developers, webmasters, bloggers, and enterprises. While it is a great host for agencies and ecommerce businesses, it might not be ideal for every business. Thus some companies may look for Cloudways competitors are that can provide cheaper service or other features that Cloudways doesn't have.
Every hosting platform has certain limitations that may or may not work for you. For starters, Cloudways rely on third-party data centers, and have a different user panel than most service providers. This can be an issue for certain users.
Are You Considering Other Alternatives to Cloudways?
While the services offered by Cloudways can directly be obtained from the providers, they come with certain complications. Most of these providers charge extra fees and have limitations on customer support.
On the other hand, Cloudways offers complete technical support around the clock. Moreover, the platform is beginner-friendly which is a major plus.
If the service provider is so perfect, why does one need to go for an Cloudways alternative?
Chances are that you might have different reasons looking for Cloudways alternatives. Everyone has their own perspective in mind. Now, when that's out of the way, let's look at a few reasons.
The cloud plans offered by Cloudways are definitely on the expensive end when compared to some other options. Take the Vultr entry plan as an example which costs more than $11/month which can be purchased through the website for $5.
Cloudways does not own a data center of its own. They mainly rely on Amazon Web Services, Vultr, Google Cloud, DigitalOcean, and Linode. It can be a problem for many users depending on the nature of the business.
The custom user panel of the Cloudways is not appreciated by many as it is quite different from the traditional panels. Moreover, one has to pay extra for email hosting as it is not included in the hosting.
If you're looking for shared hosting or Windows hosting, Cloudways is simply not for you as it does not support those. Other than that, people are also on the lookout for a Cloudways competitor that can offer more for a lesser price.
The 7 Best Cloudways Alternatives Compared
In this list, we have researched all the top competitors that provide great quality service and products. You can consider which are the best Cloudways alternatives that can help to grow your business better.
#1 Kinsta – Best Overall Cloudways Alternative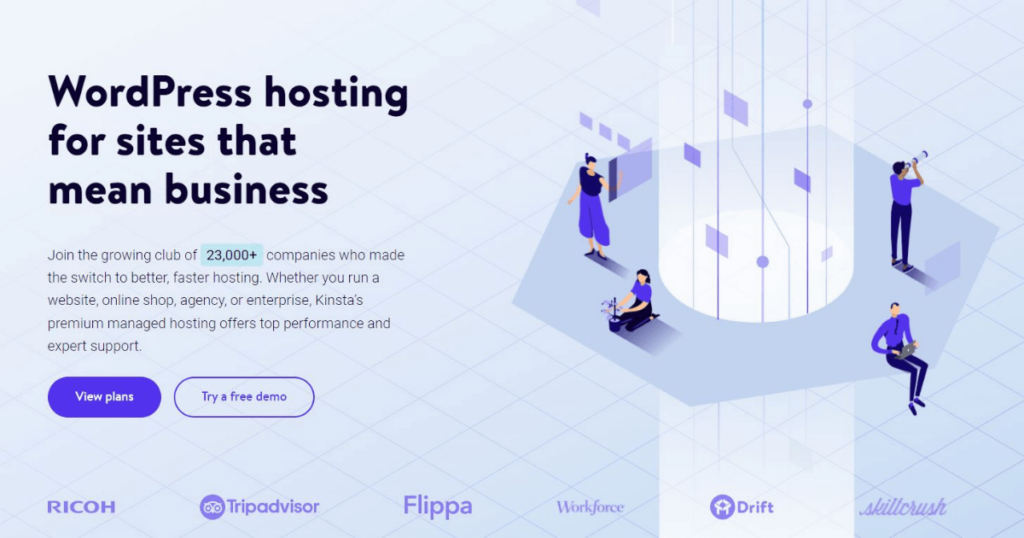 Kinsta is certainly one of the top quality Cloudways competitors. It is a performance-optimized managed WordPress host that uses Google Cloud infrastructure. That is the reason, it is amongst the top Cloudways competitors. Kinsta offers a fast, secure and innovative solution.
The Cloudways alternative is number one on top-rated managed WordPress hosts on G2. Kinsta monitors your website 720 times a day to ensure everything is running smoothly and effectively. On the other hand, Cloudways does not include website monitoring unless you buy it as a separate add-on.
Kinsta also offers premium support on all plans. Their support team consists of WordPress developers and Linux engineers who are quick to respond. On the other hand, Cloudways offers premium support at cost starting at $100/month.
Kinsta offers a free content delivery network (CDN) on all plans. It has 24 data centers across the globe that are optimized for WordPress.
Kinsta is very simple to use when compared to Cloudways and offers much more comprehensive support. You can completely focus on the growth of your site instead of worrying about the infrastructure of hosting. Prominent features of Kinsta includes:
Automatic WordPress updates
Automatic daily backups
Staging sites
Free one-click SSL certificates
Proactive security rules (firewalls and malware scans)
Kinsta offers a free hack fix guarantee in case something happens
Uptime monitoring
Nginx stack with server-level caching
Built-in content delivery network (KeyCDN)
Pricing and Plans
Kinsta's offers a total of 10 plans. The cheapest plan is $30 a month for the following resources:
One WordPress Install
25,000 visits
10 GB storage
Free SSL and CDN
Other plans are offered at $60, $100, $200, $300, $400, $600, $900, $1200, and $1500.
The premium plan of $1500 comes with the following resources:
150 WordPress Installs
3,000,000 visits
250 GB Disk Space
Free SSL and CDN
Last but definitely not the least, Kinsta offers a 30-day money back guarantee whereas Cloudways offer only a three-day trial. 30 days give you a lot of time to explore the services and proceed accordingly.
Pros
Fast due to cloud based infrastructure
9% uptime
Hands off approach
Amazing technical support
Simple set-up and migration process
E-Commerce Optimized
Great for traffic spikes
Cons
Expensive
Email Hosting not provided
Phone support not available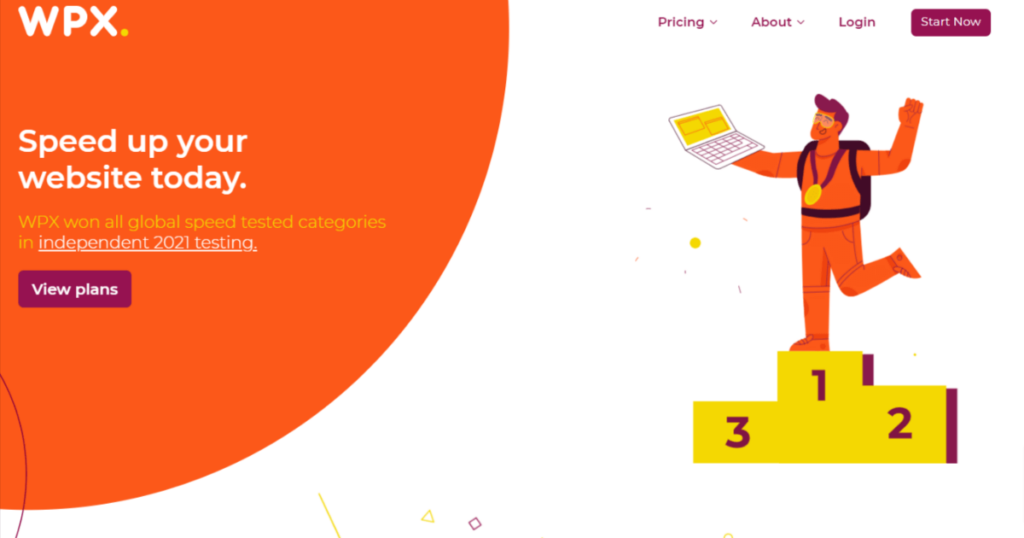 WPX is known as the world's fastest managed WordPress hosting and is a top-rated Cloudways equivalent. WPX offers superior page loading speed with the help of its own high-speed CDN which is provided for free for all WPX customers. They also own high-speed SSD servers that perform spectacularly under heavy traffic. No wonder they are considered one of the top Cloudways alternatives by companies.
Moreover, WPX offers amazing support. Their average response time is 30 seconds. One can chat 24/7 with the experienced support agents. This is one of the best features as you can get support anytime, anywhere, regardless of your location.
Jargon-free simplicity is important to WPX that is why it has a custom-built admin panel. If people still get stuck, the support team is always available.
WPX offers a number of features free of cost for its users. For instance, site optimization is completely free and is available from Monday to Friday.
WPX also tackles one of the biggest hassles which is free site migration from one place to another. WPX owns its own custom, high-speed content delivery network. The WPX CDN has 26 global edge locations and offers unbeatable speed when compared to Cloudways and few of the other hosting platforms.
One of the best features of WPX is its free malware detection and removal. The WPX security team scans, detects and removes the malware without breaking the site. If the site goes offline for any reason; plugin update, network issue, or any other reason, WPX offers to fix the issue for free.
WPX offers three hosting plans; business, professional and elite. Users can choose to pay on a monthly or yearly basis.
Pricing and Plans
Here is a brief overview of each of these plans:
Business Plan
Business plan offers five Websites
100 GigBit Bandwidth
WPX Cloud WPX Cloud CDN
10 GigaBit Storage
Monthly Payment: $24.99/month
Yearly Payment: $20.83/month
Professional Plan
Professional Plan offers fifteen Websites
20 GigaBit Storage
WPX Cloud WPX Cloud CDN
200 GigaBit Bandwidth
Monthly Payment: $49.99/month
Yearly Payment: $41.58/month
Elite Plan
Elite Plan offers Thirty Five Websites
Infinite Bandwidth
40 GigaBit Storage
WPX Cloud WPX Cloud CDN
Monthly Payment: $99.00/month
Yearly Payment: $83.25/month
Free Services
All the plans include these services for free.
The company offers 24/7 chat support 365 days, with an average response time of 30 seconds
It offers infinite Site Migrations To WPX along with unlimited SSLs, Staging Areas, Email, Manual Backups, and DDoS Protection.
WPS also offers scanning as well as removal of malware on a daily basis and PHP 7.X.
WPS comes with a money back guarantee of 30 Days
WPS also offer automatic backups of 28 days
WPS guarantees uptime of 99.95%
Single click WordPress installations
The company has its hosting locations in USA, Australia, and UK
WPS offers a High-Speed Customized CDN which has twenty six Global Edge Locations
Pros
High Speed
Daily backups
Migration services
Email Services
User Friendly dashboard
Free CDN
Multiple Data Centres
Easy refund policy
Cons
Expensive hosting plan
No single site hosting
No cPanel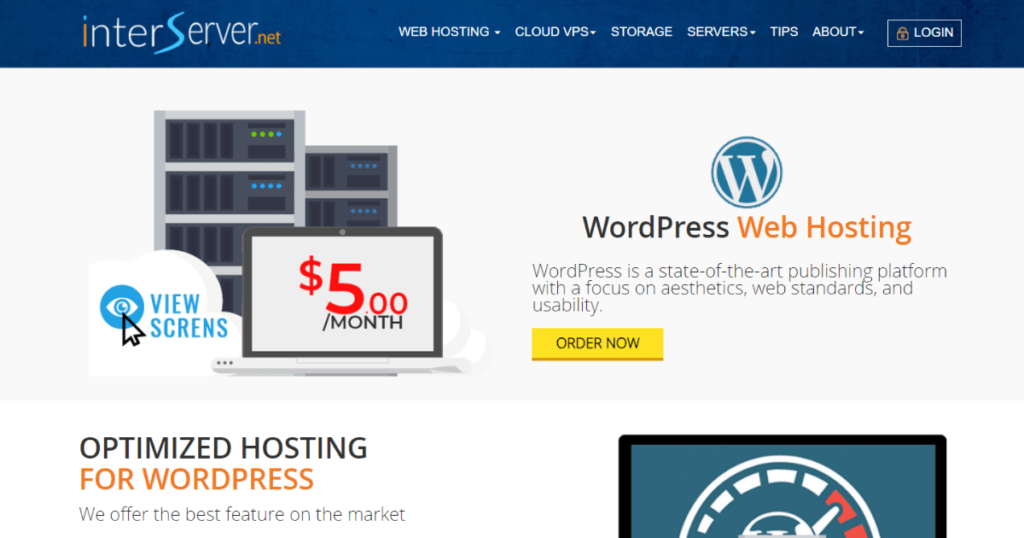 Interserver has a lot of experience in web hosting. It offers a variety of services from shared hosting to reseller plans, Cloud VPS, and dedicated servers as well. Interserver has 4 data centers that are located in the US.
InterServer won Editors' Choice 2021, which says a lot and makes it one of the best alternatives to Cloudways. Interserver is a brilliant web hosting provider with a very easy-to-use control panel and comes with unlimited storage.
It is a reliable name and is known for free reboot updates. It makes it easier for the user as the updated version is always available without interruption in work. Interserver offers instant setup options and is an extremely high-performance network.
Interserver also gives you the option to monitor the uptime of your website. It is known for:
Excellent infrastructure
Brilliant features
Comes with monthly pricing options (which enables you to cancel anytime)
Easy to understand and use cPanel
24/7 tech support team available via chat, phone, tickets, and email
As per some people, Interserver is equivalent to Cloudways but in my opinion, it is a much better alternative. It provides its users with high-performing, affordable hosting solutions for your business website.
They use cPanel which some people find more manageable. Their prices start as low as $5/month.
The price is almost half when compared to Cloudways. Not only that, it offers unlimited storage, bandwidth, and a number of email accounts which is not the case with Cloudways. The one-click installs are almost the same for both.
Interserver offers:
ULTRA SSD Storage (Unlimited)
8% Uptime
More than 450 Cloud Applications
Option to Create Endless No of E-Mail Accounts
Global Content Caching
Uptime30 Days Money Back Guarantee
SitePad Website Builder
Website Migration is Free of Cost
Intershield Protection
Pros
Uptime guarantee
Value for money
Money back guarantee
Great VPS service
Customer support
Award Winning
Cons
Limited Services
Slow loading speed
#4 RunCloud – Best Alternative for the Techies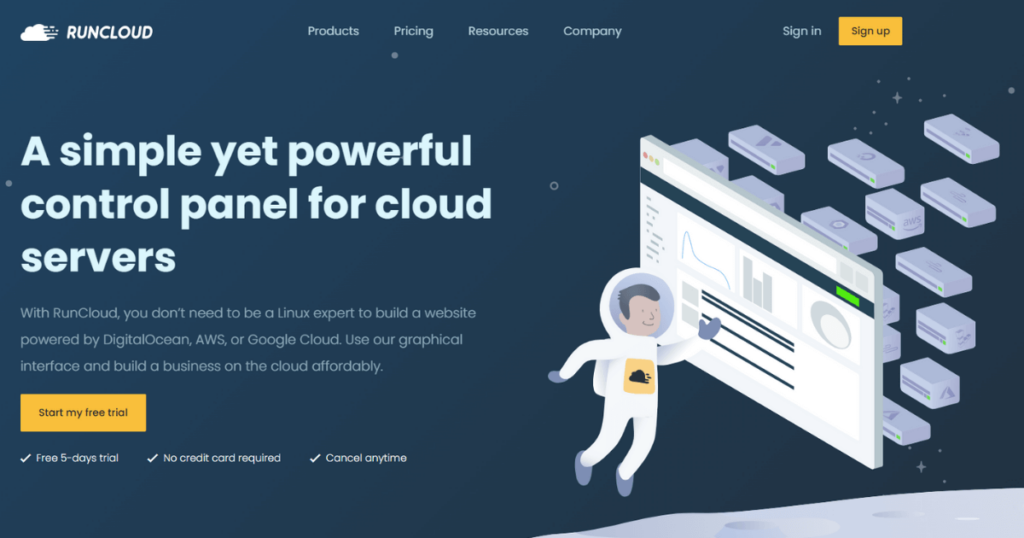 RunCloud is a powerful control panel for cloud servers. It is perfect for techies as well as non-technical individuals. The graphical interface allows users to build a website easily and affordably.
RunCloud offers a 5-day free trial, does not require a credit card, and allows you to cancel anytime.
One thing to keep in mind is that RunCloud is purely a control panel. If you decide to go ahead with it, you'll need to buy cloud hosting separately.
Prominent features of RunCloud include:
Instantaneous Deployment – one-click installers with complete control
Autonomous Setup – heavy lifting and configuration
Virtual PHP Machines – simultaneous PHP functions
Split Second Notifications – server monitoring from anywhere
Secured Management Panel – seamless configuration
Performance Driven Dashboard – tweaks and pioneering user experience
RunCloud is very similar to Cloudways in a lot of ways but there are a few differences between the two. I am going to highlight a few prominent ones.
Cloudways is best for cheap managed WordPress hosting along with hands-off managed hosting. On the other hand, RunCloud is best for managing your own server as well as for managing multiple servers.
RunCloud offers three different price plans; basic, pro and business. Run cloud provides manual and annual payment options. If you decide to go for the annual option, you will get three months free of cost.  Below is the payment plans with the pricing and features:
Basic Plan – $6.67/month
Unlimited web apps
Single server
Single click SSL
Single WordPress staging
RunCloud Hub plugin access
Git deployment
Pro Plan – $12.5/month
All the things included in the Basic Package
6G as well as 7G Firewall
Unlimited servers
Customized NGINX Configuration
Infinite web appls
10 WordPress staging
Clone web apps
Business Plan – $37.5/month
The package includes everything which is a part of Basic and Pro plan
Unlimited WordPress staging
Collaboration of teams
Directly login to WordPress Panel via RunCloud Hub plugin
Atomic Deployment
Cloudflare DNS integration
ModSecurity, CRS and WAF
WordPress Canvas
All plans include powerful administration, expert support, built for speed, hack guarantee, and SSL certificates.
Pros
Excellent performance
Well designed and user friendly dashboard
Easy staging sites
Useful tools for server and site management
Affordable
Prompt support
Cons
Not a reliable backup tool
Server level SMTP missing
Flywheel is a managed WordPress hosting. It offers a variety of hosting plans which keep your sites fast, reliable, and secure. Not a very popular Cloudway alternative but it's still one of the great quality service providers.
The tools allow you to create beautiful websites for yourself and your clients. They offer four plans; tiny, starter, freelance, and agency.
The Flywheel plans start from $15/month and go up to $
290/month. Flywheel allows you to discover a seamless hosting experience by:
Adding a free SSL and update DNS
Running and restoring nightly backups
Transferring bills to clients
Collaboration with coworkers
Management 1 or many sites
If someone wishes to create their custom plan, they can do so as well. When comparing cloud ways and flywheels, we see quite a few similarities along with certain differences. Both of them utilize cloud-based servers.
As a result, your data is split up and stored on cloud-based servers. Both of these service providers use external sources to manage their data.
WhileCloudways include various features which are ideal for developers including access to SSH as well as SFTP, reliable staging environment, an account for multiple teams, Git Integration, transfer of server ownership.
On the other hand, Flywheel offers almost all of these features which are ideal for developers and teams; staging sites, collaboration, templates for sites and much more.
Flywheels also offer blazing flight site speed, providers a hacker free security, offers free CDN, free custom caching, easy and simplified SFTP access, free SSL certificates, offers staging for websites before going live, optimized servers for our support teams, and powerful development tools as well.
Pricing and Plans
Flywheel plans include:
Tiny – $15/month
1 WordPress site
5GB disk
5,000 monthly visits
20GB bandwidth
Starter – $30/month
1 WordPress site
25,000 monthly visits
10GB disk
50GB bandwidth
Freelance – $115/month
Up to 10 sites
100,000 monthly visits
20GB disk
200GB bandwidth
Agency – $290/month
Up to 30 sites
400,000 monthly visits
50GB disk
500GB bandwidth
Pros
Robust, cloud-based infrastructure
Best performance server
10 data centers
30-day money-back guarantee
24/7 reliable support
Uptime of about 99.99%
User-friendly interface
Cons
No built-in Git deployment
Does not allow to buy SSL certificates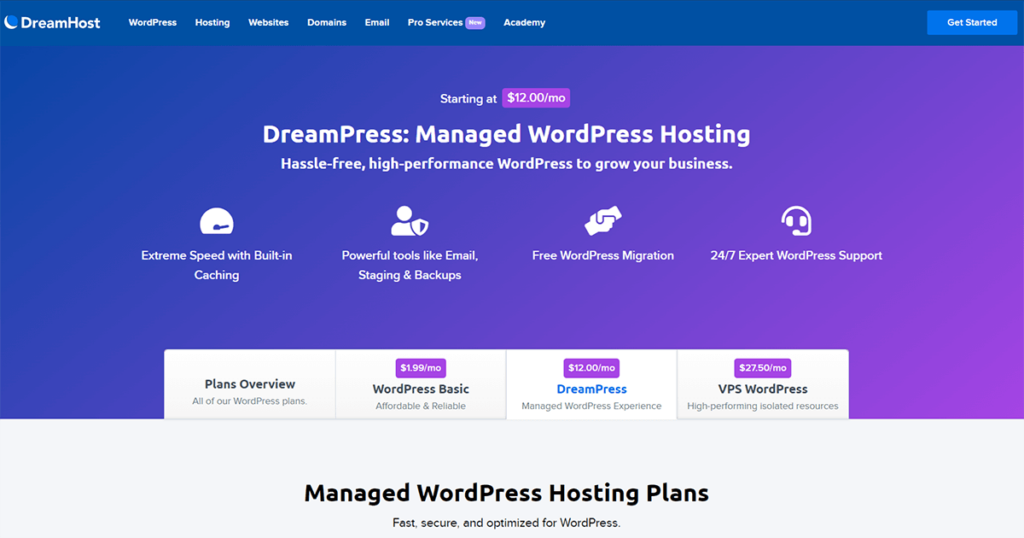 DreamHost has quite a different approach to the situation. It is certainly one of the best independently owned businesses today. Being a popular Cloudways competitor, they have a very extensive range of packages for all types of websites to compete with Cloudways.
DreamHost provides the following services:
WordPress Hosting
Website Hosting
VPS Hosting
WP Website builder
Dedicated Hosting
Cloud Hosting
Users can select both affordable as well as premium options depending on their needs. The shared hosting plans start at $2.59/month. The unlimited shared plan starts at $5.95 a month.
The unlimited plan lets the users use unlimited SSD storage. There are no limits on the bandwidth, anode use, and the number of website visits.
Dreamhost covers all your website and application needs including 100% in-house support, guaranteed performance, guaranteed uptime, 1-click installs, a super-intuitive control panel that makes website and project management easy.
The top features include:
Instant WordPress setup
Auto WordPress updates
24/7 Award Winning Support
Free domain
Free Privacy Protection
Advanced Easy to Use Panel
Free SSL Certificate
Free Email Hosting
Automated Backups
Their plans are not concrete which gives users the flexibility to add various instances with a different price tag. This unique approach can actually help you save more.
The question remains the same; why should one go for DreamHost instead of Cloudways. Well, with DreamHost, you can run cloud instances as much as you want but will only get billed for a period of 600 hours. This fact alone makes DreamHost a very prime candidate.
The WordPress-optimized servers are compatible with WordPress and work seamlessly for every website. DreamHost also eradicates the problem of lagging by providing fast solid stage storage. The best part, however, is that DreamHost provides a 100% uptime guarantee.
Moreover, DreamHost also offers free bandwidth with all the Cloud Instances which is limited on most Cloud Plans.
Pros
Amazing customer service
Easy to use dashboard
Value for money
Amazing Backup Feature
Cons
Compatibility issues with migrating websites
Server crashing due to wordpress updates
Confusing pricing structure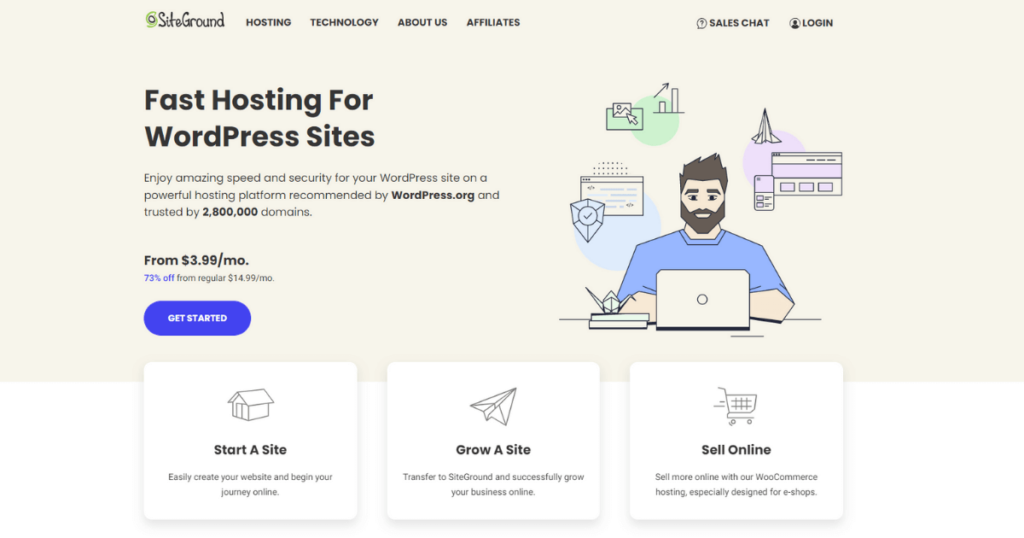 SiteGround is a web hosting company that has provided over 2,000,000 domains worldwide and is definitely one of the top Cloudways alternatives to consider. They provide:
Web Hosting – Fast and secure websites for small to medium scale businesses
WordPress Hosting – makes WordPress site management simple
WooCommerce Hosting – give a boost to your businesses with optimized hosting services
Cloud Hosting – ideal for high performing websites
SiteGround is powered by GoogleCloud which creates a powerful user experience. The distributed storage results in optimal speed as well as high-level redundancy. Google provides an ultra-fast network which is a priority for all.
The top features include:
Ultra-Fast Sites – Hosting Platform on Google with ultra-fast network and persistent SSD storage
Top-Notch Security – Security management at server and application level
Managed WordPress – WordPress installation with easy and fast WP starter
Easy Site Management – Easy management on popular content management systems
Domain Management – the convenience of managing domain and website in the same space
Reliable Email Service – unlimited number of email account creation with a custom domain name
Awesome Client Interface – makes creating and managing sites a breeze
Premium Value on Higher Plans – host multiple sites, highest tier resources, dynamic catching, advanced priority support, easy staging tool, easy GIT integration, add collaborators, white-label clients, etc.
The fully managed hosting services are unmatched and enable clients to completely shift their attention to business management instead of website management.  Automatic WordPress updates, the latest PHP versions, and static caching of the website get you the desired performance.
SiteGround constantly monitors the security and prevents any glitches. Their team has a security-first mindset. Experts keep track of the daily software vulnerabilities on the server. They are constantly improving and adding on the security measures.
In the last year alone, SiteGround added 300 custom rules to the web application firewall which makes everything more secure. 
Pros
Fast loading speed
Quick server response
Unfailing uptime
Managed wordpress host
24/7 customer support
User friendly dashboard
Cons
Limited resources
High price
As per Reddit, the best Cloudways alternatives are RunCloud and Serverpilot. For those who want to manage php applications, Serverpilot is a better option.
Verdict: Which is The Best Cloudways Alternative?
As you can clearly see from the options listed above, the Cloudways alternatives and competitors are not necessarily cheap. However, there is much more to a hosting service provider than the price. Going for these alternatives is based on your business needs and budget.
Apart from that, it is always good to open yourself up to a wide range of options. You can literally select one of hundreds of options. All of the above-mentioned hosting service providers are amazing alternatives to Cloudways. Our favorite ones are Kinsta, InterServer, and DreamHost.
All three of them are comparable to Cloudways price wise and make up for what Cloudways lacks. Apart from that a lot of services that Cloudways provides as add-ons come free with these options which gives you great value for money. Customer support is always available which helps non-technical website owners immensely. 
Other Cloudways resources that might interest you:
FAQs on Cloudways Alternatives
Kinsta, InterServer, and DreamHost are some of the hosting services that are comparable to Cloudways in terms of features, pricing, performance etc.
BlueHost, SiteGround, Kinsta, WPX Hosting are some of the cheaper Cloudways alternatives.
If Cloudways isn't fulfilling the needs of your business and website, it may be better to find a more suitable option as there are thousands of hosting service providers available in the market.