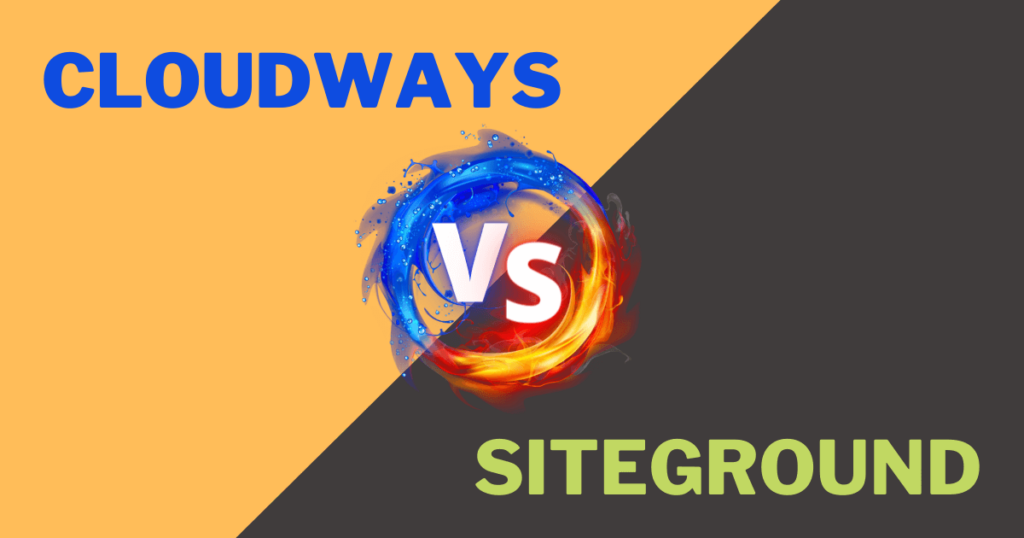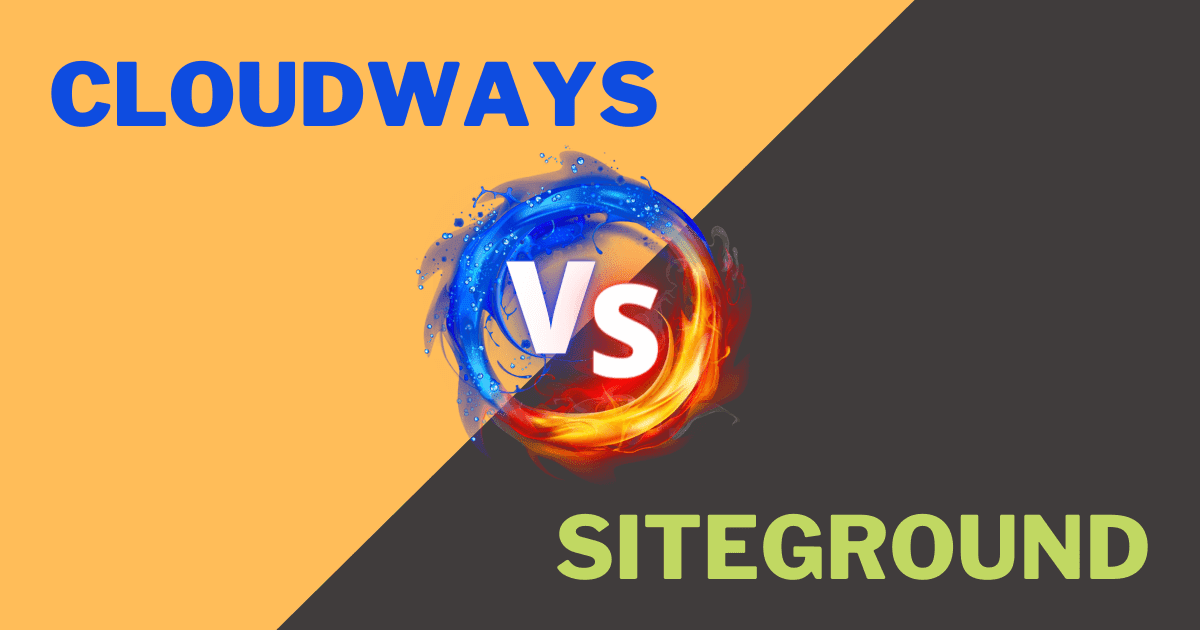 Cloudways and SiteGround are both managed cloud hosting providers. While Cloudways is based in Malta, SiteGround is a Bulgarian company. The former is relatively newer on the hosting scene and quickly becoming popular worldwide.
When it comes to Cloudways vs SiteGround, each hosting provider has its own set of advantages and disadvantages. It simply comes down to which hosting provider's benefits work in your favor. The only way to make the right decision is to compare and review each in detail.
Let's be honest, SiteGround has not been enjoying a good reputation lately. Their speed is lagging, and customer support doesn't have very good reviews online. So could Cloudways be a better alternative for those on SiteGround?
All your questions will be answered shortly, as we've explored each hosting provider in-depth, conducting performance tests and also checking what current customers are saying about them.
Cloudways vs SiteGround: Main Features Comparison
The very first thing you do when looking for a hosting provider is check out which features are on offer. So here's a summary and comparison of features of Cloudways and SiteGround:
| Features | Cloudways | SiteGround |
| --- | --- | --- |
| Bandwidth | Pay-as-you-go | Unlimited with all plans |
| Data Storage Space | Varies | 10 GB to 30 GB |
| Number of Domains | Multiple | Unlimited (except Starter plan) |
| CDN Integration | CloudwaysCDN | Cloudflare CDN |
| Website Migration | First one free | Free (except Starter plan) |
| PHP Version Controls | Yes | Yes |
| HTTP/2 | Yes | Yes |
| SSL | Free | Free (Let's Encrypt) |
| SFTP/SSH/GIT Access | Yes | Yes (One-click Git only premium) |
| Email Service | Not included | Unlimited email accounts |
| WordPress Website Management | Available as Add-on | Auto-updates |
| Security | All plans | All plans |
| Data Centers Location | 65+ | 6 |
| Staging Sites / Environments | Yes | Yes |
| Site Monitoring and Uptime Checks | Yes | Yes |
| Backups | Auto daily backups | Auto daily backups |
| 24/7/365 Support | Live chat and tickets | Phone, live chat and tickets |
In terms of features, SiteGround is the clear winner, as it offers email, unlimited domains, and unmetered bandwidth. However, unmetered bandwidth isn't always so reliable. Nevertheless, it gives SiteGround an edge over Cloudways as Cloudways charges for the bandwidth as your application uses it.
SiteGround vs Cloudways: Price Comparison
For most businesses, especially those just starting out, money is the biggest factor in their choice of hosting provider. When comparing Cloudways with SiteGround in terms of pricing, the biggest difference is the price model itself.
Cloudways uses a combination of flat-rate plans and pay-as-you-go billing, whereas SiteGround uses a fixed-rate plan as most shared and cloud hosting providers do.
Cloudways offers a wider range of plans for each of its cloud providers. The prices are based on the cloud provider and the resources included in the plan. On the other hand, SiteGround only offers three plans for managed WordPress hosting.
Cloudways plans are more of an estimate as to how much it will cost you monthly and hourly if you stick under the resource cap of the plan. However, as it's a pay-as-you-go service, you're not really bound by the limits.
Another thing to note is that you're going to pay for bandwidth overage for each provider if you exceed the limit. While the bandwidth is pretty generous (in TBs) for DigitalOcean, Vultr, and Linode, it's limited for AWS and Google Cloud.
The starter plan costs $10 per month, and it includes 1 GB RAM, 25 GB storage, and 1 TB bandwidth.
The advanced plans cost up to $1,035 per month.
The starter plan costs $12 per month, and it includes 1 GB RAM, 25 GB storage, and 1 TB bandwidth.
The advanced plans cost up to $1,205 per month.
The starter plan costs $11 per month, and it includes 1 GB RAM, 25 GB storage, and 1 TB bandwidth.
The advanced plans cost up to $385 per month.
The AWS starter plan costs $36.51 per month with 2GB RAM and 2 vCPU cores.
The advanced plans go up to $3,659.98 per month.
All plans include 20 GB storage and 2 GB bandwidth.
The GCE starter plan costs $36.51 per month with 1.75 GB RAM and 1 vCPU core.
The advanced plans go up to $1,290.30 per month.
All plans include 20 GB storage and 2 GB bandwidth.
The Startup plan starts at a special price of $6.99 per month with 10 GB storage, 10,000 monthly visits.
The GrowBig plan costs $9.99 per month at a discounted price, with 20 GB storage and 25,000 monthly visits.
The highest plan, which is the GoGeek, plan costs $14.99 per month, providing 40 GB storage and 100,000 monthly visits.
Cloudways doesn't really have a renewal structure as you're charged for what you use. You're not locked into a term or need manual renewal. So the prices remain the same every month unless they are changed.
However, renewal pricing is a different story over at SiteGround. After the initial period, the renewal price goes back to the original pricing for the plans, which ranges from $14.99 to $39.99 per month.
While Cloudways does not offer any money-back guarantee, it does offer a free trial of three days for DigitalOcean, Linode, and Vultr basic plans. You can try out their service for three days without even needing to enter payment information.
On the other hand, SiteGround offers a 30-day money-back guarantee. You can cancel the plan before the 30-day period and get your money back if you're unsatisfied for any reason.
Extra Prices/Hidden Costs
Cloudways and SiteGround don't really have hidden prices as they make it very clear as to what is included in the plan pricing. However, you can still incur extra costs.
For instance, SiteGround offers domain hosting but at cost. Depending on the domain extension, it could easily cost you upwards of $15.
Similarly, over at Cloudways, the CloudwaysCDN is not included in the price of the plans for any of the cloud providers. You will have to pay extra for it, at a rate of $1 per 25 GB. Then you'll also incur bandwidth overage charges, especially for AWS and Google Cloud, of which only 2 GB is included in the plan price.
SiteGround or Cloudways Has Better Value?
On the surface, it looks like SiteGround has cheaper pricing, but that's only for the first term of hosting. After that, the pricing is pretty much comparable with that of Cloudways.
Cloudways is slightly more expensive than SiteGround if you compare the resources included in the price, but the flexible pay-as-you-go model makes it a better value.
Plus, Cloudways offers plans for a wide range of business sizes, going from small to enterprise level. SiteGround plans are a bit limited, so only ideal for small to medium websites. For more demanding websites, they offer other cloud hosting plans that are more expensive.
Cloudways or SiteGround: Which Infrastructure Has the Advantage?
Cloudways and SiteGround both utilize cloud infrastructures for their hosting services, which makes them reliable, at least more so than shared hosting providers.
The Cloudways infrastructure is more vast and flexible as they allow you to choose the cloud provider and the server location. Plus, the five providers have some of the best infrastructures in the world.
SiteGround has lately shifted to Google Cloud Platform (GCP) to host its clients. While not as flexible as Cloudways, it does use a reliable hosting provider which many cloud hosting providers use, including Cloudways itself and Kinsta.
One advantage of Cloudways infrastructure is that resources are dedicated, whereas over at SiteGround, they are shared.
In terms of the stack, both offer pretty impressive stacks complete with performance-enhancing tools.
SiteGround and Cloudways Data Centers
Cloudways has way more data centers than SiteGround. This is because they use five cloud providers, each offering several locations worldwide. In total, Cloudways has over 65 data centers spread across all major regions of the world.
In comparison, SiteGround only has six data centers in three continents (North America, Europe, and Australia).
The global presence of Cloudways data centers gives it an advantage over SiteGround. It helps its clients cater to their customers from all over the world and choose a data center that's closest to their market.
On the other hand, SiteGround does make up for its fewer data centers, to some extent, with Cloudflare CDN and its massive global reach.
Cloudways vs SiteGround: Which One Wins on Performance and Speed?
For goal-oriented businesses, it pretty much comes down to the performance the hosting provider ensures. So we tested each for the main parameters, and here are the results:
Page Loading Times
We created a simple WordPress blog on SiteGround and then cloned it to host the same website on Cloudways. On both hosting platforms, we went with the entry-level plans (Startup on SiteGround and DigitalOcean's DO1GB on Cloudways).
After testing several times, the page loading time for SiteGround averaged at 1225 seconds (1.225 seconds). However, on Cloudways, the same website on a North American data center loaded in 830 milliseconds (0.83 seconds).
The page loading times were faster for Cloudways, even when we tested heavier pages with lots of content. As far as loading time is concerned, Cloudways is much faster than SiteGround.
Load Impact
Cloud hosting is traditionally good at handling traffic spikes and high load impact. So how do Cloudways and SiteGround fare in this regard?
We tested load impact with 100 requests per second using a tool for the same website, first on Cloudways and then on SiteGround.
SiteGround showed even slower speeds, with an average response time of over 1.63 seconds. Cloudways only saw a slight increase in its loading times but still managed to average under a second, coming in at 933 milliseconds.
The infrastructure of Cloudways is better adept at handling high load as compared with SiteGround.
Both showed resilience if you compare it with shared hosting providers, which normally don't have the infrastructure to deal with a lot of loads.
Uptime
Cloudways gives a 99.999% uptime guarantee, whereas SiteGround also gives a 99.9% uptime guarantee. For the time we tested our website on these hosting providers, the uptime remained over 99.9%, ensuring round-the-clock availability of the website.
CDN
It's important to consider that the above page loading times and load impact were without the CloudwaysCDN add-on. So it's safe to say that with the addition of CloudwaysCDN, the speed would be even better.
On the other hand, SiteGround uses CloudflareCDN as standard on all plans including the one we used to test the load times. So even with the Cloudflare CDN, it was a bit slower than Cloudways.
Who Has Better Performance?
It's pretty clear that Cloudways has better performance than SiteGround. It delivered faster page load time and also handled the load impact better. And that was without the CDN integration, so one can only imagine how reliable the performance would be by spending just a few more dollars on CloudwaysCDN.
Security Monitoring SiteGround and Cloudways Offer
Security is another important consideration, especially considering how rampant cyber attacks have gotten lately. So here's a brief look at what each hosting platform offers in terms of security features and tools:
SiteGround
Latest PHP7 version
Let's Encrypt SSL
Auto daily backups
ModSecurity on servers
Malware detection through
HackAlert malware monitoring add-on
Bot detection and blocking
Auto-updates for WP
Cloudways
Server firewalls
Auto daily backups
SSL certificate
Bot protection
IP whitelisting for remote DB access
Application isolation
Team/role management for access control
Two-factor authentication
OS-level security patching
Malware scanning and removal by MalCare
GDPR compliance
Which is More Secure?
Some of the security features are standard on both hosting platforms, but if you compare Cloudways and SiteGround, the former offers more robust security. With security provision on every level and standard in almost all plans, it ensures that no malicious activity compromises the application.
Website Migration for SiteGround and Cloudways
Website migration should ideally be a breeze if you're using a managed hosting provider. On Cloudways, you can benefit from one expert migration for free. You can initiate migration by speaking to an expert, and they take care of the rest of it.
The migration time may vary depending on the application but is typically faster than if you did it manually yourself. Also, your website has no downtime during the migration process.
While one migration is free for your account, you can purchase more whenever you like, with rates starting at $25.
Other than that, Cloudways also offers a free custom migration plugin, Cloudways WordPress Migrator.
Over at SiteGround, you can manually migrate a website by requesting a manual migration. Alternatively, you can use a Migrator plugin.
SiteGround's SG Optimizer vs Cloudways Breeze Plugin
For increasing server response time and improving the overall performance of the applications, SiteGround and Cloudways offers SG Optimizer and Breeze plugins, respectively.
SG Optimizer started off as a plugin that employed reverse proxy technology to cache applications. However, SiteGround has improved this plugin even further. Now with HTTPS and PHP management options, it can improve the site performance by up to 30%.
The plugin is powered by Nginx, which is also standard on Cloudways. The plugin only caches the whole website when there are significant changes, so it's a lot more sophisticated that way.
The Breeze plugin over at Cloudways uses file exclusion, grouping, Gzip compression, and comes pre-installed with Varnish, for better caching. Furthermore, it can work alongside CDN integration.
As the Breeze plugin is free, it's a viable alternative to CloudwaysCDN. If you don't want to pay for the CDN, this plugin will surely come in handy.
Cloudways and SiteGround Customer Support
Are you wondering whose customer support is better, Cloudways or SiteGround? Well, there are mixed opinions about SiteGround's customer support, whereas Cloudways mostly enjoys a positive reputation.
Cloudways has expert staff on its customer support team. In addition to that, they have an extensive knowledge base in the shape of their blog. With a 24/7/365 support promise, Cloudways offers live chat and ticket support.
Cloudways also offers Advanced and Premium Support products at cost, starting at $100 per month. These deliver faster response time and unlimited chat. The Premium Support add-on also includes phone support.
SiteGround also offers a similar support structure with their GoGeek plan customers enjoying priority response rate. They also offer articles as a knowledge base for their customers. You can initiate tickets to resolve issues, which get a response anywhere from 15 minutes to a couple of hours.
Who Is Better at Customer Support?
In terms of the quality of service, Cloudways is consistently improving, and SiteGround is getting worse. It used to be decent at one point, but lately, the response rates have been slower.
Cloudways vs. SiteGround: What Users Say?
We didn't just test things ourselves, we also looked at what other users had to say.
At TrustRadius, Cloudways has a rating of over 9.2, while SiteGround has 8.8 out of 10. It's safe to say that most reviews are positive about both the hosting providers.
Users seem to like the performance and value for money Cloudways offers. Customers report seeing better speed after moving to Cloudways.
SiteGround's affordable prices are popular among people. It's thanks to their discounted rates, which one can enjoy for up to a three-year term.
Users seem to appreciate the convenience both Cloudways and SiteGround provide when setting up cloud servers, especially for those who are not that tech-savvy.
Cloudways vs SiteGround: Comparing the Pros and Cons
Let's summarize all that we've learned in this Cloudways and SiteGround comparison into pros and cons for each.
Pros
Faster performance thanks to built-in caching, SSD-based servers, PHP 7, and optional CloudwaysCDN at affordable pricing.
Reliable security with a variety of measures and tools, including auto backups, firewalls, malware detection, IP whitelisting, etc.
The custom dashboard on Cloudways makes it very easier for almost anyone to host their application on the platform with a minimal learning curve. (This could be a con for someone comfortable with cPanel)
With the Pay-As-You-Go pricing model, Cloudways doesn't charge you for anything other than what you use.
Scaling up is very easy as you can adjust server resources with just sliders on a screen.
Cloudways has global data centers that improve market reach.
Cons
Cloudways does not offer domain registration/hosting or email hosting.
CDN is only available as an add-on.
Pros
Discounted rates make it more affordable, at least in the beginning.
Security is more than decent with auto backups, SSL certificates, malware detection, and other such features.
It offers one-click Cloudflare CDN integration.
SG Optimizer plugin is very sophisticated and is free for all SiteGround users.
SiteGround also offers unlimited email accounts and domain registration.
It's also based on Google Cloud infrastructure, ensuring reliable performance.
Cons
Not as fast as Cloudways even with the CDN.
It's notorious for its CPU limits, so you'll have to adjust or risk getting your website down.
Final Verdict - SiteGround or Cloudways?
After testing performance and combing through all the plans and features of both Cloudways and SiteGround, our verdict is that Cloudways is a better hosting provider. SiteGround is more than decent, but if you're thinking SiteGround vs Cloudways, Cloudways will come out on top seamlessly.
Why? Cloudways has better infrastructure overall and more flexibility both in terms of pricing and scalability.
Plus, SiteGround doesn't have the same prompt customer support as they once did. So if you're one of the many users disappointed with their customer support or resource limitations, Cloudways is a much better alternative.
Other head-to-head comparisons that might interest you:
FAQs on Cloudways vs SiteGround
Cloudways is much faster than SiteGround, with page loading times under one second. It has global data centers, a free caching plugin, and CDN to deliver unparalleled speeds.
On SiteGround, the Startup plan at $6.99 per month is the cheapest, with 10 GB storage and 10,000 monthly visits. On Cloudways, the starter plan on DigitalOcean (DO1GB) is the cheapest at $10 per month with 1 GB RAM, 25 GB storage, and 1 TB bandwidth.
Cloudways has more data centers with 65+ locations, while SiteGround only has six spread over three continents.