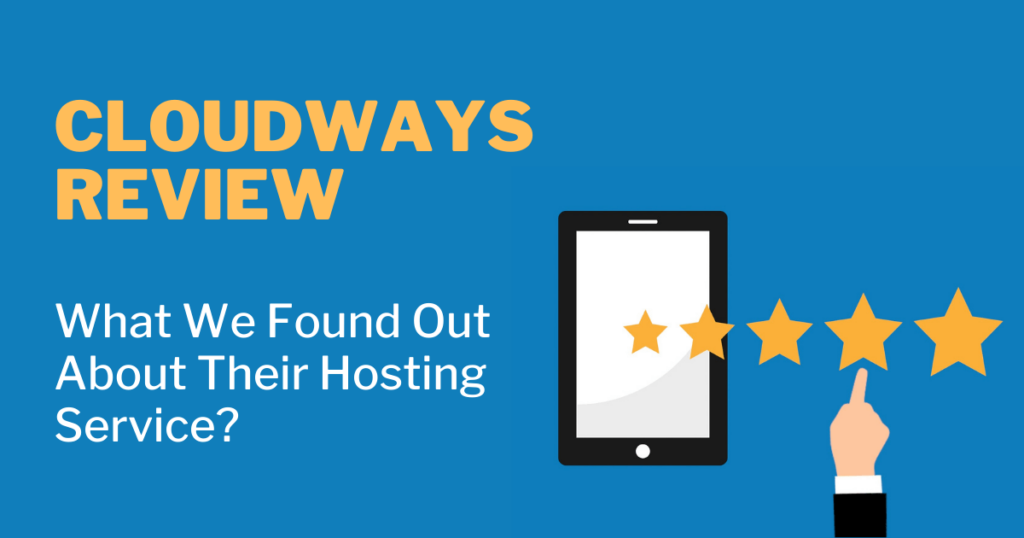 Cloudways is a cloud-based hosting provider that seems to have cracked the code of what it takes to be a reliable hosting company. It makes managed cloud hosting for WordPress and other CMS very easy. That's evident by its growing popularity.
Cloudways is based in Malta, the tiny island nation in the Meditteranean. However, its footprint is now global.
The theme behind this company is simplifying hosting. And that's exactly what we'll cover in this Cloudways review. We'll look at the plans, features, pricing, and much more to evaluate whether it's a good fit for you and your business.

While Cloudways does offer support for various CMS, it's most popular for WordPress hosting. In fact, you'll consistently see it ranked amongst the best overall WP hosting providers or best WP cloud hosting providers.
Here are the key features of Cloudways you get with all plans:
Cloudways doesn't just use one cloud provider for hosting websites, but five of them:
DigitalOcean
Linode
Vultr
Google Cloud Platform (GCP)
Amazon Web Services (AWS)
This makes it different from traditional hosting, even when compared with cloud hosting by other hosting providers. Most cloud hosting providers relying on a major cloud provider have one or two providers.
Because of their extensive cloud infrastructure, hosting is much more reliable on Cloudways than on a traditional server. Your website is not starved for resources or restricted by location.
Cloudways doesn't use any of the mainstream dashboards, as it has its own custom panel. Contemporary and intuitive, the Cloudways panel is one of their biggest strengths. The managed nature of this hosting platform reflects through the dashboard.
You can manage applications seamlessly through the Application Management tab. It also provides tools to set up your website if you're new to it.
This custom panel makes server management and monitoring seamless.
Cloudways uses its own proprietary CloudwaysCDN, which allows it to deliver faster response times globally. It's a standalone Cloudways service that's offered as an add-on.
You can set it up in just a few steps. It basically caches your website on different servers across the world, which helps reduce the loading time and reduce variations between loading times between different locations.
The solid cloud infrastructure that backs Cloudways offers in-built advanced caching. All the providers use SSD-based servers, which bolster the speed by as much as three times.
Cloudways hosting plans also include a free caching plug-in called Breeze, which is an in-house plug-in developed by Cloudways.
On top of this, you also have the support for Redis, Nginx, Memcached, and Varnish, to further speed up your site.
Cloudways offers free staging and cloning of websites, which are both helpful features. Staging environments safely let you test changes before making them go live.
You can create a staging copy and test the changes. Once the changes are approved, those can go live with just a click of a button.
Similarly, you can use the dashboard to create clones of your website. This feature comes in handy when you want to switch servers.
Auto-healing ensures that your website is always up and doesn't crash. It helps resolve server-side issues by restarting the server. 
7. Team Management and Collaboration
Cloudways dashboard features team management features as well. You can add team members, design their access as to what parts they can access and what they cannot.
Other than that, you have a number of collaboration tools:
Git Integration
SSH Access
SFTP Access
Server Transfers
Application/Website Grouping (Projects)
Their plans and pricing vary by the cloud provider you choose. The resources are mostly similar with few exceptions, as there's more bandwidth for DigitalOcean, Vultr, and Linode plans, compared with AWS and GCP.
For each cloud provider, there are ten tiers of plans with increasing resources. For DigitalOcean and Linode, the most popular plans are the third-tier plan that cost $42 and $50 per month, respectively. The most popular plan for Vultr costs $44 per month.
For AWS and GCP, the second tier plans are most popular, costing $86.77 and $73.50 per month, respectively.

Cloudways hosting makes it incredibly easy for even the most non-tech savvy individuals to manage and run a website or a bunch of them. The convenience is built into the very plans and features it offers. The Cloudways custom dashboard is at the heart of all this convenience.
Choice of Top 5 Cloud Providers
It makes it easy for potential clients from the get-go, as they can choose a cloud provider they know or trust. The plans are based on the cloud provider, so everything is very transparent for the customer.
Easy Application Installation
With one-click application installation, you don't really have to do much to start building your website. Even installing SSL-certificate for your application is just a one-click operation. You can install WordPress or Magento, whatever your website requires.
Setting up and configuring your server is fairly simple and quick. Managing a server is very similar to managing the application, so you don't necessarily need a lot of know-how about servers.
You can configure PHP and MySQL settings with just a few clicks. It took us less than ten minutes to configure the server. Backups are enabled by default, so you don't necessarily need to turn them on.
With GIT integration, version controlling is efficient. The changes you make in code can directly go live on servers through remote repositories. This collaborative convenience is mainly ideal for developers.
Cost-Effective Vertical Scaling
Under server management, the Vertical Scaling section allows you to increase server resources manually as and when needed. It's basically a few sliders that you can move from left to right to adjust resource requirements, which ensures your website has what it needs.
Cloudways ensures that SHF or SFTP access to the server is fully secure. Adding and removing files is a breeze.
Furthermore, it allows you to create different credentials for SFTP access for different team members, so each developer or manager has their own unique identifier.
Cloudways Performance and Reliability

Cloudways ratings are high mainly because of the performance and reliability it offers. Let's take a detailed look at how it fares for each parameter:
The 99.99% uptime is delivered by virtually every cloud hosting provider these days. However, Clouways goes one step ahead or a couple of decimal places ahead to deliver 99.9999% uptime. This is thanks to their robust cloud infrastructure and dedicated resources on every server.
Cloudways seems to continuously improve their loading times. When we checked the page loading time for a basic WP website across different locations, it averaged 0.63 seconds. (This was using the Digital Ocean plan)
The loading time was fastest in the US and Europe, and slowest in Oceania. However, this was mainly because the website server was in the US. This time lag for long-distance would obviously be resolved with the use of CDN.
Cloudways' cloud servers deliver blazingly fast speed as a result of the many features that allow these servers to deliver. Some of these features are free, while others are add-ons that add to the cost.
Breeze Plugin: Cloudways offers a free caching plugin, Breeze, with all its plans that customers can use to cache their web pages.
Built-in Advanced Caches: All the plans also include advanced-cache technologies, including Redis, Nginx, Varnish, and Memcached. In addition to that, it also offers a full page cache, which can be beneficial for both static and dynamic pages.
CDN: The biggest driver of speed when it comes to page loading is CDN. Cloudways offers its own CloudwaysCDN at cost, as well as Cloudflare CDN integration. There are over 65 data center locations in the CloudwaysCDN infrastructure, so it enhances speed globally.
SSD Drives: The servers use SSD drives for storage, which typically have a fast store and retrieval times. So the speed is optimized for every kind of interaction on the server.
PHP 7 Ready Servers: The servers use the PHP 7.3 version, which helps make servers fast. On top of that, the pre-configured PHP-FPM improves loading time in the PHP environment.
Auto-healing Servers: The auto-healing feature is mostly about ensuring availability, which makes their servers much more reliable. It significantly reduces the chances of the website crashing after a change or update.
Cloudways Managed Security

Cloudways managed hosting also includes quality managed security, with several layers of security. Here's how it helps protect its customers' websites:
SSL Certificate: As soon as you start hosting or migrate, you can install the SSL certificate for your website with one-click. The SSL certificate is free and helps encrypt the data to and from the website.
Auto Backups: Free automatic backups are a standard in all the plans on Cloudways. Your website and its data are backed up on the cloud every day and retained for one to four weeks. In addition to that, it also caters to on-demand backups.
Dedicated Firewalls: All the servers in the Cloudways infrastructure have dedicated firewalls that are deployed on an OS-level. These firewalls help keep malicious access and attacks at bay.
IP Whitelist: You can create an IP Whitelist for your website when in need to collaborate with networks and users in other regions. In this way, you can limit access to the network or people you want.
Two-Factor Authentication: This kind of authentication is gradually becoming a standard, so Cloudways also employes it to ensure only those who have the right to access use the Cloudways account. This is in line with its team management feature, which means multiple people will have access, so credentials theft is possible.
Bot/Malware Protection: Cloudways uses Malcare to implement malware detection and protection services. It prevents bots from crowding the traffic to your website or Denial of Service (DoS) attacks.
Security Patching: As a managed secure hosting provider, Cloudways applies OS patches regularly. This is important because any unpatched servers can be left susceptible to attacks and hacks.
Cloudways Customer Support

Managed hosting providers have to go one step ahead and provide the ultimate customer support that offers quick response and reliable information. Cloudways seems to meet both these requirements with multiple channels of communication.
There are two ways to get into contact with Cloudways:
Live Chat (Cloudways Bot)
Ticket System
Both options are available 24/7/365, as they claim on their website. The Cloudways Bot is quick in response, with an average response time under 5 minutes. This is ideal for easier queries and issues that can get resolved in a few minutes.
For more serious issues, the ticketing system is better, which also offers a quick turnaround ranging from 3 hours to 12 hours.
This is what the standard support looks like, which is available for all plans at no extra costs. Cloudways also offers two additional support products as an add-on.
The Advanced Support system offers even quicker response times with customization and alerts. This add-on costs $100 per month.
The Premium Support service offers unlimited chat and ticketing support with the quickest turnaround time. The priority tickets are responded to in under ten minutes to two hours. It also includes a private stack and phone support. This customer support add-on costs a whopping $500 a month.
In addition to the usual Cloudways services for customer support and sales, it also offers an extensive knowledge base through its blog. You can find detailed articles on the technology they use, how to set up servers and applications, as well as the common problems users may face.

Cloudways are somewhere between cheap and expensive, but they can be considered on the cheaper side. The costs are higher if you go with AWS or GCE, and lower if you go with any of the other three providers.
Here are the detailed Cloudways pricing of the cheapest plans offered ny the hosting provider and the resources that come with them:
DigitalOcean: The cheapest plan with this provider is $10 per month with 1 GB RAM, 1 CPU core, 25 GB Storage, and 1 TB bandwidth.
Linode: The cheapest plan on a Linode server is $12 per month with 1 GB RAM, 1 CPU core, 25 GB Storage, and 1 TB bandwidth.
Vultr: With this provider, the starting plan costs $11 per month with 1 GB RAM, 1 CPU core, 25 GB Storage, and 1 TB bandwidth.
AWS: The cheapest plan for an AWS server is $36.51 per month, which includes 2 GB RAM, 2 vCPU, 20 GB storage, and 2 GB bandwidth.
Google Cloud: The cheapest plan for GCP is $33.18 per month, which gives you 1.7 GB RAM, 1 vCPU, 20 GB storage, and 2 GB bandwidth.
Cloudways is based on a pay-as-you-go model. While the above rates are monthly, your actual bill is calculated on an hourly basis. So you get charged only for the resources you use.
This is one of the ways Cloudways makes it affordable for businesses to host their websites, as they end up paying for the resources used. There's no flat-rate as such, which makes the plans much more flexible.
There are no hidden costs as such. Cloudways does make it clear on its website and during the setup process as to which features are included in your plan and which ones are not. For instance, off-site backups cost $0.033/GB, so that's something not included in the hosting plans.
Cloudways doesn't really have a money-back guarantee. Instead, it offers a three-day free trial of its hosting plans. You don't even need to use a credit card to use the free trial. However, this trial is not available for AWS and GCP.
Since Cloudways works on a pay-as-you-go model, it calculates resource usage up until the usage and you're charged only for that. You can cancel your subscription anytime by deleting the server.
Other Value-Added Services
Cloudways offers a wide range of add-ons for users to further improve the performance of their applications and websites. These add-ons include:
Support Add-ons: Starting at $100, these add-ons improve response time on tickets and add phone support (Premium only).
Gmail SMTP: Cloudways offers free Gmail SMTP to send out emails.
CloudwaysCDN: The CloudwaysCDN add-on costs $1/25GB.
Rackspace Email Hosting: For email hosting on Cloudways, you can utilize Rackspace starting at $1 per month.
Migration: First migration is free, but additional migrations with expert support will cost $25 per migration.
Automatic Upgrades: If you want the application, WordPress or Magento, updated by experts, that add-on costs $50 per month.
DNS Made Easy: With fast DNS, this add-on helps improve website performance. It will cost you $2.5 per month.
Let's summarize the pros and cons of Cloudways to help you understand if it's really for you or not.
Cloudways uses the top five cloud infrastructure providers. As an infrastructure as a service (IaaS) provider, it narrows down your choices to really what's best out there.
The overall platform is very easy to use with a user-friendly dashboard. Setting up a website and its server is just a matter of a few clicks.
On top of that, the performance is pretty impressive too. Thanks to in-built advanced caches and that free plugin, one can target load speeds of less than one second for different regions around the world.
It's important to talk about monitoring, as it's an integral part of managed hosting. Al sophisticated managed WP hosting providers like WP Engine or Kinsta provide robust monitoring features to guarantee that perfect uptime and implement security. Cloudways is no different, as you can easily monitor your websites with the monitoring tab.
One of the many benefits of Cloudways is its pay-as-you-go model. That alone makes it a viable option for startups and small businesses that cannot afford to spend hundreds every month just on hosting.
You literally just pay for what you use, nothing more and nothing less. It's transparent and cost-effective.
What are The Areas to Improve
Here's where Cloudways could use some improvements:
There's no email hosting included, so you'll either have to buy it as an add-on or host somewhere else.
It doesn't offer any free domain or even domain hosting, for that matter.
If you're used to cPanel or Plesk, that's not an option with Cloudways.
Only 15 minutes of live chat with standard support.
CDN could have been a standard in the Cloudways hosting plans.
What Users are Saying About Cloudways
To support our own arguments about Cloudways, we also looked at what users are saying about their experience with this cloud hosting provider. Most of the Cloudways reviews are positive. For instance, the Cloudways rating on TrustPilot is 4.7.
Here's what they are saying:
Area

What Users Say

Customer Support (response time, capacity, etc.)

There are over 10 positive reviews on Customer Support by users on g2.com:

- "the support is excellent so the learning curve is minimum"

- "Out of all, the customer support is great and knowledgeable."

Uptime

There five positive mentions on the uptime.

- "Satisfied with the uptime."

CDN

There are over 10 mentions of CDN, mostly positive. Some users recommended using Cloudflare CDN, given that you have to pay for the CDN anyways.




- "They have great plugin for Caching and also offers CDN service."

Page Load Times

There are many mentions on the performance of Cloudways.

- "My site is faster than before."

- "Cloudways changed the speed for one of my clients from over 5 seconds to just 800 ms."

Security

There are over 16 reviews featuring security.

- "Backup and security is taken care of."

- "Infrastructure is optimized with security…"

Backups

- "Timely backups make it so much better."

- "Choose how you want your backups."

Technical Issues

There are a lot of mentions of how their tech experts helped resolved issues. But then there were some negative reviews as well.

- "Customer service is simply great."

- "Tech Support is unrivaled."

Ease of Use &

User Experience

- "Cloudways is easy to use…"

- "Their interface is very easy to understand and they give lots of awesome features."

- "Most easy to manage cloud platform"

Migration

- "Setup and Migration was super easy and free."

Pricing

There are over 15 reviews on price plans though some users mentioned an increase in cost.

- "I like how the plans are priced. They are as low as $126 per year."

- "The plans offered by Cloudways is very competitive!"
Verdict on Cloudways Web Hosting
Cloudways is a sophisticated cloud hosting platform with many exciting features on offer. The main benefits of Cloudways include:
Flexible plans
Worldwide data centers
Freedom to choose the cloud provider
Easy to set up and manage
Expert customer support
While not the perfect solution (really, no platform is), it's ideal for growing businesses that need easy scaling and competitive prices. Any WordPress blog or Magento-based e-commerce store with sizeable traffic can benefit from the speed-enhancing features and add-ons.
You should choose Cloudways if you don't want the hassle of running the servers manually. You can simply set the servers and application through their easy dashboard. It just helps take so much of the web management off your hands. As a result, you have more time to focus on business.