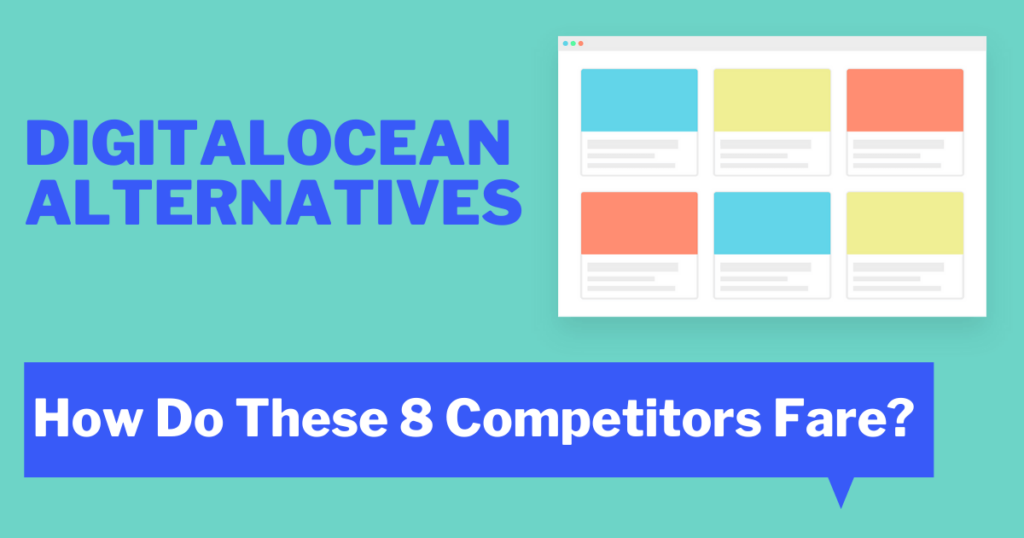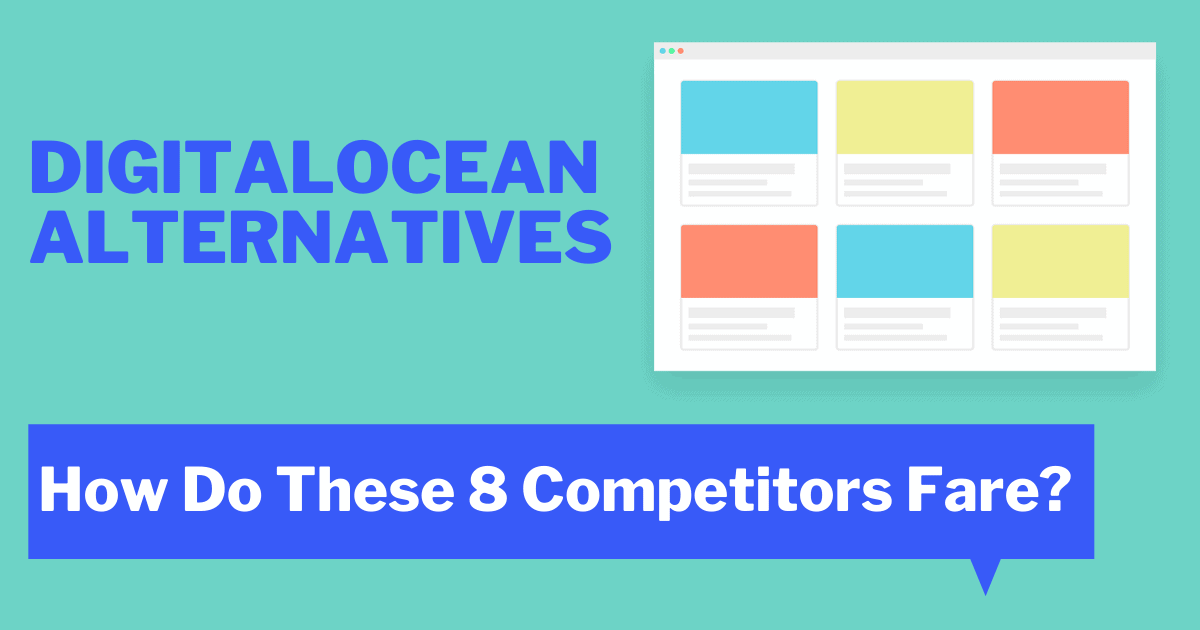 When it comes to developing web applications and other projects, DigitalOcean is undoubtedly the number one choice of web developers. It's because the cloud hosting services offered by DigitalOcean ensure deployment convenience to the enterprise and other entrepreneurial developers without requiring constant maintenance of the development infrastructure.
However, due to the absence of Live Chat, people, especially beginners and small businesses, have to submit a ticket and wait for the response. It causes delay, especially while dealing with urgent technicalities of the server.
Furthermore, there are a lot of DigitalOcean competitors in the market, offering low-priced cloud services. That's why this article deep dives into DigitalOcean alternatives and presents a 360-degree review of their functionalities and pricing.
Reasons to Look for Alternatives to DigitalOcean?
Before reviewing the DigitalOcean competitors, let's briefly discuss the main reasons for selecting any of them.
DigitalOcean primarily designs and offers services and other advanced products helpful for expert developers only. Therefore, a company should choose DigitalOcean services only if its 100 percent sure that the users are familiar with its features.
Moreover, DigitalOcean doesn't have any cPanel that makes the management task challenging, especially for non-tech people. Alternatively, you can simply install a CMS such as WordPress that allows you to manage the website. However, you'll still be struggling with the initial setup. Next, you also need to monitor the firewalls since there isn't any control panel for that either.
Another primary reason to look for DigitalOcean alternatives is the limited customer support. It's not that the DigitalOcean support agents aren't well-equipped with the relevant knowledge and can't provide the assistance to resolve an issue. Instead, the problem essentially lies with the hectic ticketing system.
Unfortunately, there is no other way to contact customer support via phone, email, or live chat. However, the developers who opt for Premier support can pay an extra amount to enjoy prompt support; but only large businesses can afford the additional cost.
Lastly, companies always compare prices before buying cloud-based services. You can say pricing for DigitalOcean services isn't that expensive; however, they may be pricier than other providers. You can buy a cheaper cloud-based service with the same features as OceanDigital services.
For instance, the low-end virtual machine cost offered by DigitalOcean starts from $5 a month, which is a little higher compared to the provided specs. Similarly, bigger businesses have to spend $40 to $60 to buy VPS, which is again pricey. To sum up, DigitalOcean offers good value for your invested money, but not all entrepreneurs can afford these services.
Why The Need to Consider DigitalOcean Equivalent?
The services and features offered by DigitalOcean aren't as user-friendly as those provided by similar service providers.
It's a complicated task to install cPanel on a DigitalOcean droplet.
The absence of live chat and raising a ticket every time is a hassle for the developers who don't opt for the Premium subscription plan.
Services offered by DigitalOcean are not quite expensive, yet not the cheapest either.
Unfortunately, DigitalOcean doesn't provide Windows-based services.
Lastly, there isn't any money-back guarantee; that's why many small-scale companies hesitate to opt for DigitalOcean services.
The 8 Best DigitalOcean Alternatives (Plus 1 New) Compared
With plenty of cloud-based services available, we have shortlisted the following top DigitalOcean competitors. These providers have been selected based on the shortcomings of DigitalOcean that they help cover.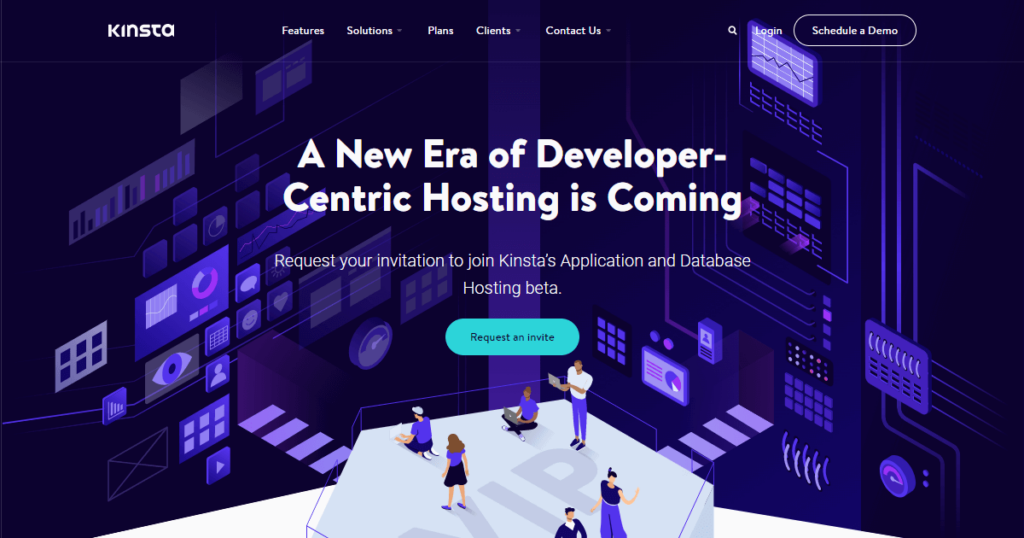 Kinsta's Application and Database Hosting is a new platform where developers can find everything they need to run all their projects in one place. Whether you are the owner, administrator or developer of a company, you are able to create applications and databases within the company. Having known for their excellence in the WordPress hosting industry, you can now bring all your applications to Kinsta with ease.
The Application Hosting allows you to run your application with some of the popular programming languages and frameworks by connecting with GitHub and automating the deployments.
Looking for a robust solution with the best security and performance for your application? The other new Kinsta's Database Hosting platform allows you to create databases with minimal effort, set up internal connections with your apps and build an ecosystem of apps and databases.
The various languages that Kinsta tested and support include Java, PHP, Node.js, Python, Django, Ruby on Rails, Scala, and Go natively. Other frameworks such as Laravel and static site hosting with Gatsby are available as well. For databases, currently they support MySQL, Redis, PostgreSQL and MariaDB, and they will be adding more in the near future.
Though it's a new service, there are already raving reviews of the two platforms. Many are excited about the ease of usage and scalability, the choice to choose the data center and type of database, and the ability to aggregate all their hosting in a single place.
Vultr – Best Overall Alternative to DigitalOcean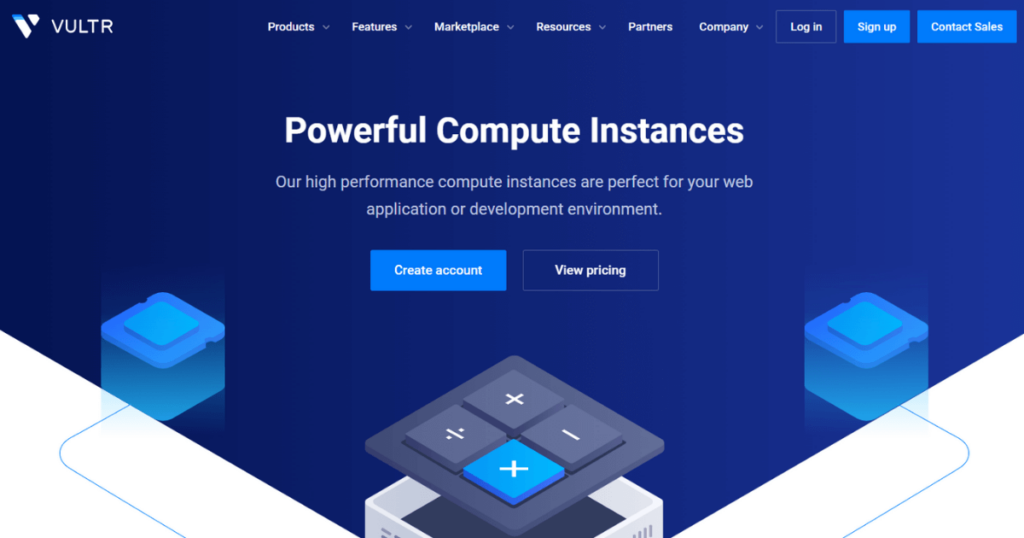 Vultr offers global cloud hosting services, courtesy of its efficient SSD cloud servers and 100 percent KVM Virtualization. Furthermore, the VPS cloud servers come with the latest generation Intel CPUs and a user-friendly control panel. You can select any of the 14 low-latency geo-locations, featuring a robust deployment system that spins servers in less than 60 seconds.
Founded in 2014 by David Aninowsky, Vultr offers flexible options at lower prices to small businesses and individual developers. The cheapest cloud hosting plan costs around $2.5 a month. Not only that, but Vultr adds $5 to your account once you sign up to try their hosting services.
Furthermore, you can pay $20 a month for an 80 GB SSD and 4GB RAM or you can upgrade to 1600 GB SSD and 96 GB of AM for $640 a month.
Hosting Plans
You can opt for any of the following four hosting plans:
Cloud Compute (VC2) – If you want to buy advanced hosting, VC2 is the best choice to get root access to the server instance, featureful control panel, and API access.
Bare Metal Simplified – Offers maximum customization so that you can deploy the server within minutes exactly as you want it. Similar to dedicated hosting, you can enjoy complete control of the environment with unrestricted access.
Dedicated Instances – As the name suggests, you can host a website on a dedicated server. Consider it as a flexible, dedicated server, some of which you can rent as well.
Block Storage – It's not a web hosting solution; instead, it's a storage solution that allows you to save your data, images, descriptions, and other customer records.
Unlike the DigitalOcean, which doesn't come with a control panel, the Vultr offers an easy-to-use control panel design, keeping in view the users' requirements. This way, developers can save time to concentrate on the main task of web development.
Furthermore, the control panel features instant server deployment, quick view server health, easy snapshots, and an intuitive interface.
Vultr offers dedicated IP addresses, which you can even modify as required. It means you can enjoy a dedicated server with super-fast Intel core processors.
Vultr features 15 data centers globally, allowing you to select the nearest data center to improve the overall performance of your website. Moreover, you can back up your data in different locations to prevent any loss. Lastly, any connectivity issue with one of the data centers won't cause any significant downtime on your website, thanks to reliable, global infrastruture.
Pros
24/7 customer support
60 seconds spin-up time
Global footprint
Super-fast Intel Core processors
Four types of hosting plans
Exceptional security
Con
Restricted payment on 1st of every month
Linode – Top-Rated DigitalOcean Alternative
Founded in 2003, Linode is a US-based hosting services provider featuring a state-of-the-art cloud infrastructure supported by reliable Linux virtual machines. This way, the developers can use the included tools to develop and even scale their web applications. It has around 800,000 satisfied customers in 196 countries and 11 data centers globally.
Linode is essentially a combination of two words – Linux and node. The best thing about opting for this DigitalOcean alternative is its ten pricing plans to suit the hosting requirements of all kinds of businesses.
For instance, you can buy the cheapest plan that includes 1GB RAM, one CPU core, 1TB network transfer, 25GB SSD storage, 40Gbps received traffic, and 1000 Mbps sent traffic by paying $5 a month. Furthermore, you can pay $40 a month for four CPUs, 160 GB SSD, and 5TB of file transfer, while the premium services include 20 CPUs, 1920GB SSD, and 20TB of file transfer for $480 a month.
Moreover, Linode charges on an hourly basis, which you can pay with a credit card or PayPal. Lucky for you, they have a 7-day free trial as well as $100 credit promo coupon to try their services.
After creating the account, you can click on the "Getting Started with Linode" guide to familiarize yourself with the hosting process. You can select from a variety of available servers, such as Apache, Lighttpd, and Nginx. Moreover, you can also select the file transfer program such as Filezilla with the SFTP standard.
Just like the DigitalOcean, the Linode doesn't include a control panel; however, you can install one if you want.
Pros
Flexible selection
Includes helpful tutorials
Gives $100 promotional credit for two months
Con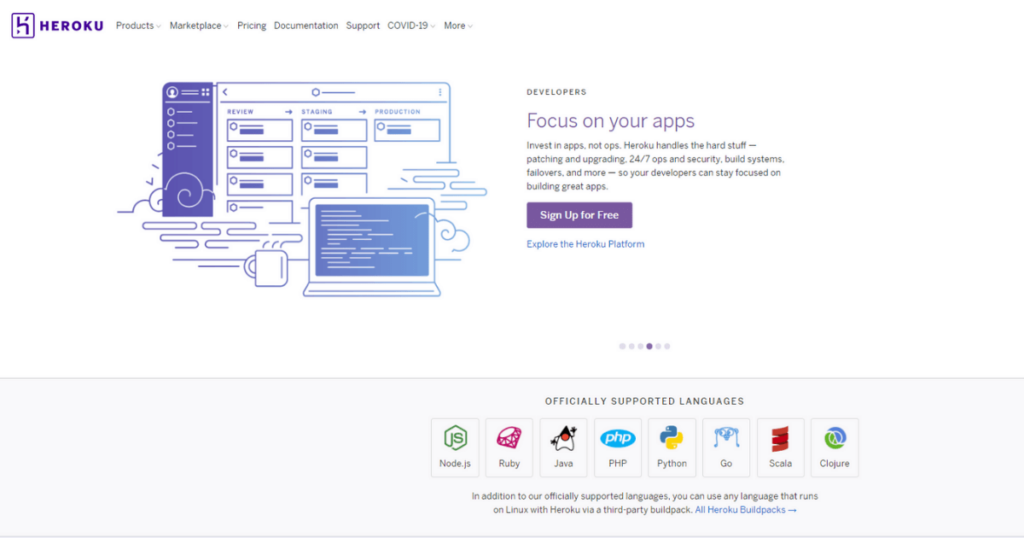 Heroku is a cloud Platform as a Service (PaaS) perfect for developers to deploy and manage web apps. Furthermore, it supports multiple high-level and low-level programming languages, including Scala, Python, Node-js, Go, Ruby, PHP, Java, etc.
One of the most distinctive features of Heroku is its attractive and stylish interfaces that ensure smooth and efficient operations. Moreover, the hosting service is fully managed, allowing you to focus on web product development instead of dealing with the app infrastructure and other technical details.
Heroku is an excellent DigitalOcean alternative, courtesy of its easy deployment, processes' transparency, and quick infrastructure upgrade. In addition, it comes with a built-in command-line interface (CLI) toolkit, allowing you to navigate different applications conveniently.
It's essentially a container-based PaaS that allows you to run the application inside containers featuring a fully managed runtime environment. Therefore, Heroku can handle all the tasks simultaneously, including logging and load balancing.
Moreover, you can easily set up and scale PostgreSQL for your projects. Another good news is that Heroku can scale projects within seconds on your behalf.
You can conveniently import the code from Github, courtesy of the Github integration. Not only that, but you can restore the older version and roll back your code if required. It's very convenient to undo the changes you recently made in the code.
You can select any of the services, such as Net Relic, Fastly, SendGrid, MySQL, MongoDB, and others, to enhance the functionality of your web project.
Pros
Affordable
Supports different programming languages
Painless deployment
Includes a CLI toolset
Comes with Heroku Redis
Cons
Less number of dyno sizes
Difficult to set up both Node-js and Rails at the same time
Limited database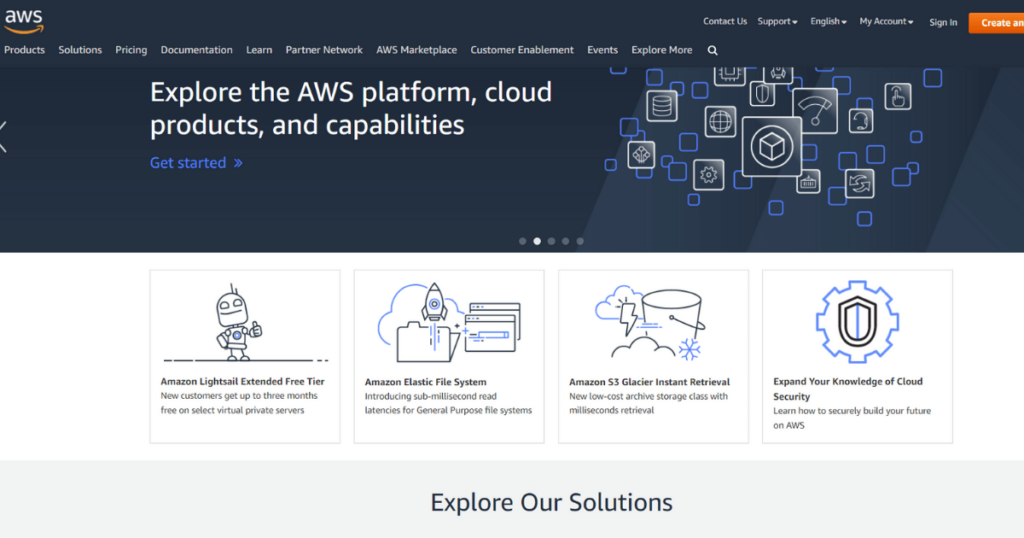 From machine learning testbeds to the Internet of Things (IoT) toolkit, Amazon AWS is a perfect DigitalOcean alternative.
It's essentially a collection of different cloud computing services operating at 12 geo-locations across the globe. Amazon Elastic Compute Cloud (EC2) and Amazon Simple Storage Service (S3) are the most popular services. In addition, Unilever, Netflix, and Airbnb are notable Amazon AWS clients.
The primary purpose of opting for this DigitalOcean competitor is the advanced services offered by AWS, such as scheduled backups, content delivery, and of course, elastic load balancing. You can opt for any of the four categories with admin controls:
Compute
Storage
Content Delivery
Databases
Unlike DigitalOcean, Amazon AWS supports both Windows and Linux servers. Moreover, it guarantees reliability by offering server cloning, automated data backups, and, most importantly, complete redundancy.
Since Amazon is the world's biggest cloud provider, it means the infrastructure supports high uptime. According to AWS, it ensures uptime of 99.99 percent in every supported region.
One of the most significant advantages of opting for Amazon AWS is payment flexibility. It means you can either opt to pay per year, per month, or hour, based on your development requirements.
The prices start from $0.08 per hour, while the monthly pricing starts from $57.60. So the plans are not cheaper, but you need to look at the wide range of features that come with the subscription.
On the downside, Amazon doesn't offer unlimited disk space or bandwidth. It's understandable because of the massive traffic capacity catered by Amazon's server every second.
Pros
Customizability
Integration with third-party programs
Support for both Linux and Windows servers
Exceptional customer support
Cons
Pricey
Complicated web hosting plans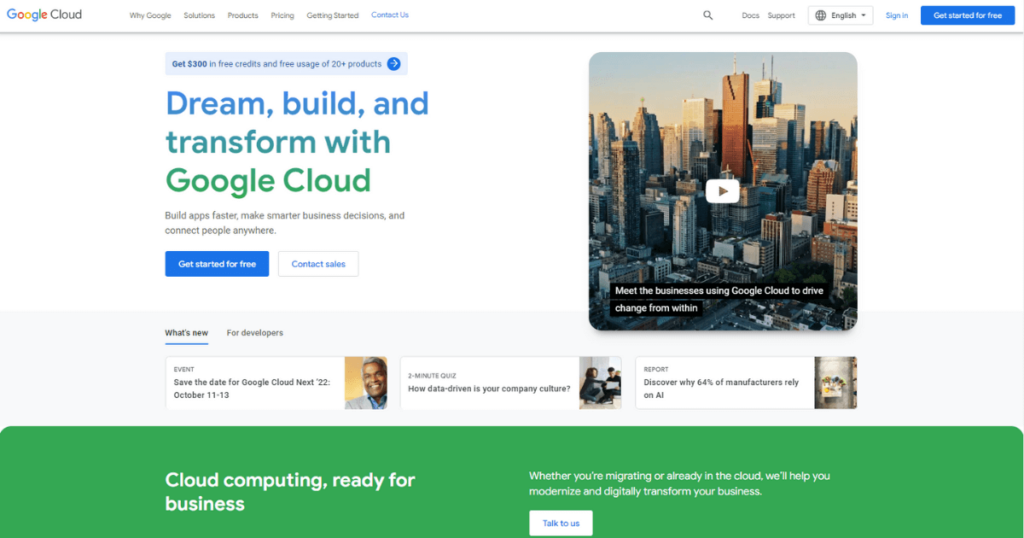 Another viable DigitalOcean alternative is Google Cloud, offering a reliable and high-performing infrastructure that Google itself uses to host its applications, including Google Workspace and Gmail.
Google Cloud has designed the web hosting solutions keeping in view the businesses' demands. For instance, a retail business can benefit from Google's data to devise the marketing strategy and product segmentation. Similarly, if you are a manufacturing company, you can use AI tools to improve the overall efficiency of the supply chain process.
The Cloud App Modernization Program (CAMP) by Google Cloud is an open-source platform that allows developers to update old apps and deploy new ones. In addition, Google has gathered the DevOps Research and Assessment (DORA) data from 2014 to 2020 to assist the developers and businesses in developing profitable applications with a higher return on investment (RoI).
Lucky for you, the Google Cloud includes business data management solutions ensuring smooth data transition onto PostgreSQL, SQL Server, MySQL, and HBase databases.
Google Cloud is a one-for-all, and all-for-one web hosting solution empowering the developers to build, test, and deploy the application in all programming languages. You can also deploy the apps on different environments, such as Firebase or any other virtual machine, via Kubernetes.
It's essentially a serverless platform, which means you only need to bear the cost of the capacity. The pricing of the hosting services depends on your requirement.
For instance, you can use the Google pricing calculator and input your requirement about the virtual machine and other supported features. The Development plan costs around $100 a month that includes chat support from Monday through Friday.
Moreover, the overall price may increase with the added storage demand, database server, and application architecture.
Pros
Super-fast connectivity
Includes a graphical user interface
Supports Linux Distros and Windows server integrations
Enhanced security
Cons
Difficult integration with third-party tools
Pricing depends on the location
Launched in 1996, Kamatera is a cloud-based service provider offering reliable web hosting plans. It's one of the best DigitalOcean alternatives, featuring 13 world-class data centers located across four continents.
Kamatera features different cloud servers and enterprise-grade infrastructure that businesses can quickly deploy. Moreover, it periodically upgrades the server technology and hardware to guarantee unbeatable performance and speed.
Kamatera uses SSD drivers with a minimum of 600 Gbit bandwidth, Intel Platinum 8270 Processors, and Solid State Drives (SSD). Additionally, the Intel Xeon Platinum Processors offer 300 percent more power per CPU than the competitors such as DigitalOcean.
Kamatera offers two types of cloud solutions based on individual developers and business requirements.
The Business solution provides a scalable web hosting service with numerous servers, especially to big enterprises. It's an advanced solution that includes features such as a single portal to access and control all the servers, start-up solutions, application hosting, worldwide infrastructure, diagonal scanning, and more.
On the other hand, the managed cloud solution is designed for beginners and inexperienced small-scale businesses unfamiliar with the server setup and infrastructures. Therefore, you can enjoy fully managed cloud, cloud consulting, migration, and disaster recovery.
In addition to that, Kamatera offers other products, such as Cloud servers, block storage, private cloud network, load balancer, firewall, etc.
If you want to increase the website loading time, you can safely choose the Kamatera server, offering 261 seconds of loading time. You can also deploy other applications without paying extra charges to Kamatera. For instance, you can deploy CPanel, Magneto, Jenkins, WordPress, and many more with just a few clicks.
Starting from $5 a month, you can get a server with 5TB bandwidth, 20 GB storage, 1000GB Internet traffic, one public IP, and 1GB RAM. Moreover, you can scale up to 2GB RAM by paying $6 and 30 GB storage for $12 a month.
Pros
Scalable services
Above-average up-time of 99.95 percent
Exceptional customer support
Cloud web management system
30-days free trial
Affordable
Con
Not a user-friendly hosting service for beginners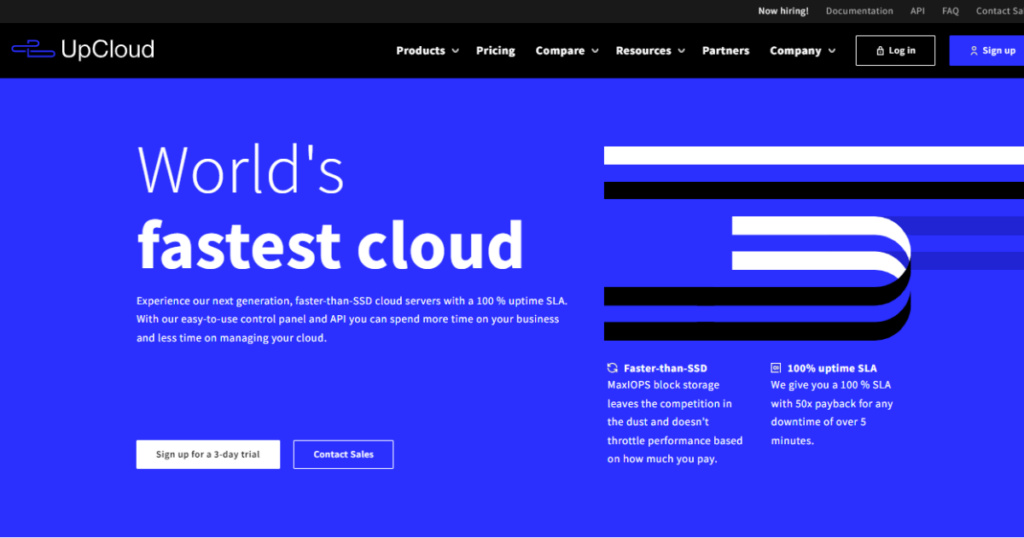 You can opt for this cost-effective DigitalOcean equivalent and enjoy 24/7 live customer support. In addition, Upcloud is a high-performing cloud infrastructure, offering 100 percent uptime at an affordable price.
You can deploy a server using a pre-setup plan devised by Upcloud. At any time, you can switch to configurable resources from preconfigured plans in case of traffic increase to your website.
UpCloud takes pride in its proprietary MaxIOPS storage technology and in-house developed software that guarantees exceptional performance.
The featureful API allows you to automate the infrastructure by creating, configuring, and deleting cloud servers. Moreover, the API offers unique functionality in the control panel so that you can completely automate the cloud. Another great news is that you can create a 100 percent private network and share the online data privately between the cloud servers without paying an additional cost.
The granular permission control allows you to modify the access of the developers, clients, and the rest of the team. It means you can tag different servers and limit the access of specific teams to the particular server.
The prices start from $5 a month for a simple plan and go all the way up to $640 a month. Moreover, it offers a pay-as-you-go payment method in which you only need to pay for the resources and features you use. However, the prices are calculated on a per-hour basis only.
Pros
Complete automation of the infrastructure
Fully functional API
Offers a private Network and floating IPs
Flexible and scalable hosting service
24/7 customer support
Cons
Costly servers in Finland
Not recommended for beginners
Requires credit card information at sign up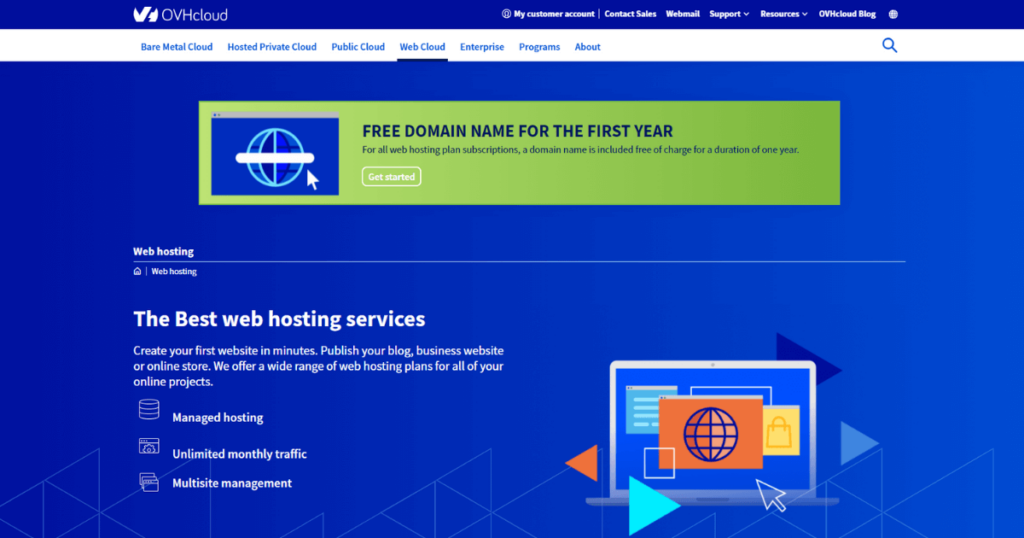 If you want to manage the hosting, domain, and email, you should select OVH cloud-based services equivalent to DigitalOcean. Founded in 1999 by Octave Claba, OVH is one of the largest web service providers in Europe, with 30 data centers operating globally.
OVH web-hosting service offers a one-click install to create a website if you are using WordPress. You can also upload the website using a file manager or FTP; however, there isn't any website builder with a drag-and-drop interface to create a website.
OVH ensures an uptime of 99.982 percent because of the Tier III+ standard design of the data centers.
One of the most incredible benefits of selecting OVH web hosting services is its lower prices. For instance, the Personal plan starts from $3.99 a month, including support for five websites and a free domain name for a year. Moreover, you get to enjoy 100GB of storage and WordPress optimization within the same package.
The Professional plan costs around $6.99 a month with 250GB storage and ten websites, while the Performance plan begins at a monthly rate of $11.99.
On the downside, not all the information on the website is translated from French, making it a bit hard for some people to navigate the website.
Pros
Affordable hosting services, especially the basic plans
High-end features
Include ANti-DDoS protection
Unlimited monthly traffic
Offers a domain name for the first year
Cons
No prompt customer support
No free trial or refund
Recommendations for DigitalOcean Alternatives on Reddit
You can also find alternatives to DigitalOcean on Reddit, such as Drserver with 4GB RAM and 90 GB SSD for only $7 a month with exceptional customer support. Moreover, you can try the managed servers such as Cloudways or Serverpilot. You can also select BuyVM with 500 GB storage space for just $12.5 a month.
Verdict: Which is The Best DigitalOcean Alternative?
All the DigitalOcean alternatives reviewed in the above article offer the same cloud-based services with variations in some features. The primary purpose of this article is to explore the functionalities offered by the DigitalOCean competitors and how they are different from DigitalOcean.
If you ask our recommendation, our vote goes to the Vultr while the second and third positions go to Linode and Heroku.
First, Vultr offers advanced features and an ultra-fast speed that costs slightly lower than DigitalOcean. Moreover, the addition of the control panel gives a clear winning position to the Vultr.
Vultr integrates developer tools and other apps in one place, thus saving time to switch between different interfaces. Lastly, the 24/7  customer support can resolve the user issues in less time than the time DigitalOcean ticketing system normally takes.
Second, Linode offers a reliable and efficient hardware event at the lowest plan of $5 a month. You can opt for CPU-optimized plans that start from $30 a month, while plans similar to DigitalOcean start from $40 per month.
Lastly, Heroku is a container-based cloud hosting service offering state-of-the-art features to facilitate app development, deployment, and scalability.