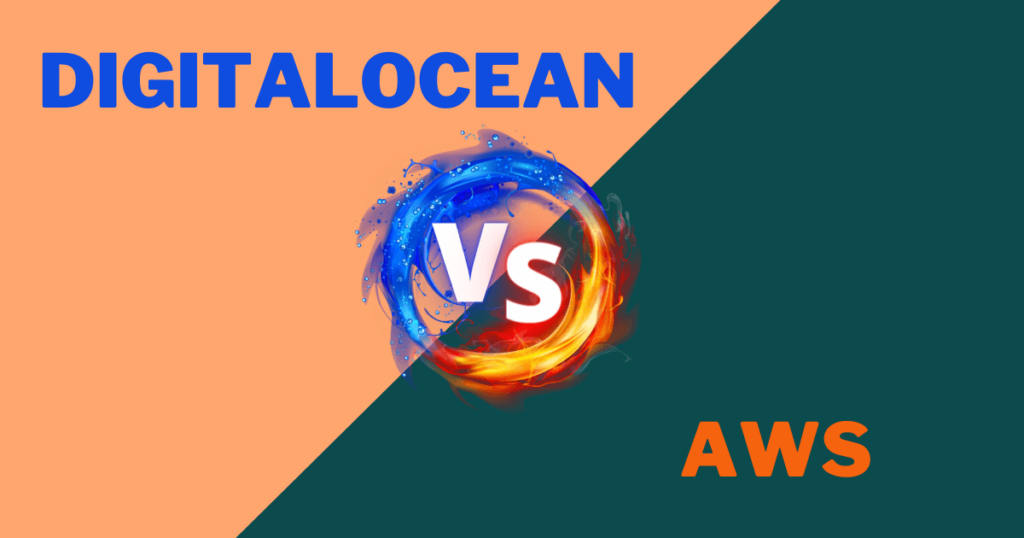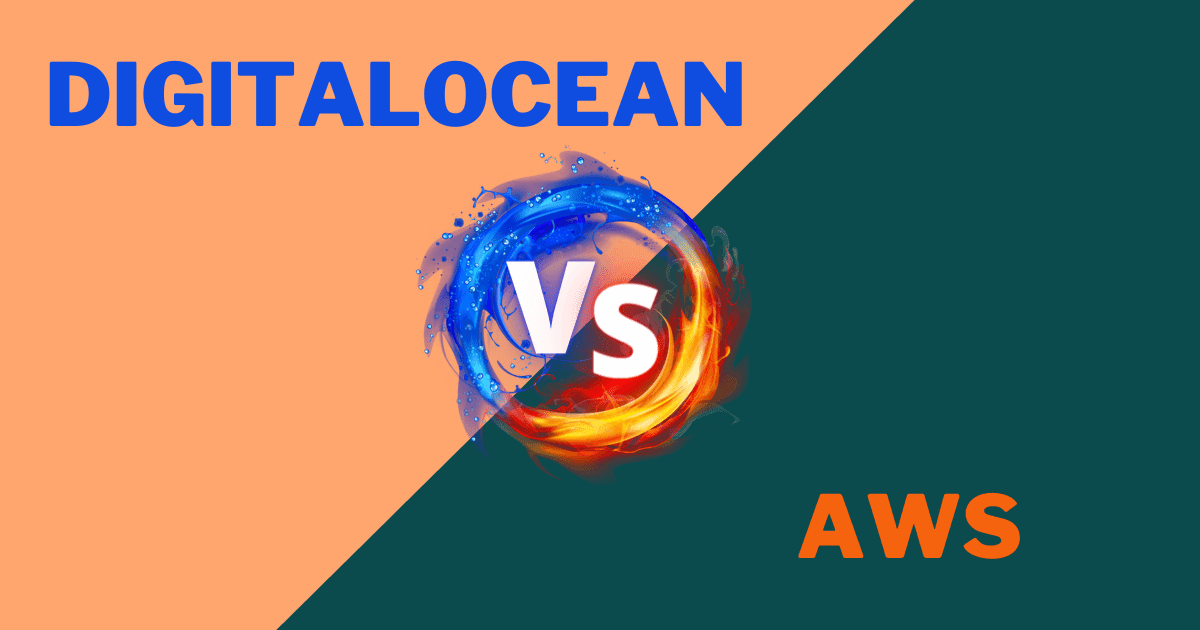 When comparing DigitalOcean vs AWS, one should not forget that one is a humble success and the other comes from a corporate behemoth.
Yes, DigitalOcean started small in New York City back in 2011 but has grown to have over a million customers. On the other hand, Amazon Web Services, or AWS, is a subsidiary of Amazon, one of the biggest corporations in the world. Nevertheless, both of the companies are among the leading players in the cloud hosting universe.
If you're confused between the many product offerings by the two, this detailed comparison should help. In any case, it's best first to evaluate your own business needs and then use those to find the right service or product.
On the surface, AWS is a much bigger operation than DigitalOcean with a big portfolio of cloud computing solutions. For a fair comparison between AWS and DigitalOcean, we'll compare only the relevant products of AWS against DigitalOcean.
DigitalOcean Vs AWS: Main Feature Comparison
To better understand the two cloud hosting companies, let's talk big picture stuff. In other words, let's overview each to compare their main products and features.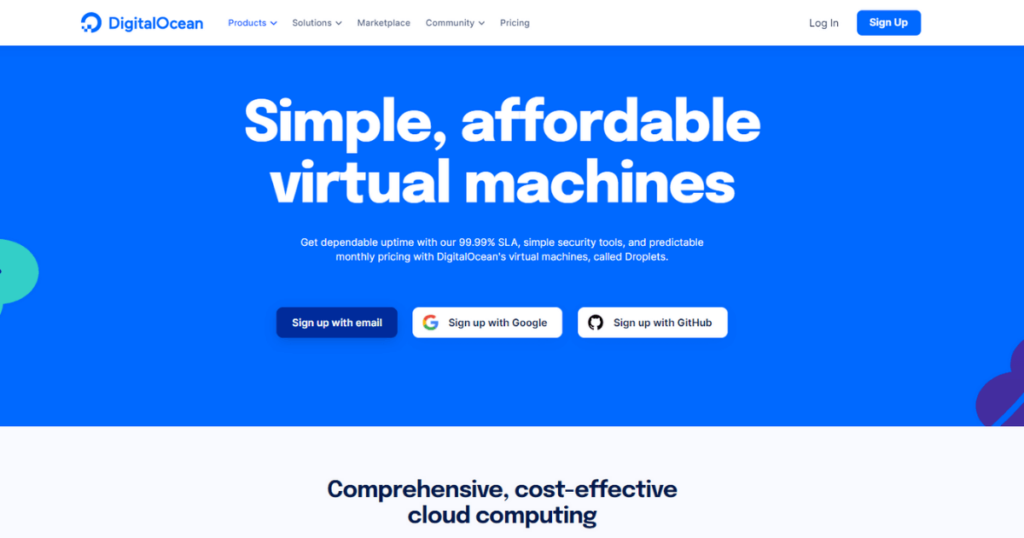 DigitalOcean is an upstart cloud infrastructure provider for hosting websites and applications. It's an Infrastructure as a service (Iaas) platform that's designed for both businesses and developers.
Its main product is Droplet, which is basically a virtual server you can whip up in seconds. You can create as many Droplets as you like or need for your businesses.
DigitalOcean is essentially a pay-as-you-go service where you pay based on an hourly rate or monthly when you hit the 672 hours cap.
In addition to Droplets, there are other adjunct and standalone products as well, such as Kubernetes, Blocked Storage (to attach with Droplets), App Platform, and Managed Databases.
Key Features and Advantages of DigitalOcean
High-speed cloud servers
Ability to launch many servers (Linux instances) instantaneously
Supports most Linux OS
More suitable for tech-savvy startups and developers
Uses a pay-as-you-go pricing model for all its products
Very detailed documentation and blog for customers
User-friendly management setup
Top-notch security (It's sometimes hard to get approved for an account because of security reasons)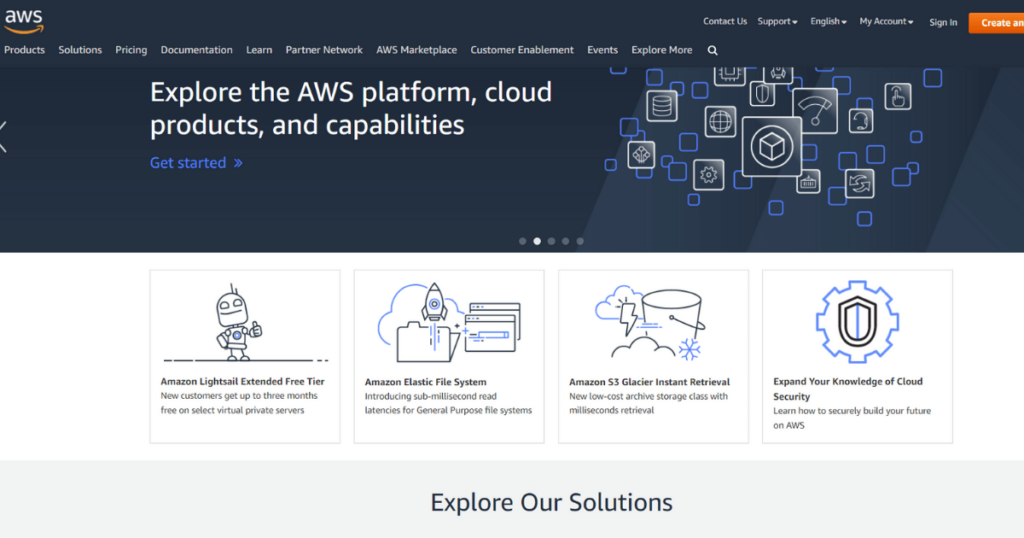 Amazon Web Service or AWS has fairly quickly become the market leader in the world of cloud computing. Unlike DigitalOcean, it's not a single or even a handful of services but a mega superset of cloud-related services.
AWS encompasses full-fledged cloud hosting solutions that are reliable, scalable, flexible, and user-friendly. Whether it's hosting, data warehousing, networking, or data analytics, there's something for everyone.
Their infrastructure is huge and truly global. AWS has even penetrated the Chinese market with AWS China. However, it's run by Chinese companies and is totally separate from the rest of the AWS market.
Its many products include Amazon EC2, AWS Lambda, Amazon S3, Amazon Elastic Block Storage, Amazon SNS, Amazon Glacier, Amazon VPC, Amazon Kinesis, and Amazon SQS.
Key Features and Advantages of AWS
Massive cloud infrastructure spread over 16 different geographical regions
Wide range of products to meet varying cloud computing needs of businesses of different sizes
Fast and reliable performance with cutting-edge technology
Extensive partner eco-system that offers increased compatibility
Designed for DevOps
Powerful analytics integration
Key Differences: AWS vs DigitalOcean
Based on the history, business model, and overview of the two cloud providers, here's a summary of the key differences between the two.
| | DigitalOcean | AWS |
| --- | --- | --- |
| Type of Service | Infrastructure as a service (IaaS) | Infrastructure as a service (IaaS), Platform as a service (PaaS), and Software as a service (SaaS) |
| Types of Customers | Small to enterprise-level and developers | All levels of businesses with healthy budgets |
| OS Compatibilities | Mainly Linux | All OS |
| Security | Physical security for servers as well as integrated tools within the product ecosystem | Many security tools including GuardDuty. |
| Payments | Credit cards and PayPal | Credit Cards |
| Lowest Plan | $5 per month | $14 per month |
Clearly, AWS is a bigger fish in the pond as far as products and features are concerned. However, in the time that DigitalOcean has increased its product lineup, they have offered some solid products and services.
There's a massive scale difference between the two, given that one is a mega-corporation and the other reaching enterprise level. Their yearly revenues also make this size difference very clear, with DigitalOcean making over $318 million and AWS revenue reaching $45 billion in 2020.
DigitalOcean Vs AWS Lightsail
AWS Lightsail is the Virtual Private Server (VPS) product by Amazon. It's a simple yet scalable cloud hosting solution for websites, web applications, open-source software, and dev/testing environments. Amazon Lightsail is comparable with DigitalOcean's Basic and General Purpose Droplets.
At their very core, AWS Lightsail and DigitalOcean Droplets are very similar, with each plan provisioned with basic resources including vCPUs, memory, SSD storage, and bandwidth. However, there are some differences in extra features. For instance, DigitalOcean Droplets offers DNS and monitoring at no extra charger, whereas with LightSail, you have to purchase these things separately as separate Amazon products.
Another major difference is that DigitalOcean is exclusively available only for Linux, whereas Amazon Lightsail is available for both Linux and Windows.
Features of DigitalOcean Droplet and AWS Lightsail
Main features of Basic and General-Purpose Droplets at DigitalOcean:
SSD storage
Basic and Premium Intel/AMD processor choice
Monitoring
Launch in 55 seconds
One-click apps
Flat pricing across the data centers
Easily scalable
Key features of Amazon Lightsail:
SSD-based storage for high availability
Easy, managed launch
Built-in security
Flexible yet powerful APIs
SSH access
Scalable (Also scalable to Amazon EC2)
One-click applications including WordPress and Node.js
As such, there aren't that many differences between the two products. DigitalOcean's Basic Droplet is for low-traffic applications like blogs, static websites, and test environments. The General-purpose is designed for relatively higher-traffic applications with higher data and storage needs.
In comparison, Amazon Lightsail covers all these low to high traffic applications, including mission-critical ones, with different tiers of the product.
There are differences when it comes to security, as well as monitoring, where DigitalOcean has a slight upper hand with an all-inclusive product. Also, Amazon Lightsail doesn't offer uniform pricing across all data centers (more on that in a bit).
DigitalOcean Droplet Vs AWS Lightsail: The Pros & Cons
The advantages are quite comparable, with both DigitalOcean and AWS Lightsail offering flexible, scalable, and reliable virtual private servers on a vast infrastructure. These services are compatible with other products offered by the two companies. Also, AWS Lightsail offers a very simple console.
With DigitalOcean, you can choose any data center without worrying about pricing. That may not be the case with AWS. Also, another drawback with AWS is that you may have to pay extra for some security and monitoring features.
DigitalOcean Droplet Vs AWS Lightsail Pricing
Both the companies offer market-competitive pricing. AWS Lightsail plans start at $3.5 per month, which includes 512 MB memory, 1 CPU core, 20 GB SSD disk, and 1 TB transfer.
Over at DigitalOcean, the lowest price is $5 per month for the Basic Droplet, offering 1 GB memory, 1 CPU, 25 GB SSD disk, and 1000 GB transfer. So as you can see, AWS is slightly cheaper. The upper-tier plans are even more comparable in terms of pricing.
The AWS Lightsail plans for Mumbai and Sydney data centers have lower data transfer limits in plans, and you have to pay extra for any overages. The $3.5 plan only includes a 0.5 TB transfer limit.
The Winner: DigitalOcean Droplet or AWS Lightsail?
DigitalOcean is a winner here with its affordable pricing across the plan structure. Also, it offers uniform rates across the infrastructure.
Amazon Elastic Compute Cloud or EC2 is the ultimate cloud computing and hosting solution with a lot of flexibility and scalability on offer. It's more ideal for an enterprise solution with larger hosting and computing needs. Even the Amazon Lightsail service is essentially based on the EC2, which means going from Lightsail to EC2 is easy.
Over at DigitalOcean, the Optimized Droplets are more comparable with Amazon EC2, as these offer more robust, business-specific plans to cover the resource-specific needs. The CPU-optimized Droplets may be the most comparable as these are designed for applications with more computing needs.
Features of Amazon EC2 and DigitalOcean Optimized Droplet
Here are the key features of Amazon EC2:
400 instances of virtual servers that can be launched simultaneously
Pre-configured machine images for easy launch
Operating system, software system customization
Support for macOS
Choice of Intel, AMD, and Arm-based processors
Complete root access to all instances
80 availability zones
Instantly resizable compute capacity
Based on the new AWS Nitro System
Key features of DigitalOcean Optimized Droplets:
Premium Intel processors
Flat rate across data centers
Choice of optimized resources (CPU, memory, or storage)
Launch thousands of droplets in under a minute
SSD-based storage
99% Uptime guarantee
Developer-friendly with roots access and SSH keys
Linux instances
There are more similarities between the two than there are differences. Both products from AWS and DigitalOcean are flexible, scalable, easily managed, and customizable to some extent. Both solutions are ideal for medium to enterprise-level businesses with quickly growing infrastructure needs.
Some differences do exist, some of which give Amazon EC2 the advantage. For instance, you can choose the processor and also the operating system.
Pros & Cons of DigitalOcean and Amazon EC2
Amazon EC2 offers a more all-inclusive cloud hosting solution. However, you may have to purchase other products or services to augment some of the features. For instance, you can get more blocked storage (SSD) for EC2, just as you can for DigitalOcean Optimized Droplets.
Amazon EC2 is based on a very technologically advanced infrastructure that is continuously evolving for better performance. DigitalOcean also offers reliable hosting with its Droplets along with a near-perfect uptime guarantee.
If we're talking about cons, EC2 pricing can be a bit higher than DigitalOcean Optimized Droplets. Also, it may require security patches often. Furthermore, it may only be suitable for someone with the technical know-how, whereas DigitalOcean Optimized Droplets have a comparatively lower learning curve.
DigitalOcean Vs AWS EC2 Pricing
Comparing DigitalOcean with AWS when it comes to pricing is tricky as both are pay-as-you-go models.
Over at DigitalOcean, the prices vary by the type of Droplet you choose. However, at EC2, you have to choose from a pricing model, which includes on-demand instances, spot instances, savings plans, and dedicated plans.
This makes its pricing a bit more complicated to understand and estimate than DigitalOcean's.
The Winner: DigitalOcean or AWS EC2?
AWS EC2 is a stronger option for cloud computing applications as compared with DigitalOcean Optimized Droplets. There are more features and complimenting services on offer that can take the business to the next level.
DigitalOcean Spaces vs AWS S3
Both Amazon and DigitalOcean offer their respective object storage services that allow easy, fast access to data from virtually anywhere. DigitalOcean's object storage service is called Spaces, whereas Amazon's is called Amazon S3.
Spaces used in-built CDN for faster data delivery. Also, it's S3-compatible, so it can work with any S3 compatible storage, including AWS. Recently, they have added CNAME subdomain support for Spaces.
There are many tools for developers when using DigitalOcean Spaces, but the good thing is that they also have easy-deploy APIs for non-developers. So this object storage solution is good for all kinds of users.
Over at the other end of the spectrum, AWS S3 also offers easy-to-use features, guaranteeing high durability and availability. For developers, it's just as efficient as Spaces by DigitalOcean.
With something like object storage and CDN, infrastructure plays an important role. Obviously, this is one area where AWS has the upper hand. Nevertheless, DigitalOcean has data centers at all the right places, which ensures fast asset or software delivery via CDN.
Pros & Cons: DigitalOcean Spaces and AWS S3​
For anyone hosting their applications on AWS or DigitalOcean, using object storage can drastically speed up content delivery.
The biggest pro of AWS S3 is that it has consistently faster writing speeds than Spaces. Therefore, it does offer the advantage you're looking for when signing up for such a service. This is thanks in part to the global AWS infrastructure and a lot of investment into latest technologies.
One disadvantage of S3 is that it's not that easy to set up or use. You'll need some technical expertise to configure it, so it's not really for non-developers. This also impacts file management and doesn't make the operation as convenient as you'd hope for.
Using DigitalOcean Spaces can save you some money, but it's only slightly cheaper than AWS S3. Another great thing is that you can move from S3 to Spaces, as, again, it's S3 compatible.
DigitalOcean Spaces Vs AWS S3 Pricing
Both these services are neck-to-neck as far as features, usability, and advantages are concerned. However, DigitalOcean Spaces beats out AWS S3 when it comes to pricing and costs. Spaces has slightly more affordable rates and predictable pricing overall than S3.
The starting price is just $5 per month with 250 GB of storage and 1 TB outbound data transfer.
For AWS S3, you have to pay $0.023 per GB till the first TB. Subsequently, the per GB rate goes down as your storage increases. So for 25 GB, the rate comes down to $5.75. Data transfer to and from the internet isn't charged. The outbound data is charged after 10 TB.
The Winner: DigitalOcean Spaces or AWS S3?
DigitalOcean's Spaces is a winner as it's more affordable with more straightforward pricing. It's also compatible with AWS S3, so moving from S3 isn't a problem.
DigitalOcean Kubernetes vs AWS EKS
DigitalOcean and AWS both provide support for Kubernetes, which is an open-source workload containerization platform. DigitalOcean Kubernetes basically involves a free control plane for managing the worker nodes in the cluster, while the worker nodes are paid for (like Droplets).
AWS EKS creates the cluster over a new or specified virtual private cloud. In terms of performance, reliability, and uptime, both are as good as their other products. You can expect the same level of performance and security as you would with DigitalOcean Droplets or Amazon Lightsail or EC2 virtual machines.
Differences Between DigitalOcean Kubernetes Vs AWS EKS
| | AWS EKS | DigitalOcean |
| --- | --- | --- |
| Kubernetes Version | Slow to support latest versions | Latest three versions |
| Third-party Support | Decent paid third-party support options but not as many as those on DigitalOcean | Large marketplace of third-party support that work directly with Kubernetes. (WordPress Kubernetes, Argo CD, Net data, Moon, etc.) |
| Ingress Support | Proprietary Ingress Controller | Third-party Ingress Controllers |
DigitalOcean Kubernetes Vs AWS EKS Pricing
For DigitalOcean Kubernets, the charge is only for the working nodes. The control plane and everything that comes with it is provided free of cost.
AWS EKS costs more in comparison with DigitalOcean Kubernetes as AWS doesn't really offer free management and deployment of the cluster. Although they have reduced the rates lately, you still have to pay for management and work nodes.
All in all, DigitalOcean Kubernetes is a more affordable option for startups.
The Winner: DigitalOcean Kubernetes or AWS EKS?
AWS EKS is comparable with DigitalOcean Kubernetes in more ways than one. However, given the overall lower cost at DigitalOcean and extensive third-party support options, DigitalOcean Kubernetes is a clear winner for this particular service.
Other Tools and Services by AWS and DigitalOcean
Aside from the above major cloud offering from DigitalOcean and AWS, there are plenty of other products on the table as well. Some of these are standalone products and services that anyone can use for their business, while some are for adjunct use with their main cloud hosting plans.
In addition to offering respective object storage services for faster delivery, both AWS and DigitalOcean offer blocked SSD storage. This is basically secondary storage that you can use in addition to the storage provided with your main virtual cloud server. This offers extra space as well as security and redundancy.
Other products on DigitalOcean include:
App Platform: Designed to build and deploy apps fast on cloud infrastructure.
Cloud Firewalls: Extra security layer that filters unnecessary traffic.
Load Balancers: Balances traffic and resources for faster performance and better availability.
Managed Database: Fully managed databases on VM platform (Redis, MongoDB, MySQL, PostgreSQL)
On the other hand, AWS offers an even bigger variety of products. In fact, anything you can think of in the cloud realm, Amazon likely offers it. This is good for big enterprises that can bring all their infrastructure and technological needs under one roof. However, some may argue that's not so ideal.
Some of the products among many more include:
Amazon Athena
Amazon Lambda
Amazon Glacier
Amazon Elastic Beanstalk
Amazon Redshift
Amazon Managed Blockchain
Amazon Aurora
DigitalOcean vs AWS Pricing
When comparing DigitalOcean and AWS in terms of pricing plans, you won't see a huge difference, at least for the entry-level plans. The difference is a little more apparent for upper-tier plans, where AWS plans are a little more expensive.
It's hard to compare prices of AWS and DigitalOcean directly as there are just so many products to consider, especially on Amazon. However, the ones that are comparable, for example, Amazon Lightsail and DigitalOcean Droplets, the latter comes out a bit more affordable.
Amazon does offer the cheapest entry-level plan at $3.5 per month, whereas a similar plan with a bit higher storage costs $5 per month on DigitalOcean.
Both DigitalOcean and AWS have overage charges for bandwidth overages when your transfer crosses the set limits. The same is the case with other resources, where you may have to either scale up the plan or pay overage on the resource exceeded.
Renewal Prices
Over at DigitalOcean, renewal prices are the same as it's a pay-as-you-go service. However, AWS renewal prices can increase, especially if you started off at a discount price. After the discount term is over, the costs go back to the original prices.
Refunds
DigitalOcean doesn't offer any refunds or money-back guarantees. As it's a pay-as-you-go service, you can cancel anytime but won't be refunded for the resources already used.
AWS refund policy differs depending on the product, but in most cases where the billing is charged hourly or even by the second, there are no refunds.
Both DigitalOcean and AWS offer free trials for their services.
Winner
There's no clear winner here as prices are pretty comparable. In some areas, DigitalOcean offers more value for money. However, AWS makes up for that with its sheer range of products at reasonable prices.
DigitalOcean or AWS: Which Infrastructure Has the Advantage?
If we compare DigitalOcean and AWS infrastructures, AWS is simply too massive. They have a truly global footprint with 81 availability zones and 25 launched regions. In total, AWS caters to 245 countries and territories, so virtually every place on Earth.
On the other hand, DigitalOcean also has an impressive and quickly growing infrastructure. As they are an Infrastructure as a service (Iaas) provider mainly, their success hinges on a strong infrastructure. They have managed to live up to that expectation, considering they are a medium-level enterprise when compared with AWS.
In terms of infrastructure, AWS takes home the price with its gargantuan, global infrastructure.
AWS Vs DigitalOcean: Performance and Speed
For business executives, it all comes down to performance at times. They'll throw their money at the company that can provide the fastest and most reliable services. So let's compare AWS vs. DigitalOcean performance.
Response Time
When we tested a website hosted on a DigitalOcean Droplet, the response time averaged less than 300 ms. This average page loading speed was similar across their data centers.
For Amazon Lightsail, the speeds were quite fast but not uniform across different data centers. However, the response time at each data center was way below what is considered average in the industry.
Uptime
DigitalOcean offers a 99.99% uptime guarantee. AWS also offers a monthly average uptime guarantee of 99.99% in its service level agreement.
CDN
DigitalOcean uses Spaces CDN, whereas AWS offers Amazon Cloudfront CDN. Both CDN products have a global presence, but given the massive infrastructure of AWS, the Amazon Cloudfront is faster.
Winner
In terms of performance, AWS is better than DigitalOcean but not by a huge margin. The page load speeds of DigitalOcean, even without the use of object storage or CDN was pretty impressive.
DigitalOcean or AWS Has Better Ease of Use?
AWS and DigitalOcean each offer ease of use in their unique way. This can actually help you choose between the two cloud providers.
For fast-growing businesses and enterprises, AWS offers a large pool of essential and complementary services that can cater to the growing business needs. This makes it easy for such businesses as they can find everything in one place and not worry about compatibility or integration issues.
That's not to say DigitalOcean isn't ideal for fast-growing businesses. More importantly, DigitalOcean is ideal for modern DevOps teams to do things their way. Their goal is to simplify things, but at heart, this provider is developer-centric. While it may not be too simple for a non-tech savvy person, it's convenient for a developer as they can do so much with the resources and tools available.
Speaking of dashboards and consoles, AWS and DigitalOcean do keep things simple. Setting up servers and scaling them is super easy with both providers.
If we had to pick a winner between DigitalOcean and AWS when it comes to ease of use, it would be DigitalOcean. This is because they do go out of their way to simplify things for both developers and businesses. For some, the sheer volume and variety of services in the AWS ecosystem may be too overwhelming.
Cloud Security That AWS and DigitalOcean Offer
Security is an important consideration when choosing a cloud computing/hosting provider.
DigitalOcean from the get-go uses either SSH keys or two-factor authentication. This enhances security as access is not granted through just the password. As we know, a password alone is not enough in this era of sophisticated hackers.
DigitalOcean also provides a security history to allow teams to keep track of activity and identify anything suspicious in time.
AWS has very high standards for cloud security. Most security tasks are fully automated, which makes it easier for security teams to monitor systems around the clock. Furthermore, they use encryption for all data flows within the AWS ecosystem.
It's fair to say that AWS has very robust cloud security regardless of the product or service you choose to use for your business.
Comparing DigitalOcean and AWS Data Centers
AWS has 24 data centers in its infrastructure, whereas DigitalOcean currently offers 8 data centers in three continents.
Here are the data centers of AWS by region:
North America: Oregon, North California, GovCloud, Northern Virginia, Ohio, Canada Central
Latin America: São Paulo
Europe: Ireland, London, Stockholm, Paris, Frankfurt, Milan
Africa: Cape Town
Middle East: Bahrain
South Asia: Mumbai
Far East: Hong Kong, Ningxia, Beijing, Seoul, Osaka, Tokyo, Singapore
Oceania: Sydney
The eight data centers of DigitalOcean are:
New York City
San Francisco
Toronto
Amsterdam
London
Frankfurt
Singapore
Bangalore
Customer Support for DigitalOcean and AWS
DigitalOcean offers mainly ticketing support for technical issues. It doesn't offer live chat or phone support. However, it does offer an extensive knowledge base with blogs and docs for each product.
DigitalOcean also offers enterprise support at a price. Furthermore, if your monthly costs exceed $500, you're eligible for a customer success manager to support queries other than technical ones.
Over at AWS, basic customer support is free for all customers. Developer support is premium and comes at a cost ($29 or monthly charge). Furthermore, they have dedicated support systems for different kinds of queries.
AWS also offers enterprise support which comes at quite exorbitant prices. It does include 24×7 technical support with 15 minutes turnaround time. You get a dedicated Technical Account Manager (TAM).
If you're looking for faster response times and dedicated customer support, AWS is much better than DigitalOcean. Also, DigitalOcean customer support doesn't really enjoy good reviews online. However, their vast technical knowledge available online for developers and beginners is something worth praising.
Pros and Cons of DigitalOcean and AWS
Now that you know the ins and outs of both AWS and DigitalOcean, let's do a quick summary of their respective pros and cons.
DigitalOcean Pros and Cons
Pros
Developer-centric with a focus on DevOps operations
Good value for money thanks to the pay-as-you-go pricing structure
Flexible plans with quick and easy scalability
Detailed documentation and guide blogs
Decent product lineup for businesses of all kinds
 
Cons
No SAN
No cloud computing with GPU
Could diversify customer support options
Pros
Massive global infrastructure
Many cloud computing services address different business needs
Market-competitive prices
Robust security
Ideal for enterprises
Cons
Not ideal for very small startups and non-tech savvy business/individuals
Extra products/services come at a cost
Verdict: DigitalOcean or AWS?
Chances are, even after reading all the comparisons and reviews, you're still somewhat confused as to which one to go for. Let's make that decision simpler for you: make a list of things that are most important to you (three to five). Compare how the two fare for each one of those things.
Comparing AWS with DigitalOcean isn't really fair because AWS is in a league of its own. It's a giant company that encapsulates the essence of cloud computing with literally hundreds of products and services. DigitalOcean, in comparison, is a smaller operation with a handful of products.
Each company has its unique ideal audience. Multi-level organizations and enterprises may find AWS to be a better fit with their extensive lineup of services. Small to medium-size businesses and developers may find DigitalOcean to be more suitable.
Other head-to-head comparisons that might interest you: