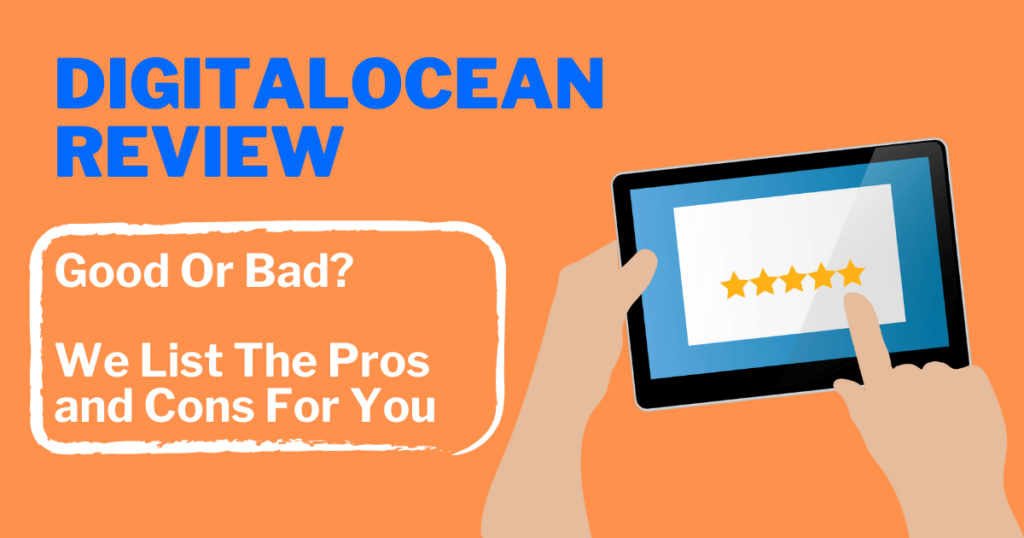 DigitalOcean Review Score
Whenever there's a discussion about cloud hosting, DigitalOcean is bound to come up. It's a cloud hosting infrastructure provider with humble beginnings, dating back to 2011, New York City. Today, it has grown to become a massive player in the industry with its infrastructure spread across the globe.
DigitalOcean uses solid-state drive (SSD) storage to provide unrivaled server performance at a reasonable price, making them one of the best options in the market. They are ideal for developers who require advanced developer-centric tools. Their developer customer base has recently crossed the million mark.
But the question is, is it the right option for you? In this DigitalOcean review, we'll explore their business plan, features, pros, cons, and everything in between to help you make the decision.
DigitalOcean works a little differently than the other mainstream cloud providers or web hosting services. If you read their mission statement, their goal is to make things simple. Let's find out whether they actually do that.
DigitalOcean Key Features

To really understand the service, let's take a detailed look at the features of DigitalOcean. The platform offers many products and services that cater to individuals, businesses, and developers alike. Developers, in particular, seem to gravitate towards this provider simply because of the many tools it offers to web and application developers.
The whole cloud infrastructure at DigitalOcean is based on solid-state drives (SSD), which deliver exceptionally fast performance. In fact, this has been one of the reasons why the company took off so fast. Today, many businesses and developers prefer SSD storage over anything else.
DigitalOcean has created a truly global network infrastructure with multiple data centers catering to different regions and markets. Over the years, they have constantly been adding new data center locations.
Currently, they have eight data centers in North America, Europe, and Asia:
New York, New York
San Francisco, California
Toronto, Canada
Frankfurt, Germany
London, England
Amsterdam, the Netherlands
Bangalore, India
Singapore, Singapore
Wide Portfolio of Products
DigitalOcean offers different products for different purposes and applications. It may sound surprising, but businesses and developers use these products and services in liaison most of the time. So rather than having just one plan or product, there are several.
You might think that makes things confusing, but if anything, it makes the job actually quite easy! This way, you can host applications exactly the way you need. Below are the different products by DigitalOcean.
Droplets
Droplets are simple, quick-provision virtual machines that you can use to host your applications. There are essentially two types of droplets: basic and optimized/dedicated.
The basic droplet offers a shared CPU, so basically, it's shared cloud hosting. The optimized or dedicated droplets can be general-purpose, storage-optimized, CPU-optimized, or memory-optimized. This way, these virtual machines can be fully customized as per your needs.
Each droplet comes with its virtual CPU, memory, and SSD storage. However, all of these resources can be scaled as droplets or through adjunct products.
You can launch hundreds of droplets in less than a minute (55 seconds). It just allows the user to set up rather quickly without focusing on the nitty-gritty details.
Kubernetes
The Kubernetes clusters by DigitalOcean are ideal for developers and operators. These are small, scalable, and affordable solutions for small to medium-sized businesses that don't want to go through the complexities of the control plane and containers.
Kubernetes come with a free Control Plane by DigitalOcean, which is managed and monitored by them. Applications are portable and can be migrated anywhere Kubernetes is supported.
The Kubernetes Horizontal Pod Scaler can automatically increase resources as needed by the applications. Apart from that, it also caters to APIs and backend services to make things swift for developers.
Spaces
'Spaces' is the cloud storage solution by DigitalOcean that offers affordable object storage with built-in CDN. It's for developers but comes with the ease to deploy in just seconds. It's a secure object storage system that delivers data to applications and end-users alike.
The API is S-3 compatible. You can use the products docs to create a user-friendly design with the API.
Block Storage
Digital Ocean also offers high-volume block storage, which can be attached with the droplets to scale and secure data. The SSD-based block storage can go from just 1GB to 16 TB. As this storage is separate from the droplet, it helps increase security, especially through redundancy.
App Platform
The App Platform at DigitalOcean is good for both web and mobile apps. It takes care of the infrastructure, dependencies, and runtime, so developers can deploy quickly. The code can be deployed directly from GitHub or GitLab repositories.
Teams
DigitalOcean Teams ensure easy and smooth collaboration between different team members, even if they are located remotely. This collaborative nature is etched into the very products and design of DigitalOcean.
Furthermore, an unlimited number of people can work on a single project. Also, the access is protected by two-factor authentication.
Managed Databases
DigitalOcean also offers managed database hosting options for several database platforms. The goal of this particular product is to separate database creation and management, so developers can focus more on applications.
With end-to-end security, the database is protected in both cases when team members access it or when a request comes from a public user. The databases offered include MySQL, MangoDB, PostgreSQL, and Redis™.
Ease of Use
With so many products across the table, it can be confusing to pick the right one. Even signing up for an account may seem daunting to many. However, fortunately, that's not the case with DigitalOcean.
First of all, signing up for an account is super simple, as you can use your email, Google account, or even GitHub account. You may be asked for a credit/debit card or PayPal details to proceed ahead. However, you're not charged until you actually sign up for a paid service.
Creating a droplet is also easy but can be confusing, as you have to decide which one to go with. For that, they have a 'Help Me Choose' guide that can help you decide which one is best for your specific need.
Selecting the resources you need for the droplet is easy. Also, you can later change them whenever need be. For that, you'll need to choose the data center and authentication method (password or SSH keys).
Other than creating an account and eventually a droplet, the other stuff like installing WordPress or connecting domains can get a bit more complicated. For that, you'll need to use SSH keys and mess a bit with the command terminals. However, for a developer, that shouldn't be a problem.
A non-developer or a person with no prior knowledge about hosting or cloud might find this platform a bit overwhelming. So, yes, it's a more suitable platform for developers.
So, if we talk about ease of use for the developers, then DigitalOcean would be one of the most user-friendly cloud platforms in the industry.
DigitalOcean Performance and Reliability

No matter how developer-centric or advanced the platform is, a business needs reliable performance at the end of the day. It's true that cloud infrastructure inherently offers faster loading speeds and better uptime, but let's see how DigitalOcean fares actually.
DigitalOcean gives a 99.99% uptime guarantee. Our experience with DigitalOcean as far as availability goes has been very impressive. For most months, the uptime was a perfect 100%.
More importantly, uptime stays reliable regardless of the data center you choose. As such, on average, the uptime is more than 99.99% throughout the infrastructure.
When we tested the loading speed for a website hosted on DigitalOcean servers, it averaged nearly 305 ms. That's above average and quite speedy, actually. The impressive part was that the average loading time didn't change much, even when we changed the data centers.
The North American ones worked fastest for us as we were located in the US.
This speed is comparable with other major cloud hosting providers and solutions like AWS, Kinsta, A2 Hosting, and Cloudways.
They have a speed check tool on their website too, where you can instantly check the speed for each server location.

DigitalOcean seems to take security very seriously, and that's evident from the product eco-system they have developed. With Droplets, Kubernetes, Spaces, and Blocked Storage, all the data transfers are encrypted. When using Spaces and Blocked Storage, you're separating the data from the droplets in a sense, making it more secure.
It does offer SSH access, and you also have the option of two-factor authentication. That further secures any kind of access to the site, application, and all your data. You can set these security measures while setting up and make changes later on whenever need be.
Two-Factor Authentication (2FA)
Two-factor authentication makes logins very secure. You don't just need a login password but also your phone to receive a security code by text or email. This means that if a hacker or any unauthorized person even gets your password, they can't really log in.
You may have to enable it manually if you created your account with GitHub or Google and use their authentication protocol.
You can also install SSL certificates for your websites to make them more secure and help them rank better by avoiding blacklists. This is necessary for some functionalities on DigitalOcean load balancers and custom Spaces CDN endpoints.
DigitalOcean provides Let's Encrypt SSL certification integration, which is one of the best and most commonly used SSL certification providers.
With monitoring and data analysis, you can keep track of logs. DigitalOcean maintains a security history as to who logged in, what time, and from where (IP address). While attacks are rare, this information can come in handy if something happens.
You can also use security history for monitoring purposes to detect and resolve any unusual behavior on the site system hosted on DigitalOcean.
While DigitalOcean offers decent security features, you can enhance security even further by adding more layers. Since it's developer-friendly, you can code the extra layers on top of the existing ones. As a result, it gives control of security to the developers.
DigitalOcean Customer Support

While many hosting providers tout their customer support service as their quality, DigitalOcean doesn't seem to make a big deal about it. When you look at some of the DigitalOcean reviews online, it seems customer support is one department where they can definitely do better.
Perhaps one of the reasons why its customer support is not as great as some of its other features is because it's not really a managed hosting provider. Since it's targeting developers mainly, they may not have gone the extra mile. Nevertheless, they do have several channels of customer support.
Types of Customer Support
DigitalOcean customer service includes 24/7 technical customer support, mainly through the ticketing system. No matter what problem you're facing, you can initiate a support ticket for that. Their technical staff will get back to you and try to resolve your issue.
Unfortunately, DigitalOcean doesn't offer any phone, email, or live chat support services.
Other than the ticketing system, the DigitalOcean website has a very extensive knowledge base consisting of detailed docs covering a wide range of topics.
This is why their support system is designed in such a way that first, they direct you to the blogs and docs with possible answers. If you don't find the answer, then you're directed to initiate a ticket.
Whether you're just starting to set up the virtual machine (Droplet) or running into technical issues with your hosted applications, you can find answers to pretty much everything. That's one area DigitalOcean has heavily invested in.
Considering a lot of developers use DigitalOcean, it makes sense to have a detailed knowledge base available for free. Nevertheless, it would be nice if they added more support options, especially for people who are just beginners.
DigitalOcean Pricing and Costs

There's a lot of flexibility in DigitalOcean pricing as it uses a different kind of model for almost all of its products. There isn't any pre-made plan with set resources and costs. Instead, you can design your own plan according to the resources and products you choose.
The billing is done hourly, again based on the allocated resources. There is a monthly cap after 672 hours, after which they charge a flat rate. Also, one good thing is that there's a flat rate across the data centers, so it's not like you have to pay more to have your applications hosted at a specific data center.
DigitalOcean price rates varies by product but lies somewhere between cheap and moderately steep. While you can find cheaper shared hosting plans, DigitalOcean is reasonably priced if you compare it with some of the other hosting providers.
For instance, the starter Basic Droplet costs just $5 per month ($0.00744 per hour) with 1 vCPU, 1 GB memory, 25 GB SSD disk, and 1000 GB data transfer.
Optimized DigitalOcean hosting plans cost more as they have certain resources in excess. For instance, General Purpose droplets start at $40 per month. Storage-optimized is the most expensive costing $125 per month for 300 GB SSD storage.
Kubernetes rates is based on the droplets, load balancers, and block storage. The control plane is free, though. Spaces object storage starts at $5 per month.
DigitalOcean is pretty transparent when it comes to prices of their plans. At the very beginning, you as a user can limit the cost based on the resources you plan to use. As you increase the resources, the cost increases, and so, you can calculate the overall cost even before startup.
For products like Spaces, overage charges may apply when you exceed your limits. However, these charges are disclosed right in the beginning.
Any add-ons are charged separately on an hourly or monthly basis. For instance, if you attach more SSD storage through block storage to your droplet, that will be charged separately.
You can get a free Let's Encrypt SSL certificate only if your domain is managed by DigitalOcean itself.
Refunds and Money-Back Guarantee
One peculiar thing about DigitalOcean is that it doesn't offer any refunds or money-back guarantees. There are no free trials either whatsoever. The no refund policy is in stark contrast to what many other hosting providers offer, which allows users to test run the platform before actually signing up.
DigitalOcean Pros and Cons
Let's summarize some of the benefits and drawbacks of DigitalOcean.
DigitalOcean has garnered a considerable chunk of the market quite fast when it comes to cloud hosting. Here's what we love about it:
Great Uptime and Speed: With a 99.99% average uptime guarantee and loading speeds of less than half a second, DigitalOcean promises blazing-fast performance and high availability. In fact, it's a good choice for mission-critical applications that need to stay up at all times, everywhere. This is thanks in part to their robust, global infrastructure and, of course, cloud servers.
Developer-Friendly: This is the unique selling point or USP of DigitalOcean hosting plans that they are, by their very nature, very developer-friendly. Developers have all the tools they need to customize applications and do things their way. At the same time, it also takes away all the unnecessary work that typically takes a lot of developer time, allowing them to focus on deploying their code.
Reliable Security: The security is robust enough to withstand cyber attacks. Moreover, it can be further improved if the developer wants to take that route.
Pay As You Go Model: For businesses and individual developers alike hosting their sites and applications on DigitalOcean, the pay-as-you-go model offers great convenience and value. You don't pay anything extra other than for what you need or use.
Easy Scalability: Besides being good value for money, it's extremely easy to scale up whenever you want to.
Daily Backups: DigitalOcean carries out daily backups. You can restore the data and site to any time within the last seven days. It uses SnapShooter to make on-demand backups, and you can keep as many backups as you want.
What are The Areas to Improve
Here's where DigitalOcean service can use some improvements:
A Bit Advanced for Beginners: Unlike managed cloud hosting services, DigitalOcean isn't exactly ideal for beginners. For those with no prior web hosting experience or coding knowledge, using this hosting provider can, at times, get challenging.
Could Use Better Customer Service: As DigitalOcean reviews indicate, the company could improve customer service both in terms of variety and quality. They could introduce live chat or phone support as well.
No Trial or Refunds: One clear drawback of signing up for DigitalOcean is that there's no free trial period. Plus, if you change your mind and dont like the service, you won't be getting a refund.
What Users are Saying About DigitalOcean
So is DigitalOcean good? To answer that question, we've looked up to see what actual customers of the DigitalOcean service have to say. Mostly, the reviews are positive, except for a few areas, which we have already mentioned.
Area

What Users Say

Customer Support (response time, capacity, etc.)

There are positive reviews on Customer support by users.




- "There was a time when customer support took days to answer a few years ago, but I never have to wait more than a few hours these days."




- "On TrustPilot, some users complained about getting locked out because of strict security protocols."

Uptime

There are many positive mentions about the uptime on g2.com.




- "Uptime was 100%."

CDN

There aren't any mention of CDN on TrustPilot or g2.com.

Page Load Times

Users mentioned switching to DigitalOcean for faster loading times, especially in the US.

Security

Users appreciate that security, server, and storage are all in one place.




- "It has an elevated level of setup, customization, and security."

Backups

Some users on TrustPilot mentioned that the backup service is reliable.

Technical Issues

Customers had mixed reviews about technical issues. Some had technical issues but the support is quick to resolve them.

Ease of Use &

User Experience

There are many positive reviews about the overall experience, with many users mentioning it's good for developers and individuals with technical know-how.




- "More suitable for developers rather than simple non-technical people as they offer infrastructure as a service."

Migration

There are good reviews about migration, with some praising the ease of it.

Pricing

There are over 50 reviews about pricing on g2.com, mostly positive.




"They have very flexible and competitive plans..."




"Straightforward pricing without any hassles…"
Verdict on DigitalOcean Web Hosting
After exploring every angle, feature, and benefit, we can say that DigitalOcean is mainly ideal for developers or businesses who have expertise on board. For small business owners with no technical staff, this platform may be a bit more advanced. However, they do provide a lot of learning material to support both beginners and pro developers.
Overall, in terms of infrastructure and performance, DigitalOcean ratings are good. Therefore, you can expect good performance.
Based on DigitalOcean rating on TrustPilot and other places as well, it's clear that their customer service could use some upgrades. Also, it seems like it's hard to get approved for setting up and hosting your application at times, as many people complained about getting locked out instantly after signing up.
Their pricing is competitive and borderline cheap. You can make considerable savings in hosting on this platform in comparison with any top-tier high-end hosting service. Essentially, you pay for what you use.
Other DigitalOcean resources that might interest you: