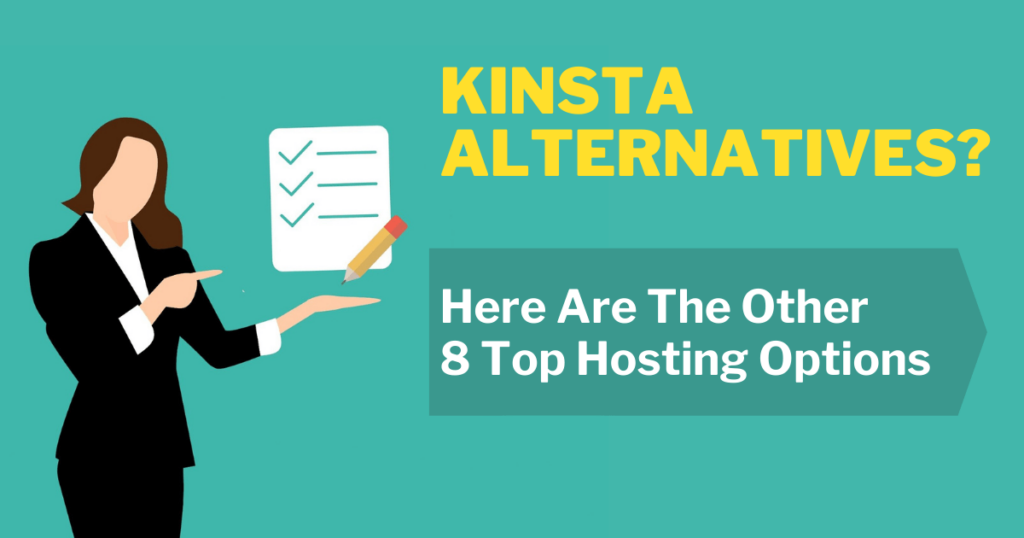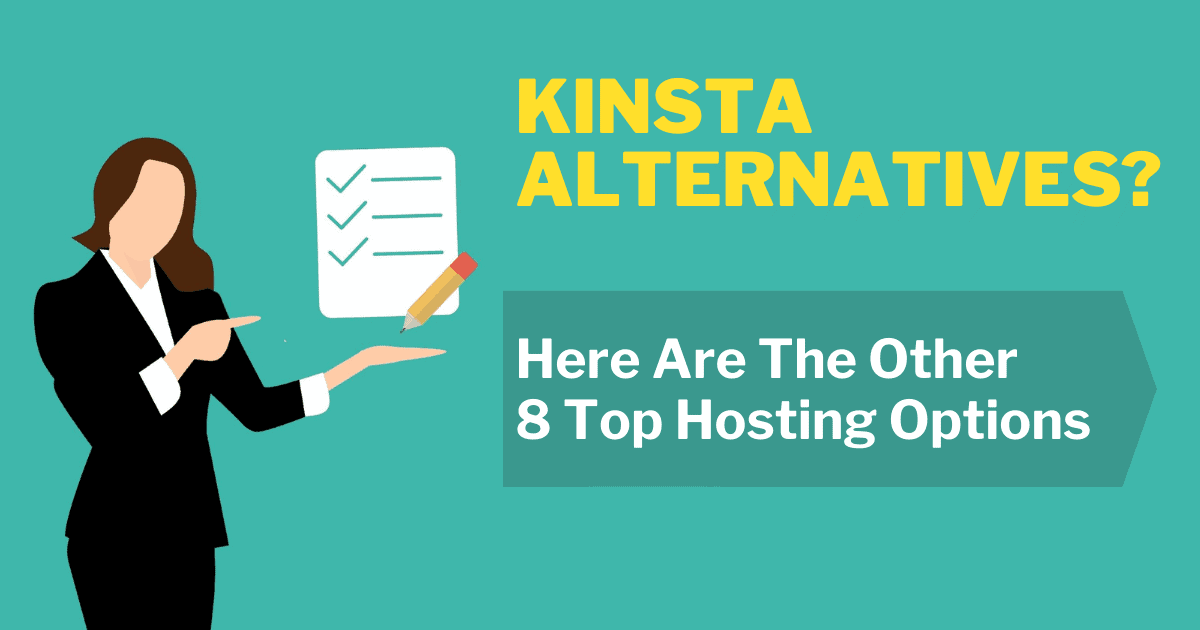 Kinsta is a reliable managed WordPress hosting provider that has time and again proved to be the best. However, it may not be for everyone. At the end of the day, everyone wants a hosting provider that meets their specific business needs.
There are many alternatives you can check out, but who has the time to compare each option out there. So to make your life easier, we've done an in-depth review of the competitors of Kinsta to list the top 8 out of them.
Considering Other Alternatives to Kinsta?
One of the most common reasons for businesses and bloggers to look for Kinsta alternatives is simply Kinsta's pricing. While it's a powerful cloud-based hosting provider, it's relatively expensive. You can expect to pay anywhere from $30 to upwards of $100 a month based on the size of your business.
Then there are other needs as well that perhaps Kinsta doesn't fill. For instance, it doesn't provide email or domain hosting. It also doesn't provide root access or highly developer-friendly features. So there could be a number of reasons for potential clients to look elsewhere.
However, when considering alternatives to Kinsta, you don't want to get something subpar. You ideally want something similar that meets the requirements Kinsta doesn't but isn't necessarily a step down either.
The 8 Best Kinsta Alternatives for Web Hosting Compared
We've looked around and tested the majority of WP hosting providers to find Kinsta competitors. We'll do an overview of each of the top eight alternatives while also comparing the features. This listing may not be exhaustive, but it will certainly give you a headstart in making the right choice.
Here are the top eight Kinsta competitors: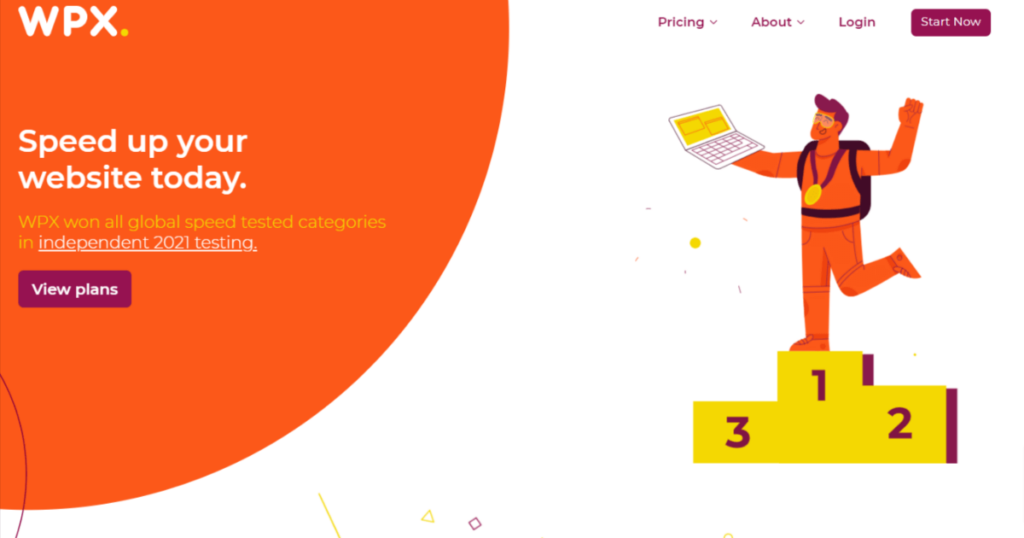 WPX Hosting easily tops the list as it's the top competitor of Kinsta. With its quality managed hosting and lower prices, the platform is a favorite for many companies and bloggers who simply don't want to spend a lot on hosting.
Its plans are slightly cheaper and pack in relatively more resources than Kinsta. There are three plans: Business, Professional, and Elite.
The Business plan, which is the most basic plan, starts at a $24.99 monthly rate.
This entry-level plan includes five WP websites, whereas Kinsta's Starter plan only includes one. Other provisions in this plan include 10 GB storage and 100 GB bandwidth.
Like Kinsta, WPX Hosting is also based on Google Cloud Platform and offers a discount when you sign up for the annual subscription.
Another major difference between the two is that WPX also offers domain hosting, so you don't really need to go anywhere else to host your domain. You can buy a new one or move an existing one seamlessly.
The main features for each hosting provider are similar. WPX also provides quick and reliable customer support. It claims their response rate is under 30 seconds, which is quite impressive.
Key Features
Built-in free CDN (26 locations)
Free SSL certificate
Automatic backups
Staging area
Free malware scan and removal
Pros
Affordable pricing
More websites per plan
Domain hosting available
Quick expert support
30-day money-back guarantee
Cons
More expensive than shared hosting
Dashboard not as easy as MyKinsta
Flywheel has lately gained a lot of popularity on account of its abundance of value-adding features. There are quite a lot of similarities overall between Flywheel and Kinsta, which makes it the next best alternative for those who are very finicky about technical features.
What really gives Flywheel an edge over Kinsta is that they have plans for all kinds of blogs, including those with very basic resource needs.
It also has a Starter plan that costs $30 per month for a single site, but then they have designed a plan even smaller than that called Tiny. This entry-level managed WP hosting plan includes one WP website, 5000 monthly visits, 5 GB disk, and 20 GB bandwidth. This plan costs just $15 per month, half that of Kinsta's beginner plan.
Other than the basic plans, the Freelance plan, which costs $115 per month, offers up to 10 websites. That's more than the five installs you get with Kinsta's Business 1 plan for $100.
Flywheel uses Google Cloud Platform and delivers really fast performance, comparable with that of Kinsta. –
Another great feature that this Kinsta competitor has is client billing. It's ideal for web design agencies and freelance web developers who can directly transfer billing to their clients. That's something you won't find on Kinsta.
Key Features
Custom FlyCache with all plans
Automatic nightly backups
Free one-click SSL
30+ StudioPress themes
Auto-healing technology
Free malware cleaning
Pros
Suitable for very small blogs
More resources in some plans
Easy custom dashboard
Ideal for agencies and freelancers with its billing transfer feature
Robust security
Con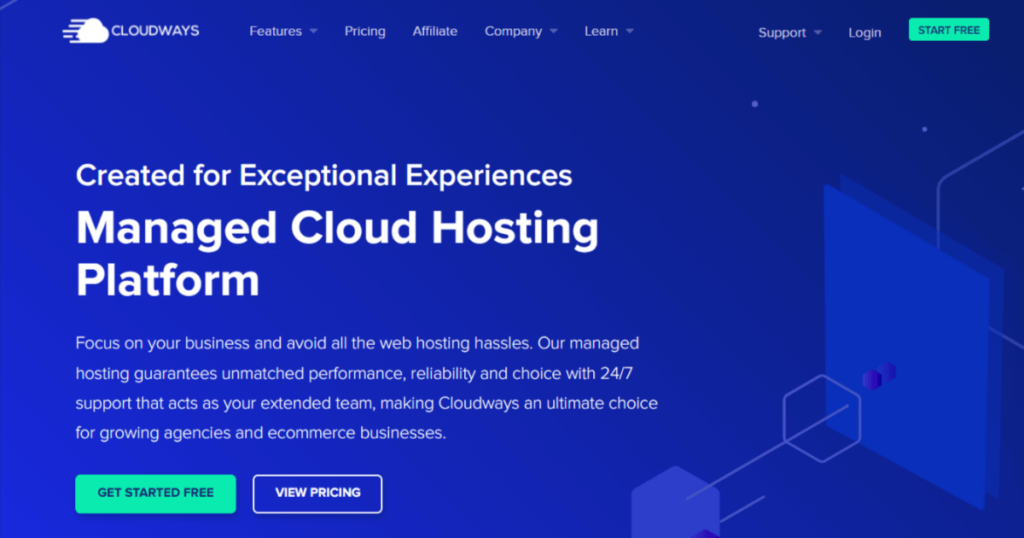 Cloudways is a sophisticated cloud hosting provider with comprehensive managed WP hosting plans that easily rival those by Kinsta.
Infrastructure wise, Cloudways is leaps ahead. While Kinsta has 24 data centers, Cloudways has over 12,000 servers in over 60 data centers spread across the world in 48 countries. It's ideal for truly global websites that get traffic from every region.
Cloudways is quite different from Kinsta. Firstly, it uses six providers for its cloud hosting plans and clients can choose whichever provider they want. These include GCP, AWS, Linode, DigitalOcean, and Vultr.
Secondly, they have a pay-as-you-go billing structure, which is much more flexible than the flat-rate plans offered over at Kinsta. The prices vary by the provider you choose, with the most affordable being DigitalOcean.
The plans start at $10 per month on DigitalOcean infrastructure, offering 1 GB RAM, 25 GB storage, and a whopping 1 TB bandwidth. The Kinsta DigitalOcean equivalent plan with similar resources will set you back $30 every month.
That said, the Cloudways hosting plans with GCP at the back are slightly pricier than that of Kinsta. The same entry-level plan will cost over $33 per month.
Since all their servers are SSD based, they are able to offer lightning-fast speeds and near-perfect uptime.
The features are quite similar to Kinsta, with site caching, CDN, and reliable security provisions.
Key Features
CDN add-on included
Unlimited application installation
Free SSL
Advanced caches
Auto-healing
Automated backups
Pros
Pay-as-you-go billing
Choice of infrastructure provider
High level of security
Not limited to WordPress only
Wide-spread data centers
Cons
Not so beginner-friendly
GCP and AWS plans aren't cheap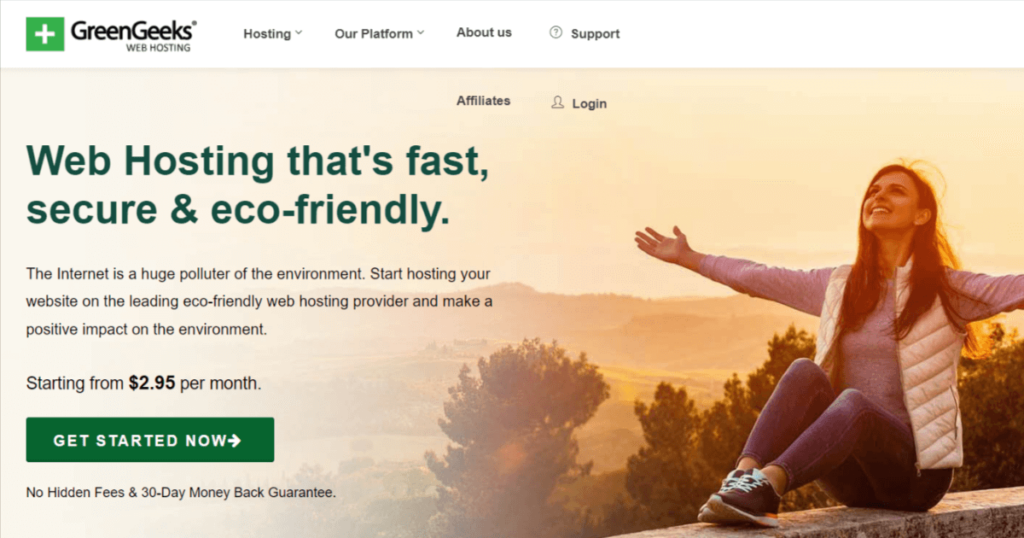 For those exclusively looking for a green hosting provider, Green Geeks is the best choice in lieu of Kinsta. Its WordPress hosting plans start at just $2.49 per month, at a discounted rate.
The starter plan 'Lite' includes one website, unmetered bandwidth, unlimited webspace, and a whopping 300% energy match (it matches 300% of the emissions through RECs).
The big difference between Green Geeks and Kinsta is that the former isn't cloud-based. It uses traditional server architecture with four data centers, three in North America and one in Europe.
The highest tier plan is comparable with the entry-level plans of Kinsta. Green Geeks is ideal for those considering quality WP hosting at an affordable price and not at the expense of the environment.
The biggest difference between Green Greeks and Kinsta is that the former isn't flexible at all. Your website cannot exceed the resources provisioned for it. It doesn't offer auto-scaling or overage possibilities, which is not ideal for a fast growing website.
You do, however, get a free domain and domain hosting, which isn't a part of Kinsta hosting plans.
As for the performance, don't expect it to be as fast as Kinsta, as even the WordPress hosting plans are just like shared hosting plans. You don't get the same speed and loading times from shared hosting as you do with cloud hosting.
Key Features
Free CDN
Free SSL Certificate
Unmetered bandwidth
LSCache
Unlimited email accounts
Backups
Pros
Eco-friendly
Really cheap
Easy to use
Reliable performance
30-day money-back guarantee
Cons
Not cloud-based
Fewer advanced features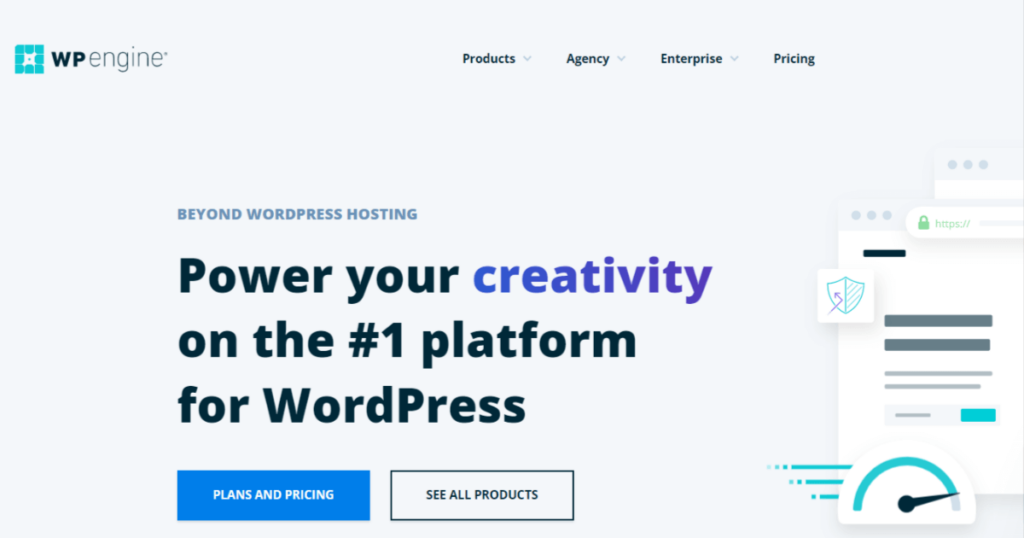 WP Engine is very similar to Kinsta in terms of infrastructure, features, and even pricing. However, they offer fewer plans as compared with the wide range of Kinsta hosting plans.
The rate for their Startup plan is also $30 per month. Like Kinsta, they also offer yearly subscription discounts, reducing the price to $25 per month. This Startup plan offers one site with 10 GB storage, 25 GB bandwidth, and 25,000 monthly visits.
With free CDN (MaxCDN), robust security features, and caching, they offer all the features you also get with Kinsta. So what is different? Multisite support is offered as an add-on at extra cost, and it's not available for the Startup plan at all, as it's a single site plan.
With WP Engine, you can stay worry-free about your WP site as they make it hands-off for the owner.
As for support, WP Engine also has WP and server experts on board, paired with a vast knowledge base that helps educate clients. As a result, problems get solved quickly.
One thing that you get with WP Engine that's absent from Kinsta is free themes from StudioPress.
Key Features
EverCache
Global MaxCDN
Automatic backups
Malware cleanup
Global Edge Security (Add-on)
Automated SSL certificates
Pros
Annual subscription discount
Quality expert support
Custom dashboard
Multi-staging
Very fast loading times
Cons
No email or domain hosting
Fewer tiers of plans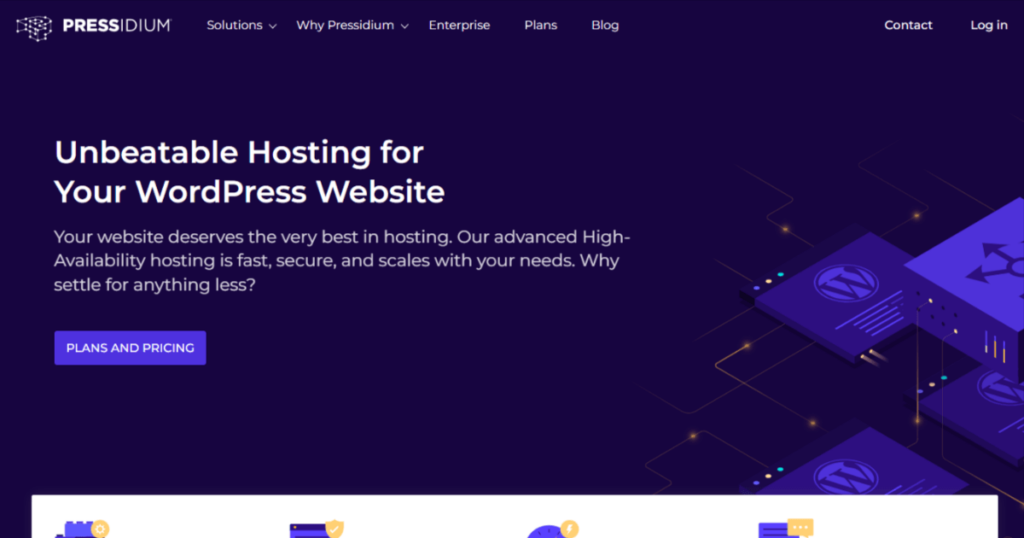 Pressidium is a high-end managed WP hosting provider that really gives Kinsta a tough competition if we compare the overall range of service. It's ideal for enterprise use cases with lots of WordPress websites and heavy traffic load.
This hosting provider makes high availability a core of all their plans. Since different versions of your website are stored on different servers, the availability is almost perfect. If you value 99.99% uptime, this host is for you.
Their client list is impressive with mega-corporations and elite universities using their solutions. Speaking of solutions, they have tailored their products according to business categories. On the other hand, Kinsta only offers a high-level classification of plans.
Their cheapest plan is the Micro plan, which costs $24.95 per month. This plan offers one website, unlimited bandwidth, and 5 GB of storage.
Their Enterprise plans are a little more expensive as compared with Kinsta, starting at $790 per month.
Free migration, backups, staging environment, and free Let's Encrypt SSL certificate are standard for all the plans.
Key Features
Manual and automatic backups
Automatic scaling
Enterprise HA SSD
DevOps Engineer support
Free malware removal
Pros
Easy dashboard
Impressive uptime
60-day money-back guarantee
Role-based access
Reliable expert support
Cons
Expensive
Fewer resources than Kinsta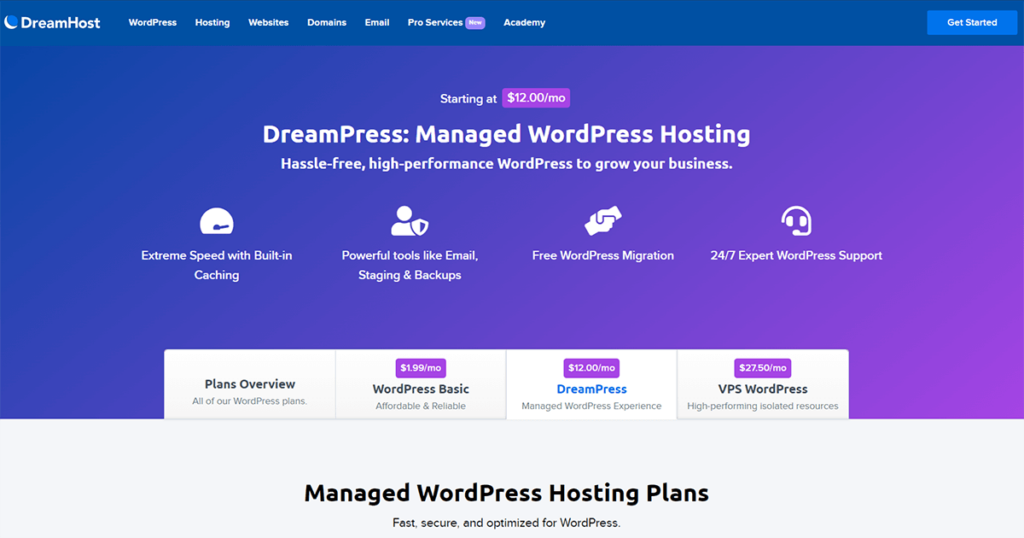 DreamHost is one of the cheapest Kinsta alternatives. It's ideal for both blogs and e-commerce websites using WooCommerce.
Their WordPress Basic plan starts at just $4.95 per month. This price includes one website, unlimited traffic, and free automated migrations. You can reduce the price to $2.95 if you go with the three-year plan.
Again, this is shared hosting, so you won't get the same flexibility and performance as you would with Kinsta's cloud-based architecture. That said, they do also have managed WordPress plans, as well as VPS plans with dedicated resources for demanding blogs and e-commerce websites.
For the managed WP plans, the cheapest price is $16.95 per month (billed annually). It's ideal for websites with 100k traffic every month. The storage is 30 GB.
You can see that managed WP hosting is much more affordable at DreamHost, as compared with Kinsta. Also, DreamHost plans include email hosting as well, so you won't have to pay extra for it.
The performance is also pretty decent, if not exactly like Kinsta. You get built-in caching, 1-click staging, and bulletproof backups.
Key Features
Unlimited bandwidth
Unlimited email
SSL certificate included
Daily backups
Jetpack plugin
Pros
Cheapest alternative to Kinsta
Reliable performance
24/7 support
Easy migration with plugin
30-day money-back guarantee
Con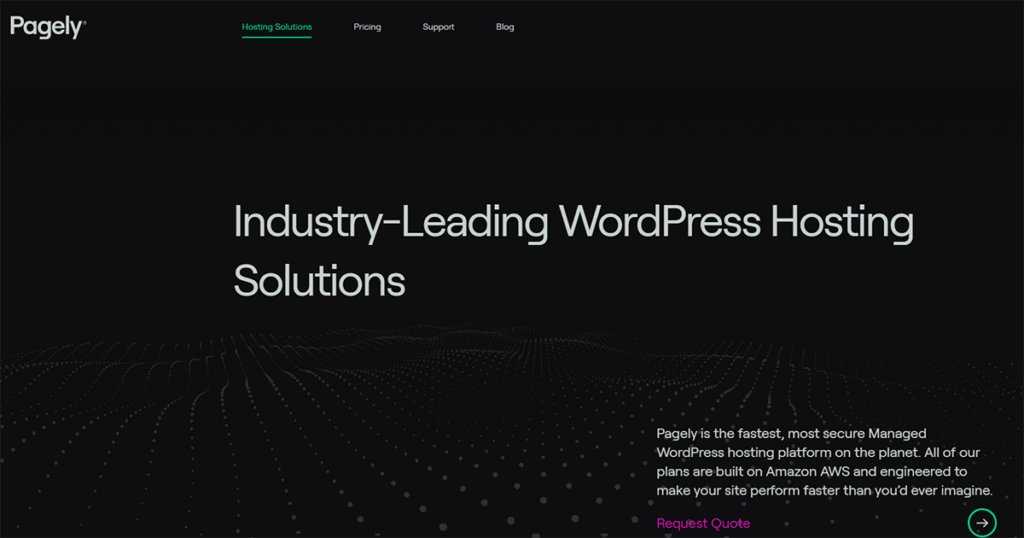 Pagely is a WordPress hosting giant offering quality managed hosting services. Their solutions are similar to that of Pressidium, rather than Kinsta. They offer solutions catered to different industries, for example, agencies, publishers, colleges, and enterprises.
Unlike Kinsta, Pagely's cloud infrastructure is powered by Amazon Web Services (AWS). AWS dominates the cloud computing market, so you can expect quality performance right off the bat.
Pagely is much more expensive than Kinsta, as its plans start at $499 per month. The Performance plan includes 50 GB SSD storage, 200 GB bandwidth, and 1 TB of PressCDN. So the resources commensurate to the price you're paying.
They do have cheaper plans for developers with fewer resources than the Performance plan. Overall, every plan comes with high-end standard features, as well as security provisions to ensure the website and all its data are protected from malicious use.
It also offers automatic WP updates, which Kinsta doesn't offer. However, that's only because it wants to provide clients the freedom to choose whether they want those changes or not.
Kinsta caters to both small businesses and enterprises, whereas Pagely is all about enterprise-level WP sites.
Key Features
Extensive software stack
Fast PressCDN
AWS Infrastructure
PressPERFORMANCE (security and performance monitoring)
Quality expert support
Pros
Highly reliable service
High availability configuration available at cost
Lots of latest technology
Free SSL
Quick setup and migration
Cons
Very expensive
Not ideal for small businesses
So What is the Best Kinsta Alternative of All?
While there are many Kinsta alternatives, the top three would be WPX Hosting, Flywheel, and Cloudways. These three platforms offer comparable features and make up for the things that perhaps Kinsta doesn't give.
For instance, with Cloudways (equivalent to DigitalOcean), you can save considerably by paying for what you use. Similarly, WPX has an all-rounder hosting with rigorous security, fast CDN, and expert support given by WP engineers. So if Kinsta just isn't doing it for you, WPX is the next best thing.
On the other hand, if you're looking for something cheaper than Kinsta, DreamHost's managed WP hosting plans offer great value for money. In fact, they give more resources for less price.
It's a good option for startups with budget constraints. You can start off cheap with DreamHost and migrate to Kinsta later when your business has grown and you can afford it.
Here are some other Kinsta resources you might be interested in: