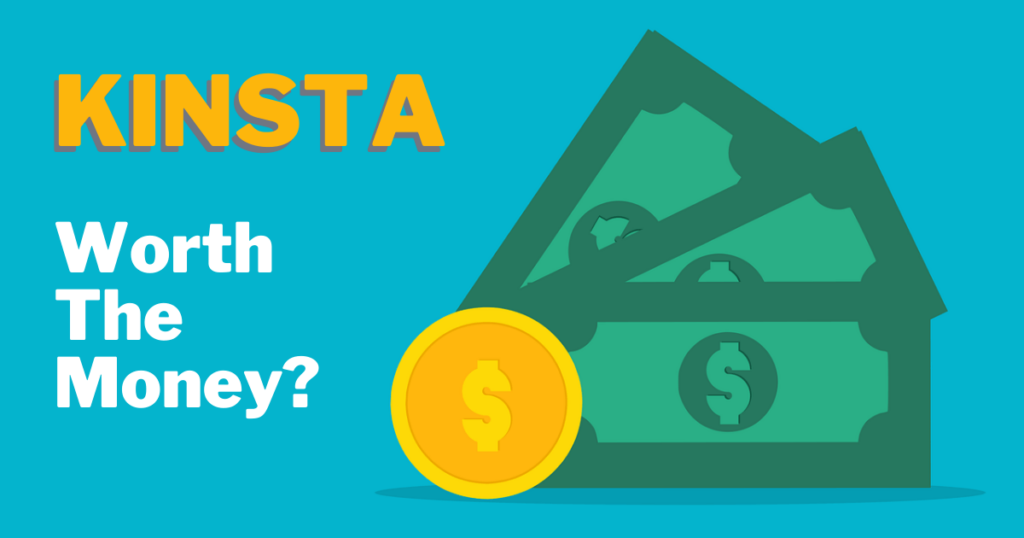 Kinsta is one of the leading WordPress hosting providers, quickly climbing ranks worldwide. It uses Google Cloud Platform (GCP) for its cloud hosting.
This article will discuss in detail about Kinsta pricing and its plans to help you figure out whether the hosting service is for you or not and how much money you can expect to pay.
Is Kinsta Worth Your Money?
First thing first, let's discuss whether the pricing, which is considerably high, is even worth it. Generally speaking, Kinsta costs are relatively higher than shared hosting providers and even other cloud hosting providers for WordPress.
To give you an idea, here's a snapshot of their pricing:
Kinsta's cheapest plan is the Starter plan, which costs $30 per month.
Kinsta's most expensive plans are the Enterprise plans, which range between $600 and $1500 per month.
Kinsta's best value plans are Business plans, which range between $100 and $400 per month.
It's worth mentioning that Kinsta also offers a money-back guarantee for the first 30 days, so you can back out within that period. You're not instantly locked into a contract.
Secondly, you can't really get Kinsta coupons or promo codes to save money because Kinsta doesn't really offer any. However, it's possible to get a discount if you subscribe for annual payments.
On reviewing the hosting service in detail, we found Kinsta prices to be adequate. The quality of the service and the performance commensurate with the pricing.
It's a powerful service provider with flat-rate hosting plans. However, you can easily switch between plans, and also your website can get even more resources if need be, albeit at an overage price. So it does make sure that the website performs well and is always up.
How Much Does Kinsta Cost Per Month?
Kinsta monthly cost depends on the plan you choose, but also the billing structure. While the rates are essentially presented on a monthly basis, it does offer a discount if you subscribe for annual payments.
In other words, you can either pay upfront for the whole year and make some savings, or you can pay on a monthly basis.
This is relevant for all Kinsta plans, including the cheapest ones, as well as Business plans and Enterprise plans. You may find the details of the plans over at Kinsta's website.
Here's what you may pay every month for the cheapest plan in each category of Kinsta hosting plans:
| Plan | Monthly Cost | Monthly Cost (Billed Annually) | Subscription Length | Discount per Month |
| --- | --- | --- | --- | --- |
| | | | | |
| | | | | |
| | | | | |
| | | | | |
These monthly costs include the standard features included in all plans and the resources included in the plan. Anything extra will be charged separately every month and may not necessarily include a discount if you have a yearly subscription.
Which Kinsta Plan Is the Right One For You?
Let's talk about the Kinsta price list in detail by considering what each plan offers. We'll also discuss which kind or size of business can benefit from each plan.
| Plans | Best For | Not For | Rate Per Month |
| --- | --- | --- | --- |
| | The starter plan is best for a small blog with traffic of fewer than 25,000 visits per month. The Pro plan is best for one or more small blogs with traffic averaging less than 50,000 visits per month. | The starter plan does not have multisite support, so it's not for a business running multiple blogs. Both these plans aren't ideal for very high-traffic websites. | |
| | Business plans are ideal for businesses running multiple websites and experiencing traffic of over 100k visitors every month. | These plans are not ideal for smaller blogs. | |
| | Enterprise plans are the most expensive, and as the name indicates, suitable for enterprise-level use. | These plans would not be ideal for independent blogs or small businesses with a niche market and a limited number of visitors per month. | |
Many features that are standard with all the plans include:
Free staging areas
Expert support and knowledge base
Active and passive security protocols
Choice of GCP server locations from 35 locations
Custom Kinsta admin (MyKinsta)
Unlimited free basic migrations
Free SSL through Cloudflare integration
Kinsta Starter and Pro Plan Cost
Kinsta Starter and Pro plans are the cheapest of all. These two mainly differ by the resources allocated. However, one big difference is that the Starter plan doesn't have multisite support and site cloning. Here's what they cost and offer in terms of resources:
Starter Plan ($35 per month)
WordPress Installs: 1
Monthly Visits: 25,000
SSD Storage: 10 GB
Free CDN: 100 GB
Free Premium Migration: 1
of PHP Workers per Site: 2
Pro Plan ($70 per month)
WordPress Installs: 2
Monthly Visits: 50,000
SSD Storage: 20 GB
Free CDN: 200 GB
Free Premium Migration: 2
of PHP Workers per Site: 2
Kinsta Business Plans Cost
There are four business plans: Business 1, Business 2, Business 3, and Business 4. These plans are good for small to medium size businesses running blogs with high traffic. Business plans only differ by the resources, so you can choose the one that meets your websites' resource needs.
Business 1 ($115 per month)
WordPress Installs: 5
Monthly Visits: 100k
SSD Storage: 30 GB
Free CDN: 400 GB
Free Premium Migration: 3
of PHP Workers per Site: 4
Business 2 ($225 per month)
WordPress Installs: 10
Monthly Visits: 250K
SSD Storage: 40 GB
Free CDN: 600 GB
Free Premium Migration: 3
of PHP Workers per Site: 4
Business 3 ($340 per month)
WordPress Installs: 20
Monthly Visits: 400K
SSD Storage: 50 GB
Free CDN: 800 GB
Free Premium Migration: 3
of PHP Workers per Site: 6
Business 4 ($450 per month)
WordPress Installs: 40
Monthly Visits: 600K
SSD Storage: 60 GB
Free CDN: 1,200 GB
Free Premium Migration: 4
of PHP Workers per Site: 6
Kinsta Enterprise Plans Cost
Enterprise plans are the most expensive and suitable only for enterprises or a network of corporations running many WordPress websites. These managed plans only differ by the basic resources, with each plan offering more of each.
Enterprise 1 ($675 per month)
WordPress Installs: 60
Monthly Visits: 1 million
SSD Storage: 100 GB
Free CDN: 2,000 GB
Free Premium Migration: 5
of PHP Workers per Site: 8
Enterprise 2 ($1,000 per month)
WordPress Installs: 80
Monthly Visits: 1.5 million
SSD Storage: 150 GB
Free CDN: 3,000 GB
Free Premium Migration: 5
of PHP Workers per Site: 10
Enterprise 3 ($1,350 per month)
WordPress Installs: 120
Monthly Visits: 2 million
SSD Storage: 200 GB
Free CDN: 4,000 GB
Free Premium Migration: 5
of PHP Workers per Site: 12
Enterprise 4 ($1,650 per month)
WordPress Installs: 150
Monthly Visits: 2.5 million
SSD Storage: 250 GB
Free CDN: 6,000 GB
Free Premium Migration: 5
No. of PHP Workers per Site: 14
Kinsta Bulk Migration Pricing
Kinsta hosting package involves unlimited free site migrations and at least one premium migration. However, if those free migration provisions in your specific plans are not enough for you, you can pay for more.
Kinsta migration pricing for each additional premium migration is $100 per migration. This can be requested through the MyKinsta dashboard. Premium migration basically involves their experts migrating your website for you from any other hosting provider.
In addition to that, Kinsta also offers bulk migration pricing, i.e, if you want to move a bulk of WordPress websites at once. These prices can save you money, as you don't have to pay for each migration separately.
| No. of Migrations | Cost per Migration |
| --- | --- |
| | |
| | |
| | |
| | |
| | |
Kinsta renewal price is the same as what you paid when signing up. You can sign up for a monthly or annual subscription, after which your plan will renew automatically.
You can cancel Kinsta account at any time. Similarly, you can also upgrade or downgrade at any time. You aren't locked into a contract as such regardless of your billing term.
This is what makes Kinsta really professional in the web hosting industry, as they don't jack up prices after subscription. Many hosting providers who give discounts only give for the initial term, which is commonly a year. After that, they charge you the original price of the plan, or worse, jack it up significantly without notice.
Kinsta Money-Back Guarantee And Refunds​
Kinsta offers a 30-day money-back guarantee on all its plans, including the cheapest ones. It doesn't offer any free trial, so you have to pay to sign up.
It also gives uptime and security guarantees. In addition, this money-back guarantee also includes any add-ons you may have paid for in the initial 30 days. It's important to note that this is only for first customers and not for those with dedicated instances.
Kinsta charges monthly or yearly, based on your subscription, but you can cancel anytime. As for Kinsta refund policy, it states that on cancellation, you may be entitled to a refund for any unused resources, regardless of the type of subscription (monthly or annual). 
Kinsta Fees For Optional Add-Ons
In addition to its amazing plans, Kinsta also offers more tools and add-ons at a price. These optional add-ons are also available on a monthly basis.
Redis: Redis is an open-source database, cache, and message broker, with an in-memory structure. Again, it can help speed up your website by improving page load times. This add-on costs $100 per month per site.
Nginx: This is a reverse proxy add-on that helps load your WP site from a subdirectory. This add-on is for $50 per month per site.
External Backup: You can also make external backups of your WP site to Amazon S3 or Google Cloud. This costs $2 per month, plus $1 per GB bandwidth.
Extra Backups: If you want even more frequent backups, like every hour or every six-hour, you can sign up for this add-on. It will cost $50 per month per site for a 6-hour backup and $100 per month per site for a one-hour back-up.
Disk Space Add-on: You can add 20 GB for $20 per month per hosting plan.
Premium Staging Environments: One staging environment is included in each plan, available for all clients free of charge. 
Kinsta charges a fee for over usage of (overage) of resources by your websites. This kind of Kinsta fees depends on the resource which has experienced overage. Since it offers auto-scaling, your website will use the extra resources as needed, and you will be charged in the next billing cycle.
Visits Overage: Instead of bandwidth, Kinsta hosting plans pricing includes the number of visitors per month. If you exceed that number, you will be charged $1 per 1000 visits.
Disk Overage: If you exceed your plan's disk storage provision, you'll pay $2 per GB extra disk space.
CDN Overage: While there's a generous provision of content delivery network (CDN) storage, you have to pay overage for any extra usage. You pay just $0.10 per GB of extra CDN storage.
Bandwidth: For those on legacy plans and still using plans with bandwidth provision, the overage charge is $1 per GB.
Extreme Overage: Kinsta considers an overage costing the same amount as the plan or $500 max as extreme overage. In such a case, it may require immediate payment, and would suggest upgrading as soon as possible.
Kinsta Pricing Structure For Non-Profit Organizations (NGOs)
Kinsta price plan is different for any non-profit organization. It offers discounted rates for non-profits, charities, churches, and 501(c)(3) organizations. Such organizations get a 15% recurring discount on monthly rates.
These organizations can also enjoy a two-month discount on a yearly subscription. So no matter what plan they choose, they get 15 percent off every month.
For example, if you're a non-profit and chose the Starter plan, you'll pay $25.5 per month. Similarly, if you sign-up for the Business 1 plan, you'll pay $85 per month.
Consider this a huge benefit of Kinsta as there aren't any hidden costs as such. You will get a detailed review of what you'll be paying for before you sign up.
Since these are flat-rate plans, you're charged exactly the same amount unless you have overage charges. It also makes it clear which tools and add-ons are extra.
Unlike other web-hosting providers, it doesn't provide any free domain or host it, for that matter. So no hidden charges for domains.
Kinsta provides free SSL through their Cloudflare integration, and even supports wildcard domains. No extra cost for this feature either.
Verdict on Kinsta Pricing and Hosting Costs
Looking at Kinsta pricing, it's clear that it's a pretty expensive hosting platform. However, they are extremely transparent with pricing. Aside from domain and email, their plans include almost everything you could need for your blog.
Kinsta does offer discounts on yearly subscriptions, which amounts to pay for the whole two months. You can save a significant amount just by signing up for yearly renewal.
Plans mainly differ by the number of resources, as almost all other features are the same for all. If you're looking for quality service and unrivaled performance, you should choose Kinsta for hosting your WordPress websites. You may find our full Kinsta review here useful.
Other Kinsta Alternatives
If you would like to compare Kinsta plans against other providers, here are some other Kinsta competitors that provide competitive pricing with good product and service: