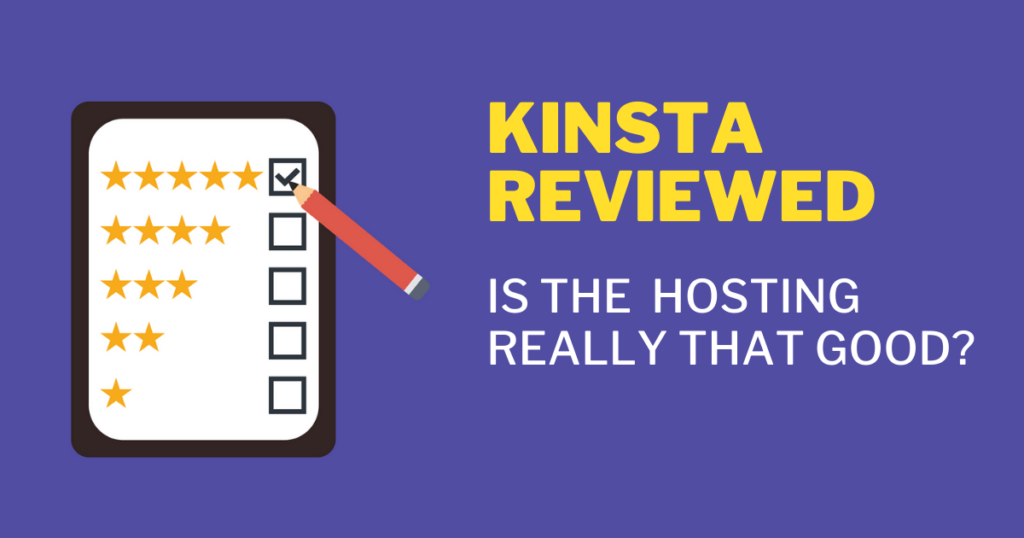 Kinsta has quickly garnered the reputation of best WordPress hosting. However, given the prices, one may wonder, is Kinsta good?
This Kinsta review is a detailed walk-through of the reasons why you should consider it for your blog and perhaps why you should not. We've tested their hosting services against several criteria and combed through the internet to find real reviews from real users.
Read every section to find out valuable information before making the call whether Kinsta is worth your business or not.
Award-Winning Hosting Company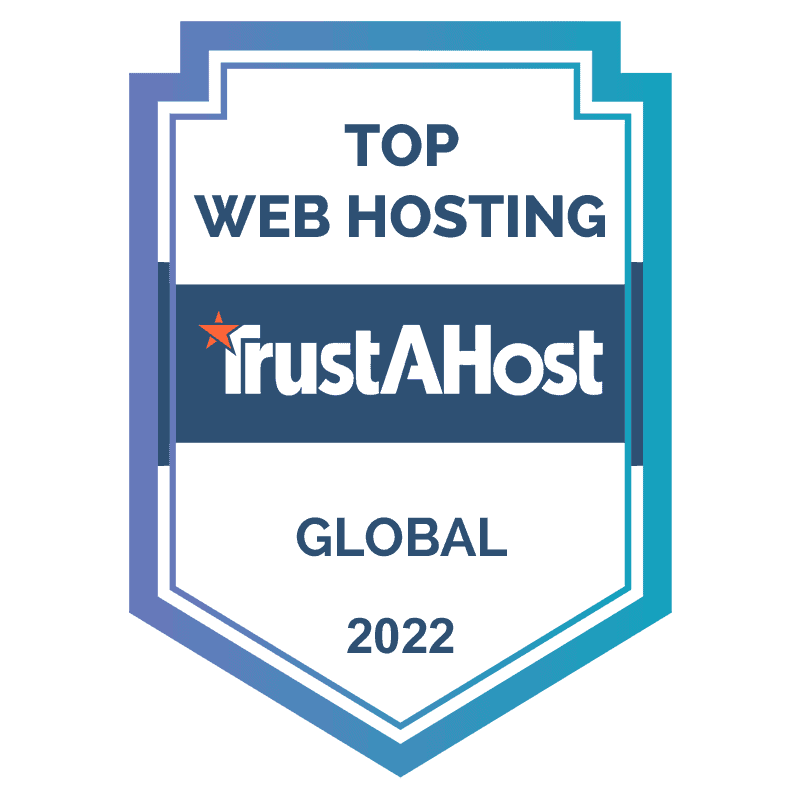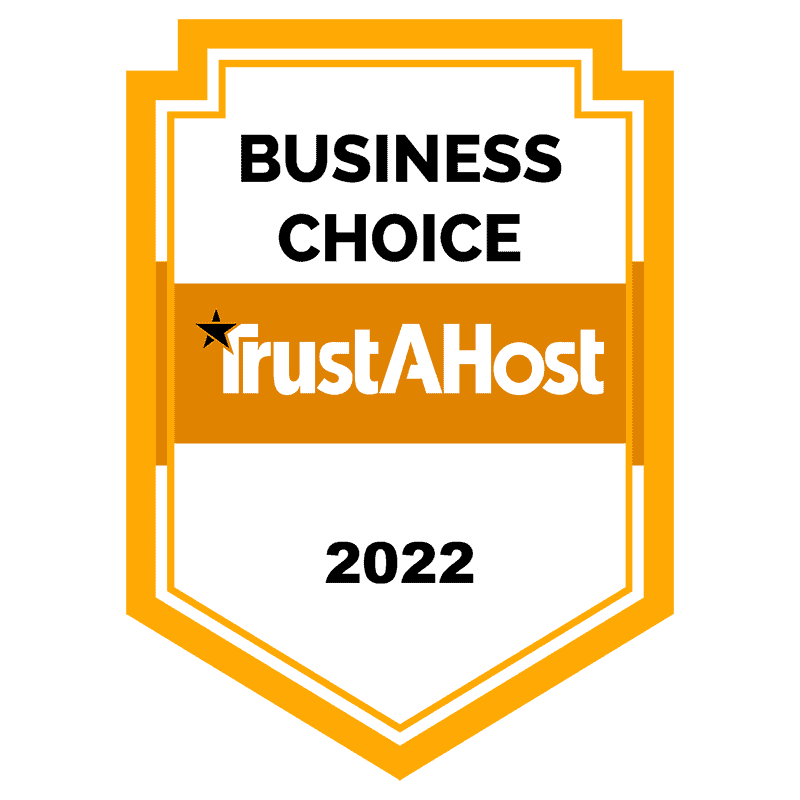 With thousands of 5-star ratings and more than 22,000+ satisfied customers, Kinsta is the #1 voted, highly rated and trusted hosting provider in United States and globally.
Kinsta has been awarded 'Global Top Web Hosting 2022' and 'Business Choice 2022' by TrustAHost.
What Type of Plans Does Kinsta Offer?
Let's talk about the very first thing you want to consider when choosing the Kinsta hosting plans.
Kinsta is essentially a cloud hosting platform focused on managed WordPress hosting. It uses Google Cloud Platform to provide its hosting service.
When we say 'managed,' it really is managed as the whole setup if caused on making web hosting effortless with minimalistic oversight on your part.
It also offers its own custom panel, along with a bunch of other standard features that you get with all the plans. These include WordPress installs, free site migration, free SSL, free CDN, and a 30-day money-back guarantee. Kinsta changed from the conventional bandwidth to the number of visitors for its plan, so you won't find any info about bandwidth.
With all plans, you can choose a data center near your main operational location or target market. All plans are optimized for speed and include expert customer support.
It's worth noting that Kinsta offers a wide range of plans, so there's something for every size of blog and business. Essentially, there are three categories of plans: Basic, Business, and Enterprise.
It's the resources that differ between these categories and certain advanced features.

The Starter and Pro plans are the entry-level plans with one, and two WP installs, respectively. As for other main resources, the Starter plan offers 10 GB of SSD storage with 25,000 monthly visits. The Pro plan offers 20 GB of SSD storage with 50,000 monthly visits.

Business plans offer more resources that are ideal for small to medium size businesses/blogs. These plans offer SSD storage ranging from 30 to 60 GB, and monthly visits ranging from 100,000 to 600,000. You can choose from four plans, whichever meets your business needs.

The enterprise plans are the most resource-rich, appropriate for companies running multiple blogs. Again, there are four plans that you can choose from, with storage ranging from 100 GB to 250 GB. The number of visits included in the plans range from 1 million to 2.5 million visits.

Single-site plans are designed for owners who need hosting for just one WordPress installation but require more resources than an average site needs. If your primary website is your entire business, requires more PHP workers, and doesn't need as much disk space, then the Kinsta's single-site plans might be a great fit for your business.
The Business plans start with 10 GB of SSD storage and 100,000 monthly visits, while the Enterprise plans start with 15 GB of SSD storage and 1 million visits.

With hundreds of agencies (and growing) who have chosen Kinsta as their hosting partners, the Kinsta Agency Program is designed for creative, web design & development agencies that manage hosting for their clients. The plans offer monthly visits of 400,000 to 1 million, and WordPress installs of 20 to 60.
There are plenty of features that Kinsta offers to agencies. Some of the benefits that caught our eyes are free pro plan hosting for the agency site, white labeled clear cache plugin, unlimited free migrations, highly customizable plans, early access to new tools and many more.
22 Main Benefits of Kinsta That You Will Absolutely Love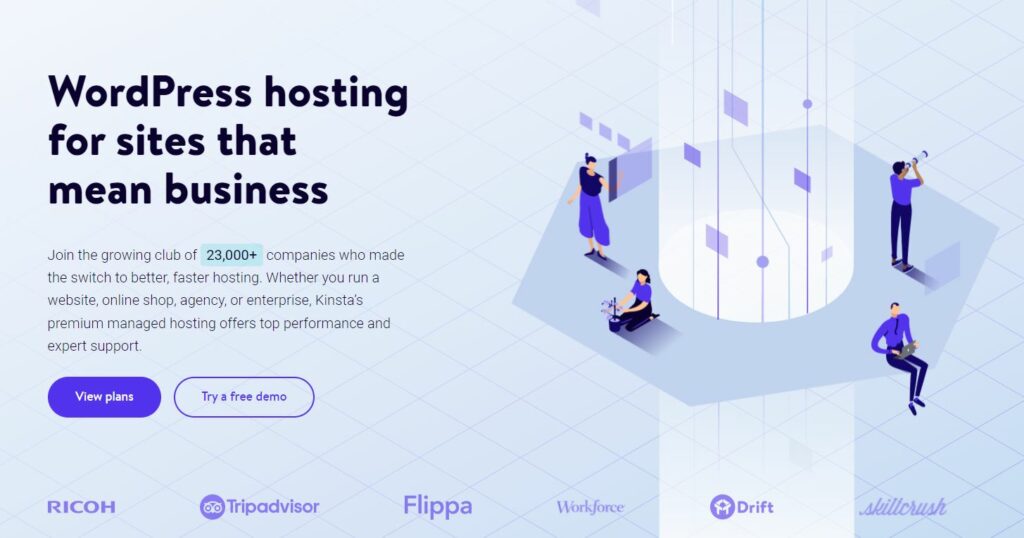 There are many benefits of Kinsta that will seem ideal for anyone looking for a worry-free WordPress hosting experience. Here's an extensive list of advantages you can get by signing up with Kinsta:
This is something that many hosting providers offer, but it's worth considering. You can save a bit of money every year by not having to spend on an SSL certificate for your website. It's necessary for your website's protection and even ranking on Google.
Kinsta provides free SSL through their Cloudflare integration. Their free SSL even supports wildcard domains as well. Once your domain is set up on Kinsta, SSL will start to work automatically without any confusing processes or additional steps! 
All plans at Kinsta include automatic daily backups by default. To top it off, the restoration process is incredibly easy. It just takes a single click to restore your data if you lose it by any chance.
Your website will be backed up automatically once every day. Backup retention varies based on the plan tier, but is at least 14 days. (On Business 3 and 4 plans it's 20 days, on Enterprise-level plans it is 30 days.)
One of the ways Kinsta offers unparalleled speeds for WordPress websites is caching. What's more, caching is already implemented, so you don't necessarily need to install any kind of plugins.
Here are the four types of caching it uses:
Bytecode Cache: Bytecode cache eliminates the compilation step for PHP scripts. It basically stores the compiled version of the code. Kinsta uses OPCache for PHP.
Object Cache: Object cache works with databases as it stores queries for future use, so if the same query is searched, it doesn't have to interact with the database necessarily. It helps improve data retrieval speeds for frequent requests.
Page Cache: Page cache stores the HTML scripts of pages, so they can be loaded faster. This is good for pages that don't necessarily get updated frequently. Caching helps generate the page once, saving the time and processing spent on PHP files and queries.
CDN Cache: CDN cache can supplement the speed of a website by storing media files, including CSS and JavaScript as well. The CDN or content delivery network acts as a middleman between the visitor and the actual server, keeping the files ready so they don't need to come from the server.
Kinsta offers unlimited free basic migrations from any WordPress hosting provider.
For mulitsites, dynamic sites (such as eCommerce or membership sites) they have premium migrations available (the number of premium migration credits varies per plan).
No need for third-party CDN providers at Kinsta, they are powered by Cloudflare's premium CDN, which comes free of charge on all plans for all clients. If a client already has a Cloudflare subscription, they are welcome to use it on Kinsta's platform.
Kinsta also provides support for HTTP/2 on all its websites and admin pages, thanks to its Google Cloud Platform infrastructure. You get 50 GB of HTTP/2 CDN with the starter plan and so on.
Since Kinsta uses Google Cloud Platform (GCP), it offers customers a choice of 35 data centers spread across the world (North America, South America, Europe, Asia, and Australia). As a result, Kinsta hosting is for the global market. One can choose a data center in the market they serve and optimize speed even further.
Ultra-Secure Hosting Infrastructure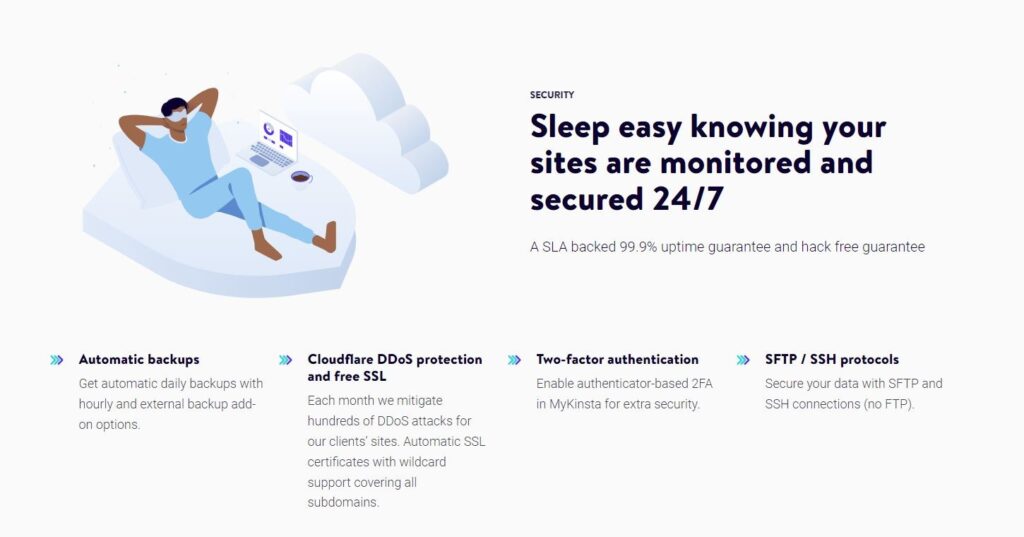 One of the key things that set Kinsta apart from the rest of the top-tier hosting providers is its reliable security. Kinsta goes above and beyond with its security features, which, by the way, are standard whether you're a small business or an enterprise.
Here are some of those security features you can benefit from:
Two-factor authentication
GeoIP blocking
DDoS Scanning
Hardware firewalls
GCP firewalls
Encrypted SFTP and SSH connections
Security Guarantee
Cloudflare's enterprise-level firewall
Wildcard SSL support
This is the USP of Kinsta that it delivers lightning-fast speeds, and it really does (more on that ahead). This kind of speed is possible because of the technologies they have implemented, such as PHP 7.4, Nginx, LXD software containers, and MariaDB of GCP.
Kinsta provides unparalleled support for PHP, so you can switch between PHP 7.4, PHP 8.0, and PHP 8.1 with merely a click of a button. (Please note that PHP 7.4 support is ending on 28th November 2022)
It goes without saying how important it is because WordPress is based on PHP almost entirely. It also facilitates upgrading to newer versions if you've been using old ones at your previous hosting provider.
While Kinsta is a managed WordPress hosting provider, the host provider also supports those who are hands-on with their websites. You can use the free staging environment to test your overall website, test plug-ins, or try new WP themes.
30-Day Money-Back Guarantee
The 30-day money-back guarantee makes Kinsta hosting a safe bet to try this hosting provider out for free. You're not locked in as soon as you sign up.
24/7 Support and Ticketing Service
One of the things Kinsta prides itself on is its quality around the clock service. You'll be surprised by how quickly the tickets are closed and your problems resolved. That's what 'managed' hosting should be like.
The Kinsta blog is full of detailed topics on the technologies they use, the services they provide, and the common issues clients may face. You know how they say to practice what your preach, that's kind of a case with Kinsta blog.
Deep-Dive Guide and Actionable Tips
Kinsta as a managed hosting provider, is very hands-on with certain business aspects of hosting. The end goal is to increase exposure, visits, and revenue, and Kinsta hosting infrastructure understands that.
They provide detailed guides and actionable tips for businesses to optimize their content and improve their overall website.
The Kinsta dashboard is ahead of cPanel by leaps and bounds, but it's particularly great with analytics. Consider this as an extension of the previous benefit, as you can make a better business decision with clear and useful analytical data. Again, data is everything in today's world, so this is an underrated benefit, if you may.
Premium Staging Environments
One staging environment is included in each plan, available for all clients free of charge. Premium staging is a great solution for those, who need more than one environment. Users can enable up to 5 premium staging environments. Each Premium Staging Environment has 12 CPUs and 8 GB of Memory.
Although staging and backups do not count towards disc space usage at Kinsta, some clients may have the need for increased resources. Disc space add-on comes in 20GB increments and is an ideal solution for those who want to increase disc space resources allocated to their plan without actually switching to higher-tier hosting plan.
You can also use Redis as a constant object cache for your WP website to make it all the more powerful. It helps use cached objects in between page loads. It's ideal for dynamic websites as they get updated frequently.
The Nginx Reverse Proxy allows web server to collect all requests before forwarding them to the backend server. It can help balance load, enhance security, and even optimize SSL encryption.
Extra and External Backups
Last but not least, in addition to the automatic backups done on the cloud, you can also make external backups to store on your choice of location. This can give you more control over your backups, especially if you prefer doing it manually and knowing the actual physical location of those backups.
Should You Get Kinsta WordPress Hosting? Here's What We Found.
So is Kinsta really for you? Would you be better off with Kinsta alternatives with lower prices? All of such important questions will now be answered.
You can read Kinsta reviews and get the idea of what their features are like, what benefits they may offer, and how customer support is. However, we went one step ahead and tested the WP hosting against common industry benchmarks.
These tests and their results will show you how well it generally fares, and as compared with some of its competitors.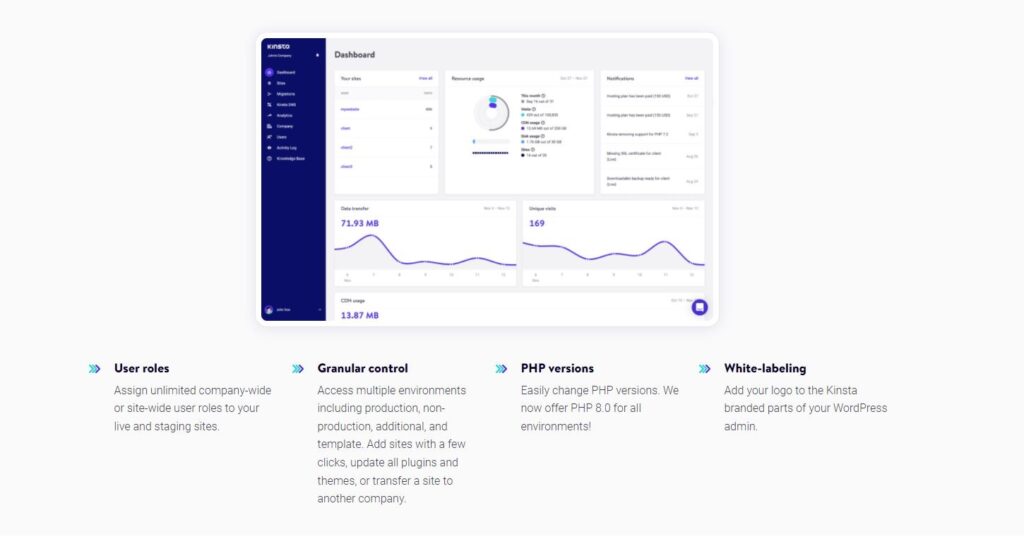 Our experience with Kinsta made one thing clear from the get-go that it really is a managed hosting provider. It's essentially a hands-off hosting provider that provides a plethora of services and features aimed at making hosting trouble-free. You don't really have to do much from the very beginning.
Quick Sign-up
We were able to sign up almost immediately, and there wasn't any waiting period, which is fairly common in other cloud hosting providers.
MyKinsta Panel
We found MyKinsta, Kinsta's custom dashboard, to be a breath of fresh air. It just makes sense and adds to the convenience, and enhances the managed aspect of hosting. If you find cPanel a bit clunky or even Plesk, the Kinsta WordPress hosting admin panel would be a major step up for you.
Simple and Free Migration
You get at least one website migration free of cost. Kinsta makes migration as swift as it could possibly be. We requested to migrate a simple website from another hosting provider through the MyKinsta dashboard. We received timely correspondence about the migration, and on top of that, there was no downtime for our website.
Updates
You're given the option to let Kinsta handle the updates, which is a big burden off your workload. If you don't want to handle them, you can just let Kinsta do it for you.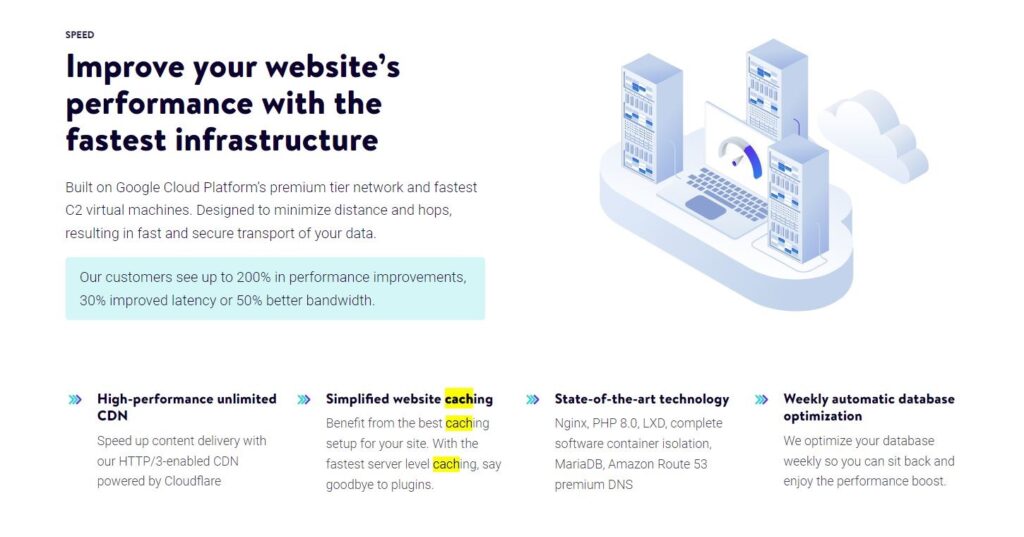 It all comes down to performance when we talk about web hosting of any count. It would be an understatement to say that Kinsta's performance was good because it was highly impressive, at least for the time we tested it.
Server Speed
We ran the website through our server speed checker to see how the server speed fares in different regions around the world. This was necessary to check as Kinsta uses GCP which has servers worldwide, so we wanted to see how that impacts our website.
We are happy to confirm that it met the server response time, at least in North America and Europe time, recommended by Google, which is 200 ms. The server response time in the US averaged 130 ms, whereas, in Germany, it was under 15 ms. It came out comparatively slower in Asian, Oceania, and South American regions, with times averaging over 200 ms.
Load Time
The average page load time was 1.2 seconds. Even when it was a bit slower, it didn't take longer than 1.5 seconds, which is still faster than what you would experience with some of the cheap hosting providers.
Uptime
For the time we tested Kinsta, the uptime was a perfect 100 percent. As mentioned earlier, the site wasn't even down the day it migrated to Kinsta.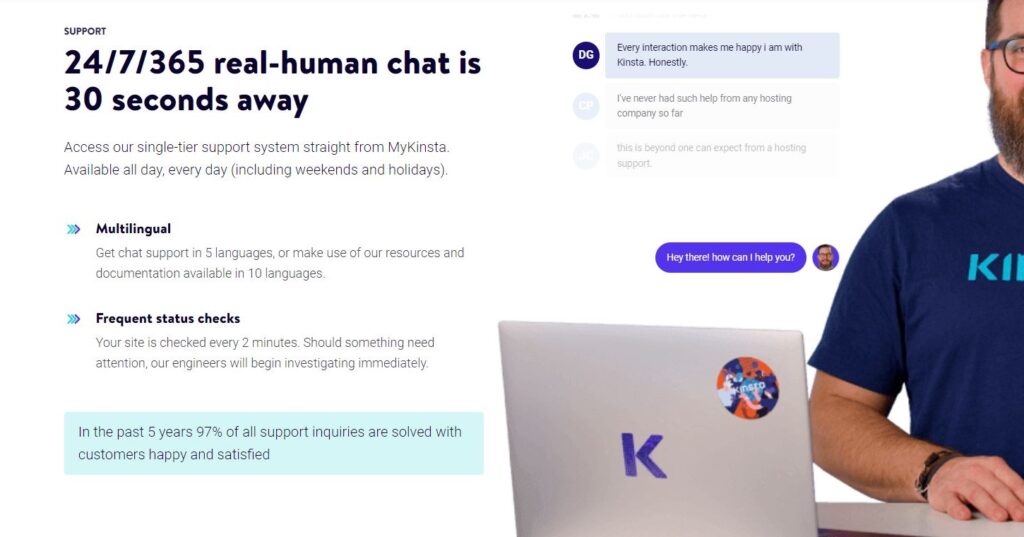 Kinsta customer service matched the results of its performance and ease of use. In other words, their claim to providing quality customer support lived up to expectation.
The reason why their support system works so well is that they only use experts with years of experience with WordPress and Linux. So whatever question you throw at them, they'll have the answer.
They also take a preemptive approach with customer support, providing customers with an extensive knowledge base and help center. This helps eliminate the need to contact customer support or issue tickets.
Nevertheless, if you do need help, you can expect your problems to resolve quickly. We initiated a ticket to resolve the DNS configuration issue when we first migrated the website. It was resolved promptly under two hours.
The response time on their Live Chat was also pretty impressive. We tried it on three separate occasions, and the response time was less than 3 minutes. The Live Chat is available round the clock.
While the current communication methods are efficient, they don't have a phone support option, so we could not test that obviously.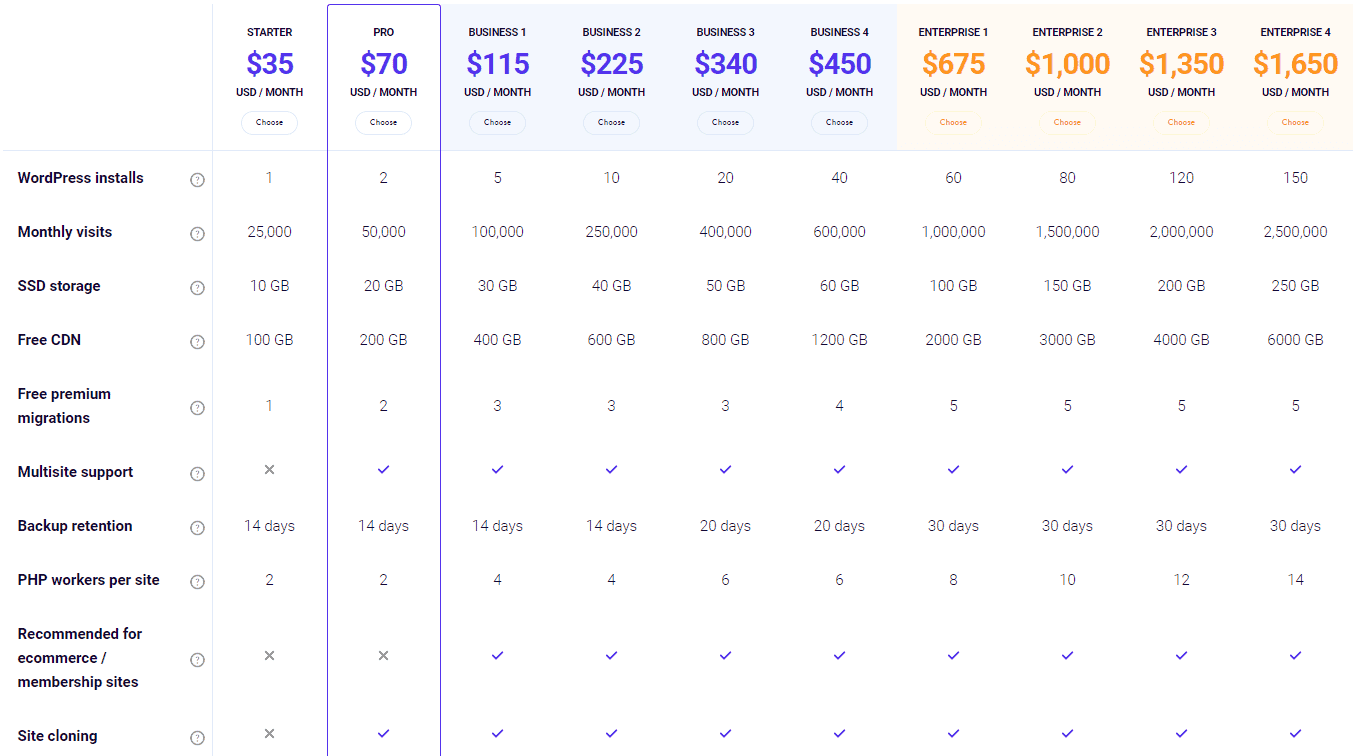 Kinsta is considered a high-end hosting provider, mainly because of its prices. Here's a glimpse of the detailed Kinsta pricing:
Starter Plan at $35 per month
Pro Plan at $70 per month
Business plans starting at $115 per month
Enterprise plans starting at $675 per month
It's clear that you'll be paying a lot more than you would for a shared hosting plan or even cloud hosting for WordPress on some of the other popular hosting platforms like A2 Hosting or HostWinds.
We feel that Kinsta's prices are justified in terms of the services and features they offer. However, the pricing model could certainly use improvements. It could make pricing even more flexible.
Overage Charges
If you exceed the resources assigned in your plan, you will be charged for them. You could be looking at even higher bills if your website exceeds any resource usage limit. However, that means your website isn't limited by those limits per se.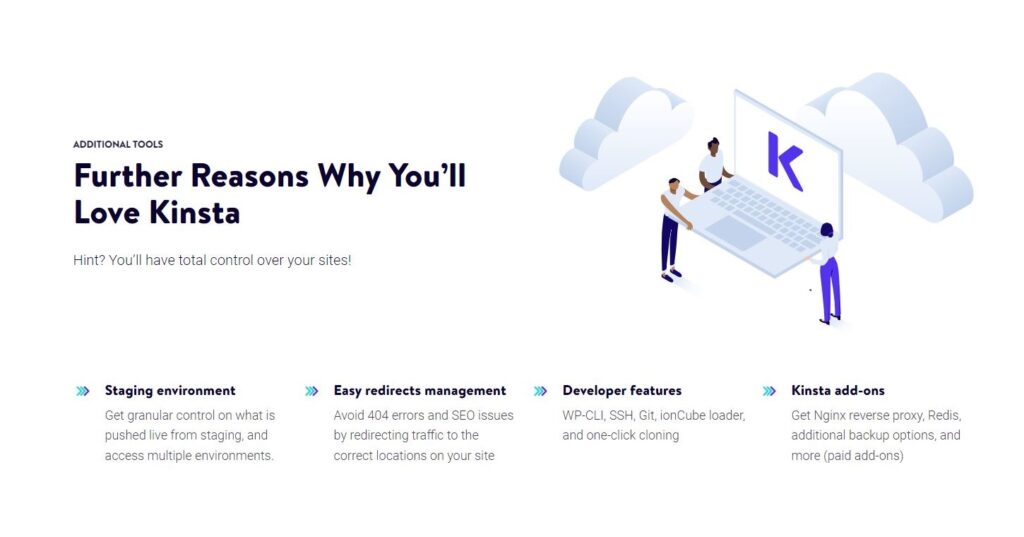 We also found some additional tools and services that were easy to use and make the hosting experience pleasant.
Application and Database Hosting (NEW!)
Kinsta's Application and Database Hosting is a new platform where developers can find everything they need to run all their projects in one place. Whether you are the owner, administrator or developer of a company, you are able to create applications and databases within the company.
The various languages that Kinsta tested and support include Java, PHP, Node.js, Python, Django, Ruby on Rails, Scala, and Go natively. Other frameworks such as Laravel and static site hosting with Gatsby are available as well. For databases, currently they support MySQL, Redis, PostgreSQL and MariaDB, and they will be adding more in the near future.
Site Preview Tool
Recently, Kinsta introduced their Site Preview Tool. The tool allows you to view your site at Kinsta without having to make any changes to your site's database, files, or your domain's DNS records. This tool lets WordPress think the URL it should use is the temp URL, without the hassle of running a search and replace in your site's database.
Kinsta APM
Inlcuded with every plan and built in to the MyKinsta dashboard is the Kinsta APM (Application Performance Monitoring) tool. This custom designed performance tool helps you seach for and identify WordPress performance issues. There is no need for expensive APM services like New Relic.
DevKinsta
DevKinsta is a free local WordPress development suite that allows users to design, develop and deploy WordPress sites from your own local machine. What's great about the tool is that it's powered by Docker, has a built-in databased manager, supports PHP 7.x and 8.x, able to spin up a single or Multisite WordPress site with a single click, and can be used with Windows, macOs, and Ubuntu.
Let's look at the pros and cons of Kinsta hosting to make it even easier for you:
Unrivaled Performance: Having tested many hosting providers, we know what it takes to deliver quality hosting. And Kinsta exceeds the performance expectations.
Master of WordPress: While many hosting providers provide a wide range of hosting services, Kinsta only provides WordPress hosting. That makes them a specialist in this subset of hosting.
Convenience You'll Appreciate: Hosting on Kinsta will make your life easier, so you can focus on improving your content and growing your business.
Better Team Management: Kinsta allows you to define roles and access of your team clearly, and provides tools for collaboration. This can help streamline duties, which would be so little, to begin with, as it's very hands-off.
Server Locations: Since it uses GCP, the servers are located worldwide. While the server response time may differ, at least you'll have a network of global servers to support your website.
Backups Made Easy: Backups are absolutely no hassle. The platform performs automatic backups of your website daily. Then you also have the option to make manual backups.
What Are The Areas to Improve
It's not all hunky-dory, we did find some drawbacks that they could work on to improve their service.
Only Installs WordPress: While it's a pro for those using WordPress, the limitation of CMS choice doesn't make it ideal for businesses with varying CMS needs.
Steep Price Plans: Many small businesses or startups simply may not be able to afford the expensive rates of Kinsta. Even those making handsome profits will have to pay kind of a lot just for hosting.
No Email or Domain Hosting: You'll need to host email accounts and your domain elsewhere as Kinsta simply doesn't provide these hosting options, which obviously is a bummer.
No Phone Support: Many businesses prefer talking to a human rather than filling forms or writing messages. Such customers will feel the lack of phone support strongly.
Let's look at some of the successful case studies of companies that are using Kinsta as their hosting.
Client 1: Local Digital
The Problem: As a digital growth agency, Local Digital handles the hosting needs for many clients, but server side issues can make it difficult to focus on their actual business, which is marketing and promoting their clients in the digital space.
The Solution: Kinsta's managed WordPress hosting is paired with its reliable customer support services and Google Cloud Platform infrastructure.
Final Result: Local Digital not only improved their clients' websites, but their own as well, which allowed them to grow their business and focus on their actual business model.
Client 2: Neuralab
The Problem: Slow hosting for DevOps WP teams.
The Solution: Kinsta provided 100% managed WP hosting service, designed for optimization, that served their need for a fast and reliable hosting solution.
Final Result: 2x increase in performance, thanks to the worldwide locations of servers of Google Cloud Platform that back Kinsta.
Client 3: CodeinWP.com
The Problem: The company was fine with their hosting provider but saw an opportunity to grow with more optimization.
The Solution: Managed WordPress hosting using Google Cloud Platform offering caching and top security features.
Final Result: Server response time improved by 50 percent.
What Others Say About Kinsta
We didn't just try Kinsta, we also looked at other people's experiences. We looked at Kinsta reviews on TrustPilot and G2. Here's a rundown of real Kinsta reviews from users who have tried out their hosting.
Area

What Users Say

Customer Support (response time, capacity, etc.)

There are over 32 positive reviews on Customer Support by users.

- "Any time I've had a problem, their support has been AWESOME to deal with, and my issue is always resolved within a few minutes."

- "Probably some of the best first line technical support I've ever had and I've been selling hosting for the last 20 years."

Uptime

There are a few positive mentions on Kinsta uptime.

- "I have not had any issue with the uptime on the platform after using for 8 months"

CDN

Most users appreciated the CDN, but one mentioned the KeyCDN wasn't as efficient as other third-party CDN. While one user called it "top of the line."




- "The CDN provided by Kinsta was top-notch!"

Page Load Times

There are about 45 mentions on the performance of Kinsta.

- "The performance took my website to the next level."




- "The overall performance of our website increased by 34%."

Security

Security features are also highly appreciated by users.

- "The security feature is outstanding!"

- "I worry less about security and optimization."

Backups

- "Backups are easy to use and track."

- "Regular automatic backups make it easy to recover website."

Technical Issues

- "I haven't had a single technical issue yet…"




- "Issues were fast to resolved by the team."

Ease of Use &

User Experience

- "The dashboard is super easy to use!"

- "SSL Certificate requires little efforts to setup."

Migration

- "My experience with migration was excellent and smooth."




- "I was blown away with the migration process taking just over 30 minutes!"

Pricing

- "I like the flat-rate price model."

- "Service is great but the price plan was pretty pricey for a blog."
What Users Like About Kinsta?
On both TrustPilot and G2, most reviews are positive. Users seem to like the things we too appreciate about Kinsta hosting. Many users switched to Kinsta to improve performance and got favorable results, thanks to the quick server speeds and optimized performance.
They have awesome support, and automatic backups add to the many conveniences on this hosting platform.
What Users Dislike About Kinsta?
Users don't dislike it as such but do report that the pricing is quite high, which we have already established.
Verdict on Kinsta Hosting Solution
It's clear that Kinsta is an all-rounder when it comes to WordPress hosting. Anyone with a blog or even a number of blogs with consistent traffic could benefit from their blazing fast speeds, security features, and quality support.
They use some of the best technologies, paired with Google Cloud Platform, that allows Kinsta to deliver the service so many users vouch for.
Yes, it's likely the most expensive WordPress hosting service, but think of it as an investment into your business. If the blog is the main money-maker in your business model, regardless of what kind of business you have, then this Kinsta hosting could be a viable option.
It's probably going to be a lot of expenditure for a small blog or a new business, so you may want to look at some Kinsta alternatives, too.